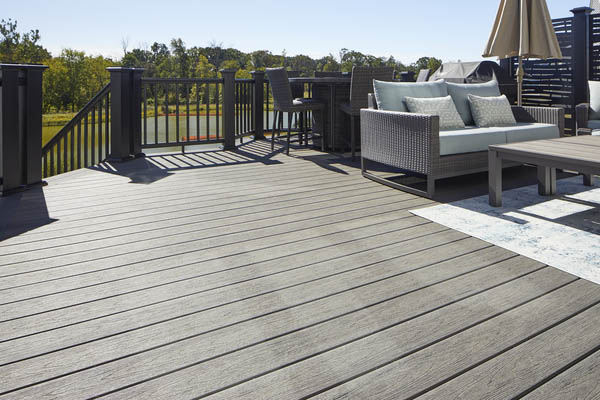 06 Feb

Best Composite Decking Brands
Best Composite Decking Brands
Low maintenance is the number one reason for using composite decking followed by longevity and appearance. There are many composite decking brands on the market to choose from. Trex, well known, has long dominated the composite decking market, and still one of the most recognized composite decking brands but brand recognition does not make it the best.
There are many things that go into determining the best composite decking such as:
Appearance
Color Selections
Traction
Cost
Durability & Warranties
All very important factors that we will dig deeper into below.
Note that these are not in order, not one composite deck board is the best in all these characteristics. Some listed decking are very similar within each other in some of these characteristics.
Deckorators(Best Durability)
Deckorators makes both wood based and mineral based composite decking, but it's the mineral-based decking that's the game changer we are going to be referring to.
Eovations™ technology Changing composites forever by replacing organic fibers with minerals.
Eovations technology makes Deckorators decking strong, lightweight and stable. During the Eovations process, a polymer-mineral blend is extruded and stretched.
Color Selections & Appearance
Deckorators mineral based composite comes in 2 collections, Voyage & Vault.
The Voyage Decking collection is capped composite boards with vertical grain variegation featuring textured embossed for enhanced traction. This decking is in the premium class and available in 6 colors with Sierra, Tundra, Mesa, Costa, and Khaya, and Sedona.
The Vault Decking collection is capped composite boards with flat  grain appearance. This decking is available in 2 colors with Dusk & Mesquite.
Traction
No one wants to worry about slipping on their deck during the rainy season or coming out of the pool. Deckorators has 34% more traction than other leading brands of composite decking, which is a significant safety benefit.
Cost
$$$-$$$$
Deckorators Mineral Based composite decking, is not an entry level cost decking. It is on the higher end for cost that may not be with in everyone's budget.
Durability & Warranty
Deckorators MBC has a strength-to-weight ratio that is unrivaled in the composite market. What does this mean? It means that each Deckorators mineral based composite deck board is extremely strong, with a high weight capacity that won't sag or bow over time, while also being very lightweight. They are the only approved composites engineered for use on the ground or in the water. In terms of durability, the clear winner is Deckorators.
Structural:

Mineral Based-50 Years

Wood based-25 Years

Stain & Fade:

25 Years

Replacement/ Labor:

25 Years- This is Industry Leading
Azek( Best Appearance & Warranty)
Azek decking is Timbertech's Capped Polymer decking.
"Alloy Armour Technology® (AAT), is a proprietary alloy blend that provides improved performance characteristics, such as outstanding weather protection, UV protection, resistance to scratching, and improved colorfastness." 
Color Selections & Appearance
Azek is a capped polymere decking that comes in 3 collections, Vintage, Landmark and Harvest.
The Azek Vintage Decking collection is a wire brushed, low gloss finish with highly blended colors. This decking is in the designer series and is available in 6 colors with Weathered Teak, Coastline, Mahogany, Cypress, English Walnut, and Dark Hickory.
The Azek Landmark Decking collection is a cathedral wood grain pattern in solid colors. This decking, inspired by reclaimed lumber available in 34colors with French White Oak, Castle Gate, Boardwalk, and American Walnut.
The Azek Harvest Decking collection is a cathedral wood grain complemented by a rustic crosscut and matte finish with highly blended unique colors. This decking is composed of natural shades and available in 3 colors with Slate Gray, Brown Stone and Kona
Traction
Unfortunately, we have only found tests done on Azek's Vintage & Harvest Collection to compare. There is no testing on the Landmark Collection.
Vintage Collection traction is 0.74 dry and 0.61 wet.
Harvest Collection traction is 0.28 dry and 0.59 wet.
Cost
$$$-$$$$
Capped polymer decking is one of the most expensive options, but for many, it is worth it. Already mentioned Azek has 3 different collections. Each one of these collections have different price points. Vintage Collection is going to be your high end, premium cost decking with Landmark coming in a little less but still up there in cost compared to some other composites. Azek Harvest collection with the same benefits is your beginner cost PVC decking.
Durability & Warranty
Made of high-performance and recycled polymers (and absolutely no wood fibers), TimberTech Advanced PVC decking is highly resistant to moisture damage like mold and mildew, and it won't splinter, crack, cup, peel, or rot.
| | |
| --- | --- |
| Structural: | Lifetime Limited |
| Stain & Fade: | 50 Years |
| Replacement/ Labor: | The Warranty period depends on the level of registered TimberTech contractor as well as the Product System purchased to vary 2-7 Years. |
 Fiberon(Best Traction & Warranty)
Fiberon offers 5 different decking lines using PE & PVC decking.
Composite polyethylene (PE) decking contains recycled plastics and wood flour components combined to form a durable composite material that is long lasting and requires little maintenance.
Appearance/Color Selections
The Fiberon Promenade Decking has four-sided capping featuring the aesthetic of handcrafted wood decking, available in 6 colors with Shaded Cay, Moonlit Cove,Sandy Pier,Natural Reef,Weathered Cliff and Russet Dunn.
The Fiberon Paramount Decking  has three-sided capping with a combination of durability and style, featuring a palette of solid and multi-tonal color options,
The Hearth Collection features two stunning multi-tonal hues – Brownstone and Sandstone.
The Mantel Collection offers Clay and Mineral, solid colors that provide a classic look.
Fiberon Concordia premium PE composite decking has a four-sided PermaTech Cap Layer that combines classic and on-trend colors and grain patterns with unbeatable performance. Available in three collections: Astir, Horizon, and Symmetry.
New! The Astir Collection features a rustic cathedral grain in three colors Seaside Mist, Prairie White, and Mountain Ash.
The Symmetry Collection features a low-gloss formula and micro-texturing to create a wire-brushed finish. This collection comes in three colors Burnt Umber,Graphite and Warm Sienna.

The

Horizon Collection only offers 2 colors, Castle Gray and IPE

. This decking gives a sweeping cathedral grain with dramatic streaking that emulates exotic hardwoods.
Fiberon Sanctuary Decking is a three-sided PermaTech® cap layer providing superior stain and fade resistance. This decking features bold, multi tonal colors and rustic embossing that comes in 5 colors: Moringa,Latte,Earl Gray, Chai, and Expresso.Fiberon Goodlife(scalloped) Decking is priced closer to wood. Good Life decking is capped on 3 sides includes 6 classic multi-tonal and solid hue selections, Cottage, Cabana,Cabin,Tuscan Villa, Bungalow, and Beach house.
Traction
Cost
$$-$$$$
Fiberon has a large variety of selections and grades variable in cost for every budget.
Durability & Warranty
Structural:
Promenade- Lifetime

Paramount- Lifetime

Concordia-50 years

Sanctuary-40 years

GoodLife Escapes- 30 years

GoodLife Weekender- 25 years

Stain & Fade:

Promendade- 50 Years

Paramount- 50 Years

Concordia-50 years

Sanctuary-40 years

GoodLife Escapes- 30 years

GoodLife Weekender- 25 years

Replacement/ Labor:

5 Years
Trex(Best Priced)
Appearance/Color Selections
Trex is wood based composite decking that comes in 4 collections, Lineage( NEW), Transcend, Select and Enhance.
Transcend Lineage comes in four luxurious, on-trend colors: Biscayne, Rainier, Carmel and Jasper.
The Trex Transcend Decking  comes in eight multi-tonal monochromatic colors: Island Mist, Tiki Torch, Havana Gold, Spiced Rum, Lava Rock, Gravel Path, Rope Swing, and Vintage Lantern.
The Trex Select Decking  comes in five nature-inspired colors : Pebble Gray, Winchester Gray, Saddle, Woodland Brown, and Madeira.
The Trex Enhance Decking(scalloped) offers an authentic wood-grain available in 7 colors with Foggy Wharf, Rocky Harbor, Toasted Sand, Coastal Bluff, Clam Shell, Beach Dune, and Saddle.
Traction
Cost
$$-$$$$
Trex Enhance collection is more of a budget friendly decking lower than leading competitors. Transcend is in the range of MBC and PVC decking.
Durability & Warranty
In 2023 Trex added additional warranty to their Transcend and New Lineage Collections to now come with a 50 year limited warranty. However, they now dropped their Enhance line from labor warranties.
Structural:

Trex Lineage- 50 Years

Trex Transcend- 50 Years

Trex Select- 35 Years

Trex Enhance- 25 Years

Stain & Fade:

Trex Lineage- 50 Years

Trex Transcend- 50 Years

Trex Select- 35 Years

Trex Enhance- 25 Years

Replacement/ Labor:

Labor warranty is on trained installers. The warranty length varies 1-10 Years depending on contractor level and if Trex decking was installed with Trex Railing or not.

Trex Enhance is not covered by Labor Warranty.
Specific Durability Concerns
Along with Longevity, here are a few more deck-specific items to consider.
These are not for everyone and every deck, but they are more important than others in some cases. Largely focus on the use of your deck, but a few quick examples to getting you thinking if they wil matter for you.
Scratch Resistant, is generally not a common problem, but if you have dogs with claws on your deck, or often slide the grill around some extra thought should be given to the durability of the decking against scratches. Either decking with a strong cap resistant to be scratched or a decking that scratches can be fixed by proper technique would be recommended.
Heat Retention
No matter what, all decking gets hot, even wood. The lighter the color the less heat that will be absorbed. Going with a mineral based or PVC decking in lighter colors will be the coolest to the touch.
Expansion and Contraction, Composite and PVC decking moves as it warms and cools. Often proper installation & gapping will accommodate this, but if you have an elaborate decking design board with less expansion and contraction that Mineral Based Composite offers will ensure the miter cuts, etc., look as good as the day they are constructed.
Other Alternatives 
Above you will find just some decking manufacturers. This blog article is unbiased opinion on what the best composite decking brands are based on research. There are other brands of composite on the market such as TimberTech, Wolf, Zuri, Armadillo, Moisture shield, Envision, Cali Bamboo, Duralife, Lumber Rock, Ultra deck and more.
To learn more about the different types of composite decking click here
FAQ
Q: Which brand has the most realistic decking?
A: Composite is a synthetic material that really comes down to you get what you pay for. The more expensive boards make use of finishing techniques and color variations in order to mimic the look of wood in a realistic fashion.
Q: Is all Composite the same?
No, when you hear about composite, typically its being referred to first generation composite or Wood based composite. With greater technology there is also now mineral based composite which consist of no wood fibers, all organic and plastic materials or PVC decking made entirely of recycled plastics. These other options of Mineral based composite and PVC give greater benefits than traditional wood plastic composite but also come with a bigger price tag.
Conclusion
Choosing a type of material for your future deck is not a decision to be taken lightly. With more options than ever before it is important to take into consideration all the options that decking materials offer. However, do not feel overwhelmed. At the end of the day, it is important to take two big points into consideration. The first is your budget and the second is deciding what material is going to fit you and your family's lifestyle best. Whatever decking material you choose, we are sure you and your family will be making so many memories on your new or updated outdoor addition.
Choosing decking greatly depends on budget, that being said the greater benefits can outweigh the costs. What is most important for your family and lifestyle?
Find out More About What Composite Decking is Right for You
At Decked Out Builders, we are here to help local homeowners find the right composite decking selections for their projects. Customers can get started by calling us at (815) 900-5199 or filling out our contact form.
118 Barrington Commons Ct Ste 207, Barrington, IL 60010
(815) 900-5199