Choosing the Right Style Roof
Depending on your desired location of your enclosed porch there are many different Roof Styles. Existing roof lines, windows, existing skylights, bump out areas such as bay windows and many other factors must be considered. If you're adding a porch to a two-story home, the upstairs windows may prevent you from getting the roof line high enough. Depending on the style of roof (gable, hip or single slope) we accommodate the integration by either keeping the roof line below or between the windows. We also take water flow and appropriate drainage into consideration when making roof placement and style recommendations for your particular project.
A Variety of Factors Come Into Play When Choosing The Right Roof
The right roof style and design has the opportunity to take your screened porch from simple to stunning. But first, there are questions that need to be answered in order to implement the most functional and visually appealing design plan. What look are you going for? Classic, modern, contemporary, or maybe nautical? Do you want to maximize natural light? How is the back of your home configured, and are there existing 2nd story windows that present design limitations? These are all considerations that we address while working to develop the best screened porch design, and an integral part of that design is choosing the right roof.
With the right implementation plan in place, our team can integrate your roof style to offer the greatest functionality, maximize outdoor views, and bring in abundant natural light, while also working within your existing space constraints, home style, and porch dimensions.
Which Roof Style Is Right For You?
Regardless of which roof style you choose, our team provides quality construction that is built to code, features proper drainage, and ensures no obstruction to 2nd story windows or balconies. Beyond these essential factors, there are benefits to every type of roof style, and the ultimate choice is up to you! We'll work with you to recommend the best screened porch roof option that will complement your home, while also offering a relaxing way to enjoy time outside protected from rain, wind, and those pesky uninvited insects. Each design will be unique to your home and will provide enjoyment of the natural outdoor breezes any time of day or night.
Take a look below at some of our most popular screened porch roof styles, and please feel free to contact us if you have any questions.
Gable Roof
A Gable Roof also referred to as an "A Frame" is exactly that. This is our most common roof style build. This gives you the highest peak with 2 slopes but also requires the max pitch for support. Your existing roof line or 2nd story may not allow for this roof style
Hip Roof
This is more common for a free-standing structure or if you have 2nd story windows that are an obstruction. This Roof Style has 3 or more slopes from the peak resembling a pyramid. This adds more complexity of the build and finishing.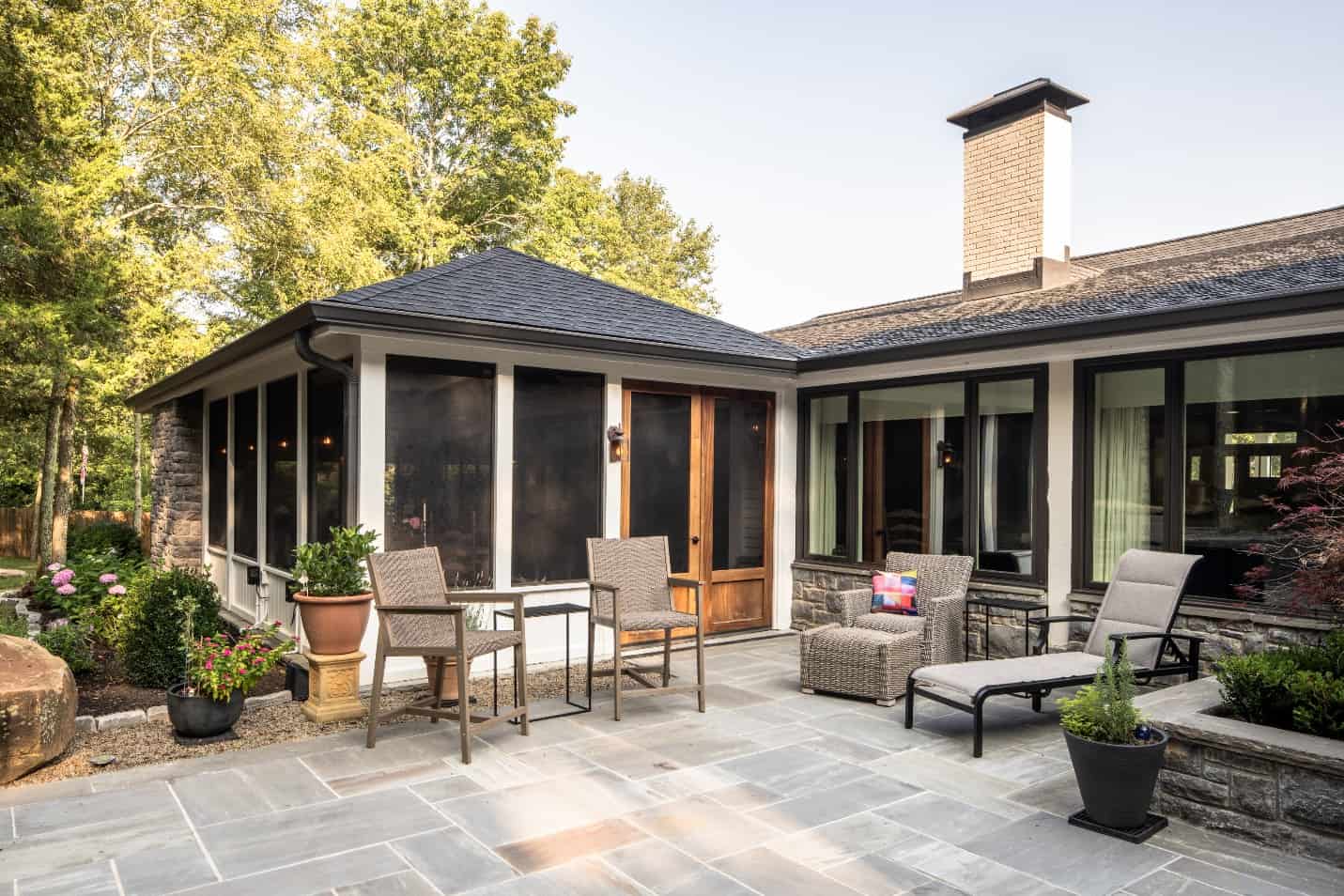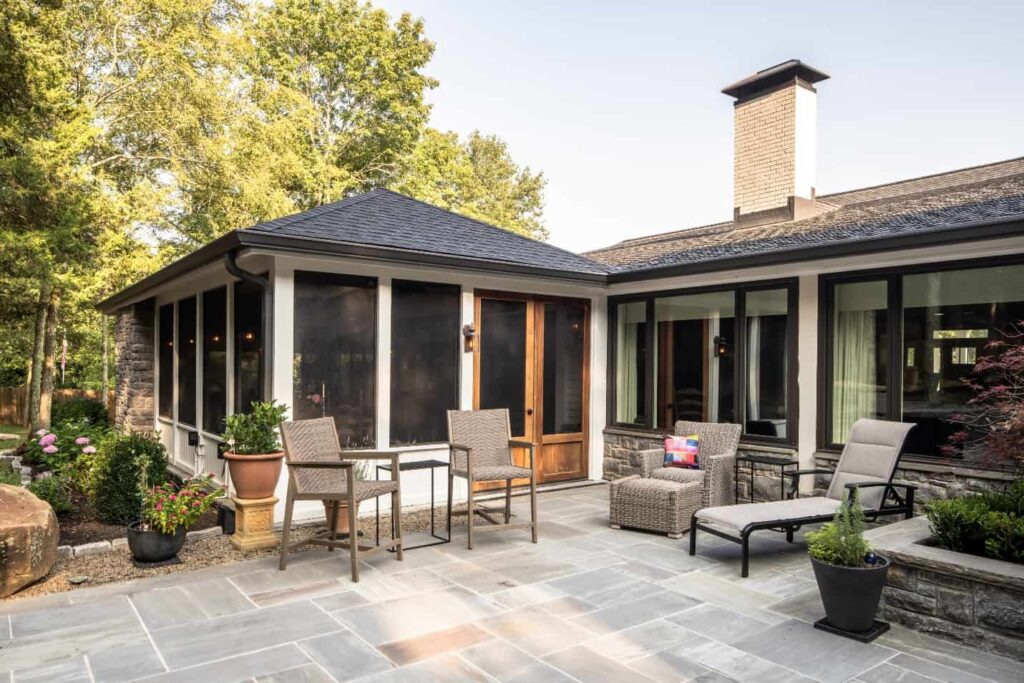 Shed Roof
This is a good choice if you are looking for a simple covering or a wide covering. When choosing this roof style keep in mind this roof style does not get the same amount of light as like a gable or hip roof does.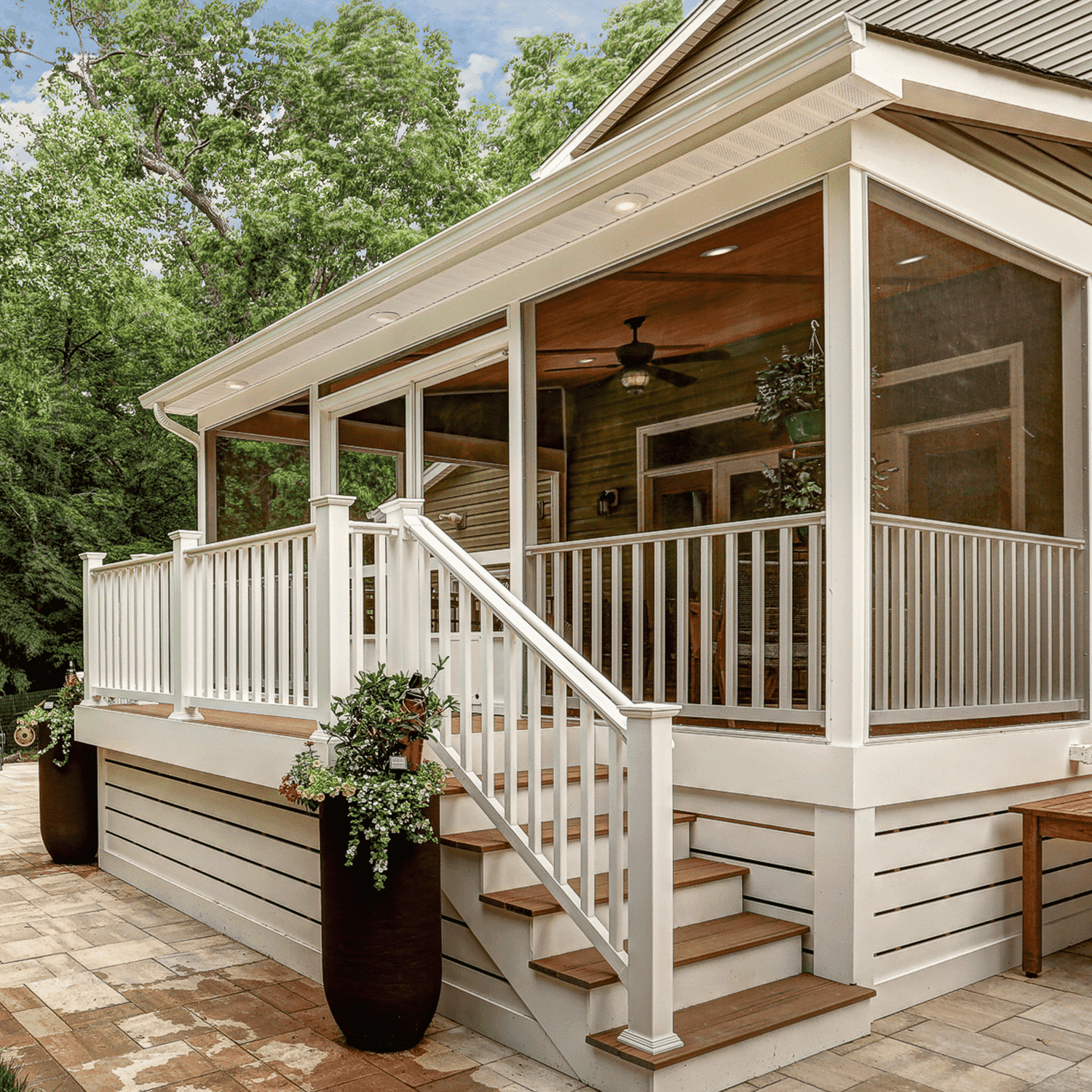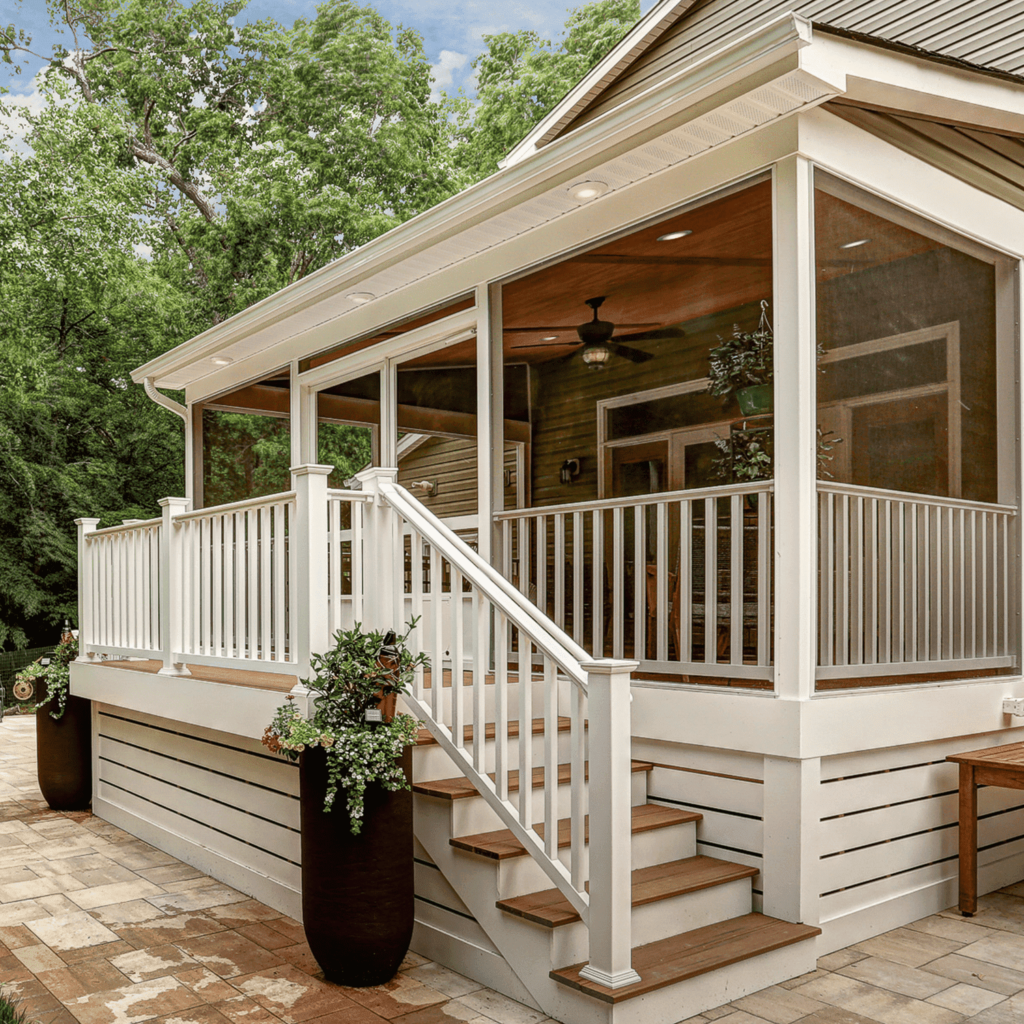 One Roof Style Doesn't Fit All
Your new roof should complement your existing home structure, and your existing roof style, but that doesn't necessarily mean that the exact same pitch or materials need to be used. We'll evaluate your existing roof, whether you have one roof line or multiple roof lines, and will determine the screened porch roof style that best accomplishes the look you'd like to achieve. Our goal is to make your screened porch look original to the home, blending together with a seamless transition from your existing roof to the new screened porch roof.
And remember, it is always ok to have different roof styles, as long as they are complementary in color and work well together to create a cohesive final look. Your screened porch roof does not need to be the same pitch as your existing roof, and there are many combinations that can be implemented as long as there is a sense of consistency.  
Specials
Service Areas
"Like" Us
Affiliations
Specials
REFER A FRIEND
Do you know someone who needs a new deck? Refer them to Decked Out Builders and you will receive up to a $100 gift card upon completion of their deck building McHenry IL project.
Service Areas
"Like" Us
Affiliations
Get started on your
Project Today