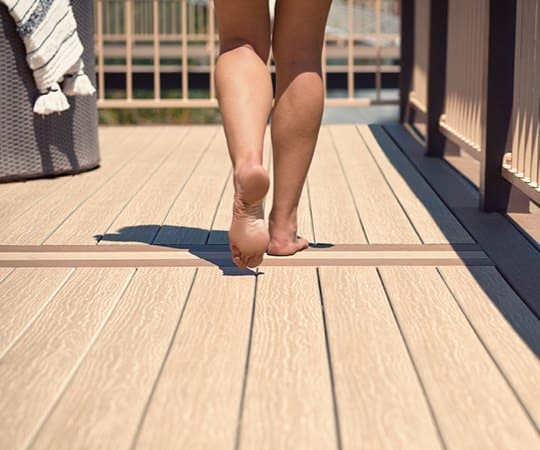 28 Jul

Barefoot-friendly Composite Decking

There are three main factors that affect how much heat your deck boards absorb and retain, regardless of whether you have pressure-treated wood boards or composite decking from a company like Trex or TimberTech: the color of your decking, the amount of direct sunlight hitting your deck, and the temperature of your space.

We've got a few essential ways you may plan your deck to keep the deck boards as cool as possible if you're remodeling or building a deck that you want to make as barefoot-friendly as possible:
#1: Choose Light-Colored Decking
The decking gets hotter the darker the color. As a deck builder, this is the most crucial decision you can make. Deck boards that are light gray or light brown will stay substantially cooler in the sun. Also, both colors are currently quite in style. You can still have a darker color as accent.
#2 Choose PVC Decking
PVC will still get warm in direct sunshine, just like all materials. Yet, once the sunlight fades, PVC decking cools off more quickly than composite decking.
By emphasizing their more stylish deck boards, TimberTech makes it simple. showing you which deck boards will perform best in the sun. The entire Harvest Collection® by TimberTech Azek is designated as a cooler decking alternative.
They suggest Coastline, Weathered Teak, and Cypress as cooler deck boards from their Vintage Collection.
When walking on the Vintage Collection® and Harvest Collection®, the distinction is not just in the color but also in the material. It heats up less than the majority of composite decking made with wood since it has a PVC core. PVC decking absorbs less heat and cooling the decking beneath your feet.
There are more attractive decking options besides PVC that are great for walking barefoot in the sun such as Deckorators Voyage and Moisture Shield Cool Deck.
#3 Add an Umbrella
An umbrella is a great way to shade an area, especially over a sectional couch or a table. There are several stylish umbrellas in different sizes on the market.
#4 Add A Rug
An attractive outdoor rug can be used to make a comfortable, cool walkway on your deck. But be careful not to pick a rug with a rubber backing if you're using composite or PVC decking, as this can harm your deck boards.
#5 Add a Pergola or Shade Structure
If your deck area receives a lot of direct sunshine, you might want to think about adding a pergola or covered structure to keep the surface cool. A pergola or covered structure is a fantastic stylish addition to any deck or yard, and the additional shade will also keep your walking surface cooler.
I'm hoping this will assist you in designing a deck that you can use all summer long. Your deck is still inviting you outside no matter how hot it is outside.