Choosing The Right Railing
While you may be spending considerable time choosing the decking materials that form the deck's floor, deck railings are also an important aspect of the deck's overall design. Whether you look at it from a distance or from the majority of viewpoints, it is the deck railings that are the first thing you notice when viewed from a distance. Considering this, it is important that you choose the right railing for your deck in order to enhance its appearance and design.
There are several different types of deck railings. It's crucial to select a railing that complements both the design of your deck and your home in order to get a stunning, individual aesthetic without having one feature overshadow the other. Because of this, you should take your time selecting the ideal railing, balusters, and other elements to complete the design. Spend some time looking at various styles to acquire ideas, then choose the ideal supplies to build the deck railing of your dreams.
You may want a railing you can see through with little obstruction depending on the view from your deck and from inside your home, or you may prefer a more robust railing that draws attention to itself. Before making a decision, consider the cost and the amount of ongoing maintenance that will be required.
Composite Railing Ideas
For an eye-catching design that highlights your individual flair, mix and match colors and materials. White composite posts add a striking contrast to the sleek, minimalist design created by the black aluminum rails and balusters. For an even greater blend of texture and color, pair your white and black railing combination with deep brown composite decking that is inspired by nature.
Aluminum Railing Ideas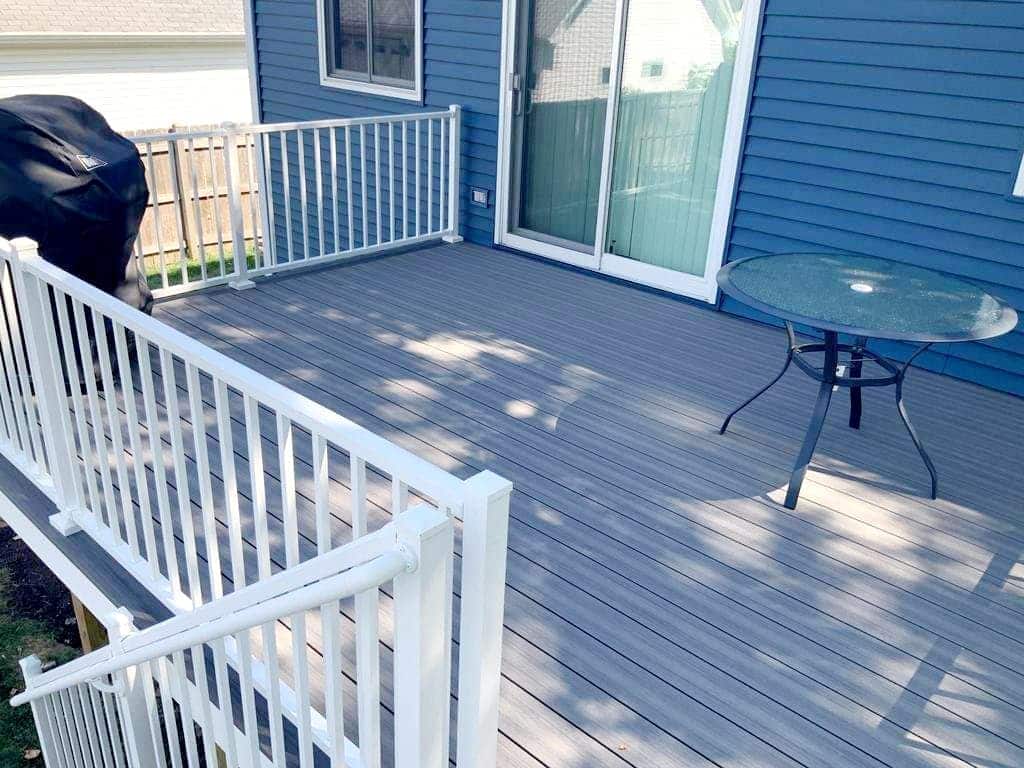 Aluminum railing is always in trend. Strong brushed aluminum railing gives decking a modern feel. Aluminum railing and neutral-toned decking with a natural appearance make for a contemporary and airy design.
Black aluminum railing is uncomplicated and offers a deck a classic appearance. The versatility of black railings and balusters allows you to update your appearance with a simple change in furniture or design.
Rod railing has become popular with homes because to its streamlined, simple form. Between the posts, horizontal aluminum rods create a clean, contemporary appearance. Decor keeps the clean lines consistent throughout your outdoor space, maintaining the look of casual yet elegant. Give some traditional outdoor décor components, such wicker deck chairs and big potted plants, a contemporary makeover that plays off the straight lines of rod railing. 
Cable Railing Ideas
Glass Railing Ideas
Have a lovely view of your backyard? Keep your sightlines unobstructed with contemporary deck railing designs that include glass panels. Glass paneling is a gorgeous infill option that works well with both aluminum and composite railing types.
Cocktail Rail Ideas
A cocktail rail is a beautiful and useful addition to your deck or porch if you entertain frequently. A deck board is used as the top of a railing bar in this type of railing, which also gives your railing and decking a cohesive appearance. Even better, a cocktail rail provides you with a large, flat surface to set drinks or other objects on while spending time outside.
Key Components to Craft the Perfect Deck: