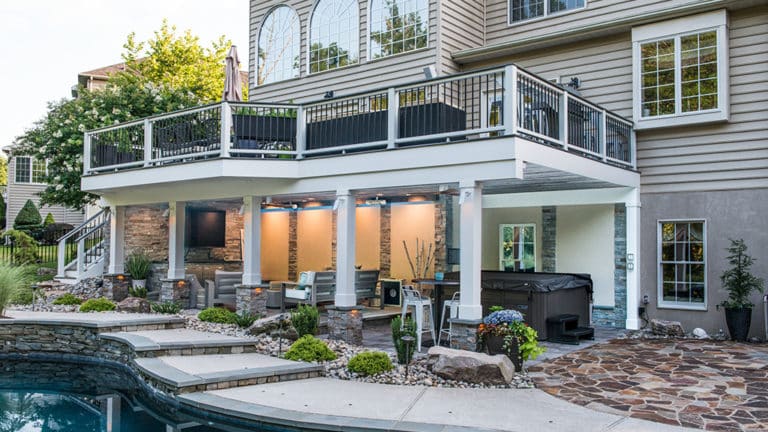 08 Aug

4 Reasons to Build a Deck this Year

A deck is a great way to increase the value of your house and expand your living area. One of the finest methods for homeowners to boost the marketability of their property is by adding a deck.

There are several design options for creating a distinctive deck if you don't want to build exactly what everyone else has built. Here are some reasons for building a deck this year.
Decks Increase Living Space
The living area of your home is the most essential element when it comes to value, both for the increased worth of your house and the increased comfort it provides. Adding a deck is one of the simplest methods to increase your home's value and livable area. More living space will not only make potential buyers more interested, it will also make you more comfortable while you wait to sell.
Decks are common locations for social gatherings. They give individuals extra space to gather rather than requiring them to stay in the kitchen or living room, and during great weather, families may enjoy using their deck. For purchasers, this is a compelling selling point.
Adding Curb Appeal and Amenities
When it comes time to sell your house, decking instantly boosts appeal and sparks attention from potential buyers. It offers people something to look at, which is significant if you live in a neighborhood where every corner has a house that looks just like the one before.
Your home's marketability to potential purchasers is one of the key selling points. When your house offers everything, purchasers want in a new home, its value goes above its asking price. They'll want yours too because it has more amenities and storage space than other adjacent homes do!
Functional
There's no doubt that building a deck will make your yard more useful and boost its value given all of these excellent reasons to do it this year. Also, a deck might provide you with a place to do so since most people prefer spending their summers outside.
There are alternatives to include areas for barbecues or even outdoor kitchens if you like to spend time with your family or prepare meals for them. Building a deck around a pool gives your family the option of having a place to sun bathe or relax which may be something your family has always wanted
A deck might be the ideal addition to your gatherings if you enjoy hosting them. Bring your family and friends over for dinner parties or barbecues. It's a simple method to keep visitors entertained all summer long.
Updating & Adding A New Look
The options for customization are unlimited, whether you want a grill station or benches! Decks provide sizeable seating areas and create additional floor space in otherwise empty spaces. A deck might be the ideal option to improve the appearance of your backyard if it is dull and in need of an upgrade.
The value of your home is typically determined in large part by the backyard. Despite being concealed behind the house, it frequently affects how well your home sells based on its design and use. When it comes time to sell, giving your backyard a fresh look by building a deck will only boost the value.
Many people find decks to be appealing for a variety of reasons. They offer a second exit from the house to the yard, which has been proven to increase value.
Conclusion
A deck is a great way to increase the value of your home and expand your living area. One of the finest methods for homeowners to boost the marketability of their property is by adding a deck. They give you a cozy place to enjoy while also raising the value of your property and its usable space.
The addition of a deck to your house will give you a place to gather with family and friends, add a lot of functionality, and pay off when it's time to sell.