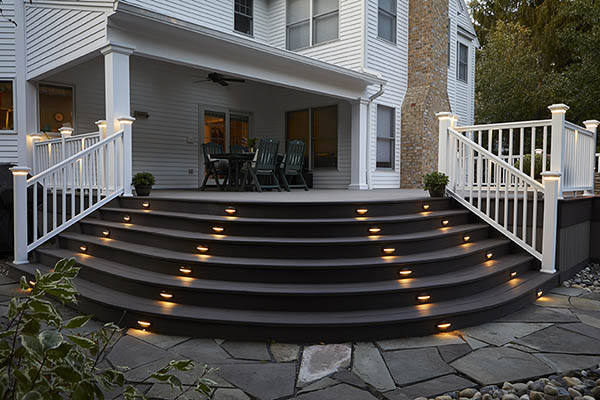 15 Oct

The Best Outdoor Lights for your Deck

Your deck is one of the most important features of your home, an area where socializing, cooking, and relaxing take place. You should use this area at night if you want to get the most enjoyment out of it. For evening use to be safe, deck lighting is essential.

There are many distinct lighting options for decks, each with a special aesthetic and functionality. Here are several common types of deck lighting:
Post cap Lights
A innovative way to give line-of-sight lighting on your deck's railing is to add lights on your posts. Both solar and LED post lights are available.
Deck Under Rail lights
Under-rail lights can add a lovely glow and decorative touch. Even after dusk, adding some simple yet efficient lighting to your rails can provide safety and fun.
Riser Lights
By providing a soft light, making sure your steps are well-lit will reduce trips and stumbles. Similar to lights built into your decking, adding deck stair lighting can be a stylish way to illuminate the path for visitors to your deck.
Post Mount Lights
To add a cozy glow to your outside area, these outdoor post lights mount to the side of your deck posts. When it gets dark, illuminate your strolling area to keep your family safe and extend the time you can use your deck, patio, or yard.
Indeck Lights
When it comes to lighting your deck floor, you have many options. To create the ideal deck lighting arrangement, place lights in deck corners or next to steps and furniture. Putting light and illumination under your stair or rail helps highlight the deck's characteristics that might otherwise go missed.
String Lights
Throughout the evening, hanging string lights, which come in a number of colors, can help create a colorful, festive, and delightful atmosphere on your deck.
Most string lights only require an electrical outlet to be installed, making them the ideal lighting solution for weekend DIYers.
Tips for Choosing Deck Lights
Now that you have a better understanding of the different options available, keep these tips in mind as you design your deck and choose your lighting.
Establish Priorities
You should consider your demands and priorities while selecting a lighting design. Consider post or step lights for your deck if security is your first priority. Step lighting will prevent falls and other accidents as people move up and down the steps or walkway. Sconces and wall lights are excellent choices for homeowners who wish to give their outside environment more elegance. Having a complete lighting system can be what you need if you frequently like entertaining. This has the potential to illuminate your whole deck and occasionally beyond.
Safety and Style in Balance
Although aesthetics are vital, safety is just as important. Fortunately, there are several deck light options available that are both attractive and functional, allowing you to select the look that best complements your house. Make sure to illuminate any stairs, pathways, and potential grilling areas for best safety.