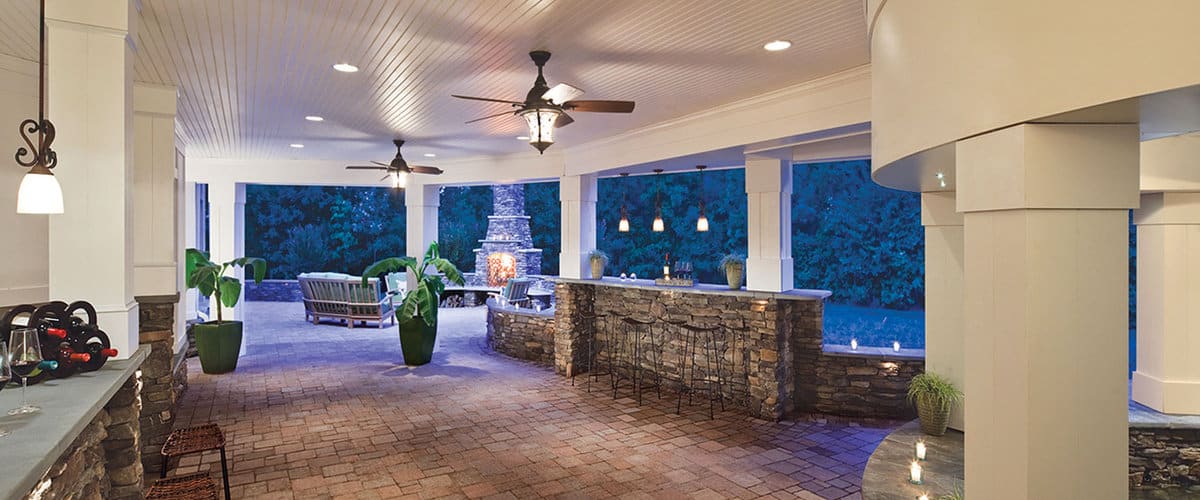 01 Dec

What is the Best Deck Drainage System?

Get the most out of your investment when adding a new deck to your house by installing an under-deck drainage system. A two-story deck can be made to have a dry, usable space below it if the deck substructure is protected from moisture.
Why Should a Deck Drainage System Be Installed?
Sufficient storage and outdoor living area are two of the features that homeowners and potential homebuyers most desire. If you can keep it dry, the area beneath an elevated deck can be the perfect answer in both situations. This area can be kept dry and used for a variety of purposes and activities by installing an under-deck drainage system.
How Do You Pick The Best Drainage System For Your New Deck?
Both above and below the joists are viable locations for installing deck drainage systems. This distinction in wood and rot defense is important.
Under-joist systems produce a completed ceiling, improving the appearance and feel of the underdeck area. However, wood rot is brought on by below-joist drainage systems in three different ways:
They first let rainwater drip through the deck boards, over the joists, and into the drainage system below, constantly wetting the wood. The joists get wet before the water even hits the pan and goes out.
Second, a system that is below the joists can retain moisture. Whether you have wood or composite decking boards, there won't be enough ventilation to dry the wood.
Lastly, during the warmer summer months, high temperatures can cook trapped moist wood and accelerate the rotting.
The ideal solution is to install a deck drainage system above the joists because of this. This kind of solution will completely shield all the joists and beams from moisture.
In addition to keeping water from entering the area below, above-joist systems also shield the deck's structure from moisture, extending the deck's lifespan.
Above the Joist Deck Drainage System
The Trex Rain Escape Deck Drainage system is an above joist- deck drainage that promises to keep your deck joists and lower-level area dry and clear for years to come. Made from HDPE (High-Density Polyethylene Plastic)
Going with this drainage system, you still of course can add a finished under ceiling, in fact going this route you have more finish options than the standard selections of above joist systems. PVC, Cedar, Prefinished Wood Panels just to name a few.
Below the Joist Deck Drainage System
Rigid metal or vinyl components that are attached to the underside of the above-deck joists make up the deck drainage systems that are installed underneath the decking. Installed in such a way as to form a slope, they transport water to a drainage area via a gutter fastened to the ridge of the deck beam.
Because it doesn't need to be taken apart for installation, a below-deck joint drainage system is perfect for retrofitting an existing deck. These systems fasten to the joist's underside.
Systems below the joists require greater maintenance since the top of the drainage system must be routinely cleansed of debris that has fallen through the decking. Most below-the-joist drainage systems include detachable panels because of this.
What Additional Factors Should I Consider While Selecting a Deck Drainage System?
It's possible that certain deck drainage systems don't offer possibilities for adding features to the dry area underneath your deck. A drainage system that enables the addition of a ceiling and utilities like gas and electricity is the one you should pick. You may construct an outdoor living area with lights, ceiling fans, entertainment elements, and more thanks to these enhanced features.
What Are the Costs of Deck Drainage Systems?
Deck drainage systems can range in price dramatically, from $8 per square foot to $20 per square foot installed.
An above-joist system installed when a new deck is being built is typically less expensive than an under-joist system that creates a finished ceiling.
However, keep in mind that the cost of a finished ceiling is not included in the joist systems mentioned. Be sure to account for the cost of adding a completed ceiling when the new deck and drainage system are built.