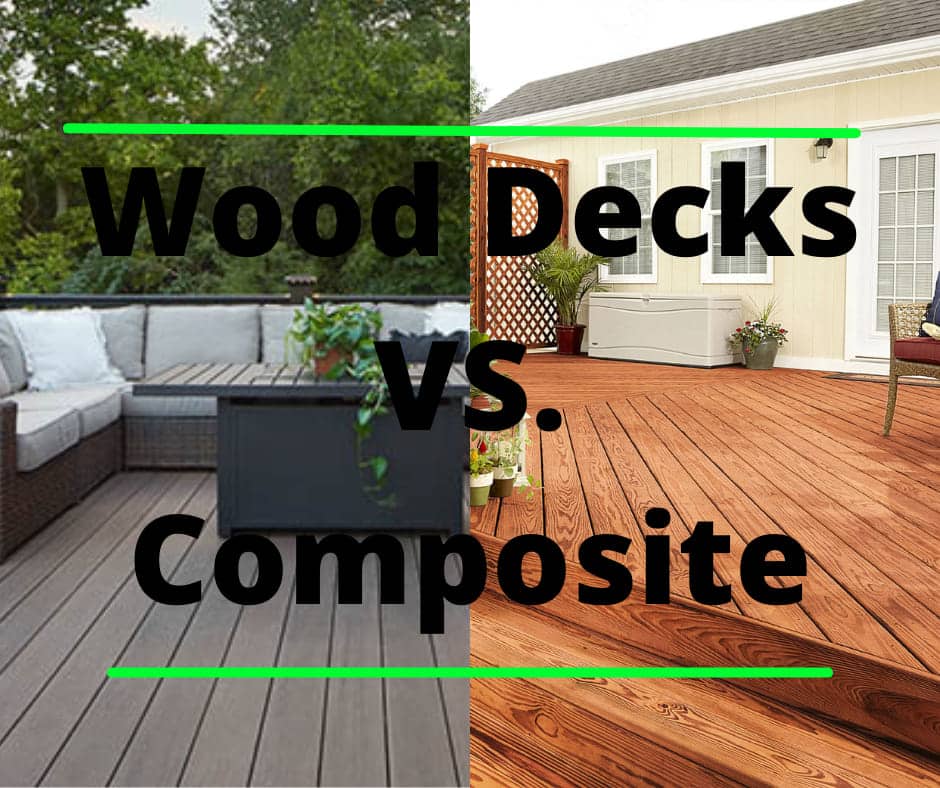 15 Dec

Treated Wood vs Composite Decking, Which is Better?

There are various factors to take into consideration when choosing between treated wood decking and composite decking. Each decking has different strengths that determine whether it is good for your deck or not. Here is a brief comparison of treated decking and composite decking.

While costing much more than treated decking, composite decking will perform better overall, last longer, and require less maintenance. Although composite decking is has more design flexibility,  treated wood decking is more affordable upfront.

Composite decking is a combination of wood and plastics that is constructed with a polymer cap to protect and improve the appearance of the decking. In exception, of Decorators, a mineral-based composite made of minerals with no wood fibers.

Composite decking should not include lines like Azek, a line of decking often referred to as composite decking that is entirely made of 100 % synthetic capped polymer material )PVC).. A direct comparison between boards is challenging because they are frequently grouped together in discussion but are different products with unique benefits and drawbacks. Yet, in its heart, it is not a composite material because it is unique in composition.

Trex and Timbertech  are the two leading manufacturers of composite decking. Another notable manufacturer of composite decking is Decorators, along with Fiberon and MoistureShield.

For exterior uses like decks and fences, pressure treated wood is lumber(typically pine) that has been treated with a range of chemicals to prevent rot and insect infestation. This wood has been treated with Alkaline Copper Quaternary . Copper Azole , and Waterborn Copper Naphthenate .
Let's now compare the two types of decking in more depth.
Cost: Treated Wood Vs. Composite Decking 
One of the biggest differences between these two decking options is cost. The closest composite alternative to treated decking is Trex Basic or Timbertech Edge.
Simple terms, composite decking will cost you at least three times as much as treated decking. It raises the question of why composite decking would be preferred over treated.
Maintenance: Treated Wood Vs. Composite Decking
The difference in maintenance is frequently what separates the two. If you don't want to ever hire someone again or if you're sick of spending your weekends sanding and staining your deck. You need composite decking.
The strong polymer cap and core of composite decking require minimal care. It has minimal fading and won't rot, mold, or absorb water. With the exception of routine cleaning, a composite deck won't require any additional sanding, staining, or sealing.
Without the expense of annual maintenance, composite decks actually grow more affordable over time. Typically, between eight and ten years from the time of purchase, any money saved by purchasing wood decking will have been lost to maintenance. Some stains stay longer than others, allowing up to three years to pass between needed stains. But even with these, within fifteen years, a composite deck will be cheaper than wood.
Lifespan: Treated Wood Vs. Composite Decking 
Which decking is best for you may depend on how long you intend to use the deck. As we can see from maintenance, wood decking will be less expensive upfront than composite.  In light of this, wood decking might be a preferable option if you only want to keep the deck for a short period of time—less than 10 years. Despite the fact that you will have to pay someone to stain and sand the deck and make any necessary repairs.
Warranty: Treated Wood Vs. Composite Decking
Yet maintenance costs are just one thing to keep in mind. It matters how long the decking is anticipated to last, as stated in the warranty. Staining and maintenance will eventually lose its worth, requiring replacement.
It's challenging to determine the guarantee and lifespan of treated wood decking. The decking will last longer if you take better care of it. Thus, you, the homeowner, are responsible. The deck's lifespan can be extended with regular cleaning and staining. But if done correctly.
Between 15 and 25 years are typically the range of longevity for wood decks depending on condition and sealing. The decking will endure longer if it is stained or sealed more frequently. Combined with appropriate building practices like 6′′ (150mm) of space between the ground and the decking and ventilation under the deck.
The warranty for synthetic materials like composite decking is a little obvious. The warranty on most high-quality composite decking is 25 years. With the addition of a few manufacturers that extend 30-50 year warranties.
Both wood and composite will last 25 years with the best conditions and care. But, because composite decking has built-in maintenance, it will outlast treated decking in tougher environments or if you take continuous care of it by up to three times making composite a superior option.
Appearance: Treated Wood Vs. Composite Decking 
This is more challenging to put a number on. Which is more attractive? Composite or wood. Ironically, the composite finishes are advertised as looking more and more like wood. To further the appearance of wood, several composite boards have names that resemble wood.
Manufactures, particularly Timbertech, has made great efforts to replicate the appearance of wood.   Also, it will maintain its appearance and color for many years. Comparatively speaking, wood decking cannot be said.
Both treated and composite decking have distinct aesthetic appeal and beauty. For some people, their homes are nicely complemented by the natural brown stained wood. Your home will be enhanced for years to come by the variety of colors, from Ashwood Gray to Dark Roast and/or something in between. with an unmistakable beauty that only composite decking can offer.
Take the time to consider what decking will complement your home the most before making a decision. What is appropriate for your home?  Create the deck with the house's architecture in mind. Whether it is a contemporary composite design, a more subtle style, or classic wood decking. Personalize the decking to the area and the appearance you want.
Durability: Treated Wood Vs. Composite Decking
Comparing the two materials' levels of durability, composite performs better than wood. Wood decking's ability to be repaired is its one redeeming factor. Wood decking may fade, but it can be stained again to restore it to its original color or a new one. Sanding can be used to remove splinters, peeling, stains, and scratches from wood decking.
In such, Composite falls short.  Although composite is made to be exceedingly durable and damage-resistant, it can still sustain damage. Heat can be used to fix small scratches in composite, but it must be used carefully to avoid overheating or burning the decking, which could result in more damage. Aside from scratches, if composite does get damaged the only fix is to replace.
Wood decking is more prone to damage, but it is also simpler to fix.
Although treated wood decking can be more easily repaired if damaged, composite is made to be durable.
Performance: Treated Wood Vs. Composite Decking
Every decking must pass the barefoot test before choosing between different decking solutions. Under your bare feet, how will the decking feel?
You might get slivers in your feet, but wood decking is cooler and has an equivalent amount of traction.
When compared to treated wood decking, composite decking has a similar amount of grip without any slivers and is hotter in the sun.
Conclusion
When comparing treated decking to composite, maintenance is typically what comes top to mind. With that being the greatest benefit of composite, there is more to compare when choosing what is the best decking for you.
Read more, to find out the Pros & Cons of Composite Decking