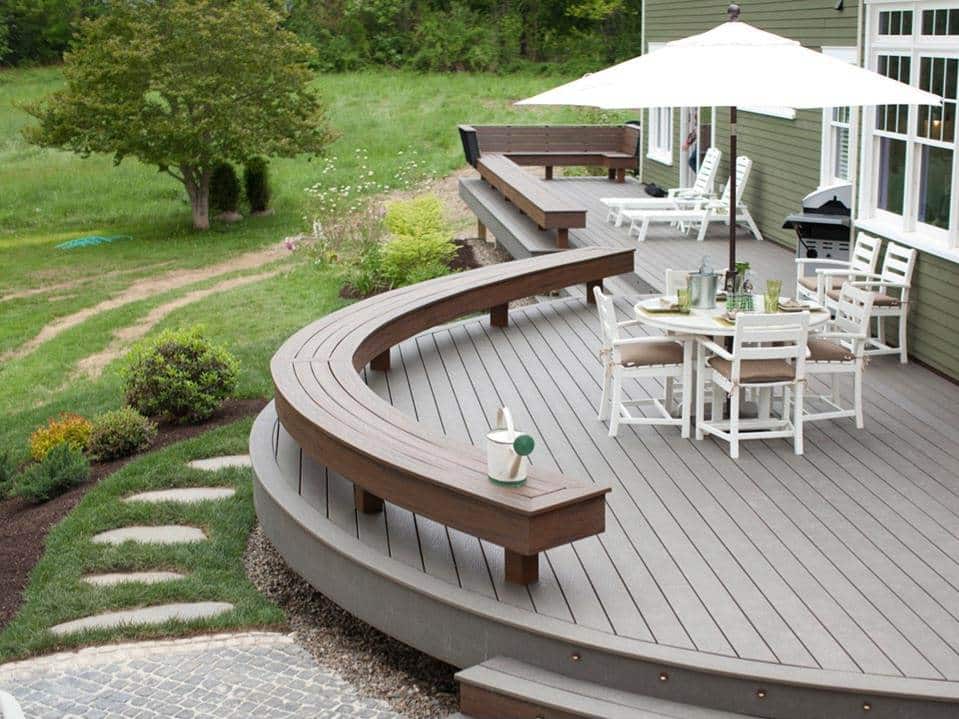 01 Feb

Curved Deck Designs

Though rectangular decks may be traditional, a homeowner can enjoy the elegance of a custom, curved deck. These one-of-a-kind decks will complement your home's structure and create an architectural flow from the inside of your home to your outdoor relaxation or entertainment space.

A curved deck offers the same amount of versatility and durability as a rectangular deck and adds a sleek aesthetic to your outdoor area. Not to mention the fact that you'll probably be one of the few neighbors with this kind of decking design on the street. A curved deck will put you in a class by yourself if you want to stand out from the crowd.
A Flexible and Useful Deck Solution
Why try to cram something square into a round hole? Squared corners and rectangular decks frequently don't do a space well. Working with a knowledgeable company like Decked Out Builders will help you acquire a practical deck that's perfect for:
Outdoor Dining
Entertaining
Relaxing
Spending Time with Family
Hosting Gatherings
…and more
A curved deck may be easily integrated into your current outdoor space because of its adaptability.
Impress People with a Curved Deck
Curved decks are not only attractive to look at and simple to maintain, but they also frequently wow potential purchasers of new homes.
Since curved decks are less typical than square and rectangular ones, they stand out and can produce a more dramatic and distinctive aesthetic effect.
Curved Decks Drawbacks
Despite all the advantages, some of our potential customers are surprised to hear that there are some important drawbacks to take into consideration when choosing a curved or round deck design. The biggest disadvantage is the higher cost when compared to a rectangular deck with a comparable square footage.
Different joist and deck board lengths are needed for a curved deck design. These elements lead to:
Additional Preplanning
Greater materials & waste
Increased labor
Get a Custom Curved Deck in Northwest Suburbs, Illionois or Southern Wisconsin
We are available to assist you in building a curved deck or any other kind of deck you desire. We will walk you through the entire process when you meet with us, answering any questions you may have along the way. Whatever style of deck you want, we have the solution.