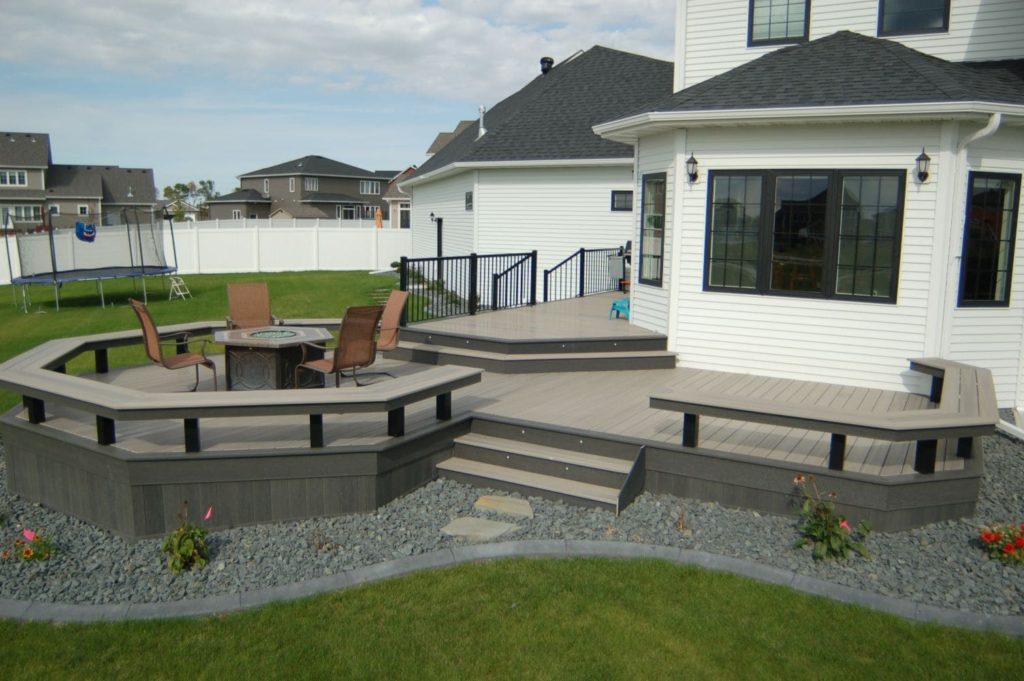 01 Apr

What Size Should My Deck Be?
Consider scale, cost, and lifestyle when deciding the size of a deck 
The size of a deck influences not only cost but also how you will use it. A huge deck that tries to meet too many needs can feel like a parking lot rather than a warm and inviting environment, in addition to being more expensive than a smaller deck. And keep in mind that size is relative. While a huge house may need to be balanced by a large, continuous expanse, a small house is better served by multiple modest decks that are either separated or on various levels.
A discouraging realization after the fact is realizing you've built too small or too large. For this reason, it should be thought through before the design process starts.
What is the Average Size of a Deck?
With most builds the longer portion of the deck extending alongside the home, decks are often wider than they are deep. Between 300 and 700 square feet is the typical size but can also be larger like a multi-level or wrap around deck, adding more space and dimension to your home.
Another aspect is the height of your deck, which is controlled by the height of your house. Your deck must be constructed so that your home is flush with the ground (with the appropriate space underneath for drainage). But a house that is elevated above the ground might need a mid-level deck, while a house that is located on a steep hill might need a raised deck.
Your Home's Size
The majority of builders advise keeping your deck's square footage to no more than 20% of the house's* total square footage. This is done to prevent the deck from visually overpowering a house. Of course, it's up to you to decide. Feel free to build a larger deck if you believe you need more outdoor space. This can give you more yard and less grass to mow.
Building Limitations and Codes
Due to property limitations, your deck's size and dimensions may be limited by how close it can be to your neighbors' properties, typically required a 10′ set back. How far your deck can extend from your house will also depend on where a well, septic tank, or drain field is located. Some townships/cities also put a maximum of yard coverage.
How do you plan on using your deck?
To determine how big of a deck you should build, ask yourself how you intend to use your new deck and how many people you plan on having over during social gatherings.
Will your deck be:
A cozy place for two people to enjoy a drink in the evening or their morning coffee?
A location where a few people can gather beside a firepit?
A place to have holiday parties or children's birthday parties?
The preferred location for all of your neighbors to congregate, play, and eat?
You can get a general idea by answering to these questions, which will then lead us to the following aspect.
What Size Deck Is Ideal for Entertaining?
Your deck's size will mostly depend on how you intend to host guests. Some people define entertaining as having a few guests around for a leisurely lunch. Others may find it to be far more complex.
Before you design your deck, keep the following in mind:
How many guests do you plan on regularly hosting? 
What size furniture do you plan on having?
If you need a spacious kitchen with a refrigerator, sink, and counter space, how big a grill will you need?
Will your deck have room for a pool guests? 
Will you require a separate space for a hot tub?
Most people only need a small amount of space for entertainment. For instance, if all you want is a modest grilling area and patio table, you'll need roughly 250 square feet to accommodate 4-6 people. You need up to 400 square feet for ten to twelve individuals. But if you want more breathing room, we recommend at least 600 sq ft.
What Furniture & Layout Do You Need?
You should design the layout of the space once you've decided how you'll use your new deck.
Do you need:
A specific area with a table for eating?
a location where you could grill or serve food?
What about creating a space where guests can gather and have fun?
Next, think about the furnishings and accessories you want or might need in the future.
Here are a few ideas:
Built in seating around a fire pit
A U- or L- shaped couch
Individual chairs or loveseats
Lounge chairs or Adirondack chairs
A Built in Kitchen
Pergola or Covered Porch
Always keep access to the stairs in mind when arranging the layout and placement of the furnishings. Furniture should not be placed immediately in front of them because doing so is dangerous and you don't want a chair or table leg to fall off the top step.
What Shape Should Your Deck Be?
In the case of decks, size and shape go along with one another. Meaning that a deck frequently needs to be shaped to match the space at available. This is not a problem if you have a lot of room. Yet, creative shaping is an essential factor to keep in mind.
Your Budget
Narrowing your options might be accomplished by selecting a set budget for the project. This can also help you make decisions about the material, elaborate selections, and design features that will affect the cost.
It should come as no surprise that a larger deck will cost more to build. Yet did you realize that larger decks cost less per square foot?
Building a deck that extends more than 14 to 16 feet from the house as this will require additional structural work (and more money).  Smaller may not necessarily imply insufficient. If you don't need a lot of space for guests, it's simple to include a food area, seats, and a hot tub on a 26-by-20-foot deck.
In the end your budget will allow or restrict your deck size.
Conclusion
It takes some forethought and creativity to choose the right size for your deck. If you carefully consider everything we've covered today, you'll undoubtedly be satisfied with your decision years from now.
If you are ready to get started with you deck project, Decked Out Builders can assist you in designing your deck in 3D to accommodate how you want to utilize your new space. Get in contact with us today!