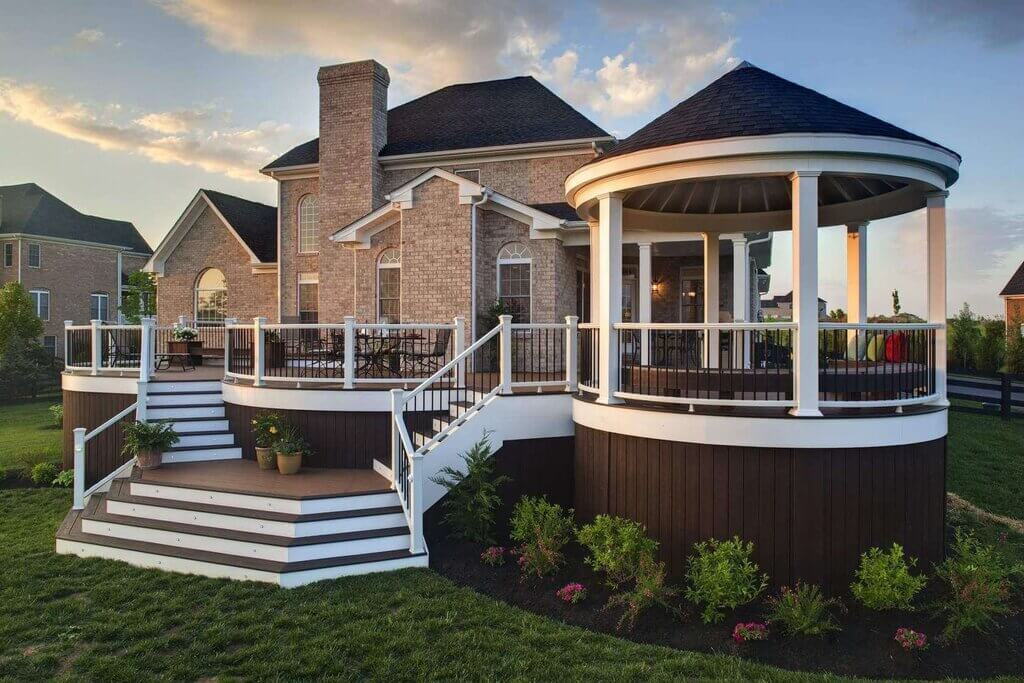 15 Apr

Creative Deck Skirting Ideas
Deck Skirting: What Is It?
Deck skirting essentially encloses the perimeter of your elevated deck with a barrier or "skirt." Deck skirting's primary function is to enclose and conceal your deck's underneath.
In general, the best deck skirting to use for your deck will depend on the deck's design. The majority of deck owners choose to add skirting that matches the material of their deck, although some deck owners choose contrasting skirting materials to draw attention.
Most Popular Options:
Lattice
Lattice is usually the first thing that comes to mind when you think of a deck skirt. With wood decks, the classic crisscross design is by far the most popular option, but you can still make yours unique by trying with various patterns, colors, and textures.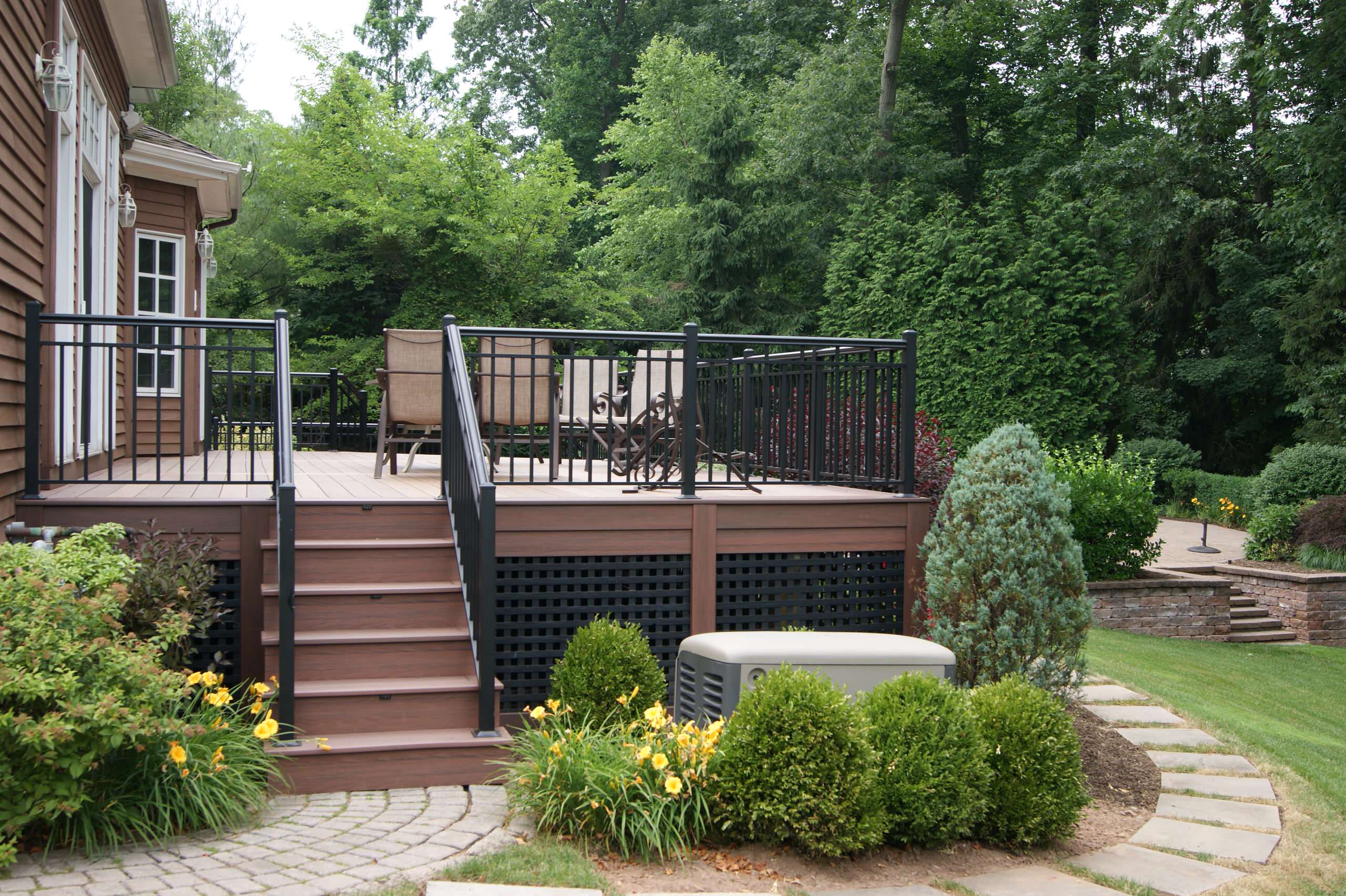 Cladding
Another well-liked and customizable choice for deck skirting is solid cladding made of deck boards. Installing the boards vertically can provide the appearance of height to a short deck. You can get creative by installing the boards horizontally to give the deck a more contemporary feel or by adding latticework between the boards to give it a more classic appearance.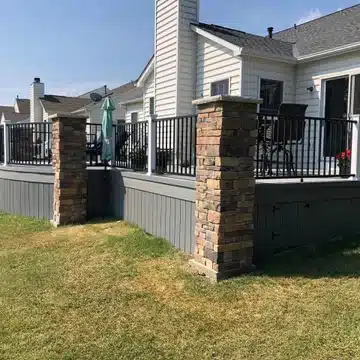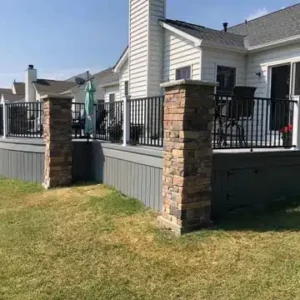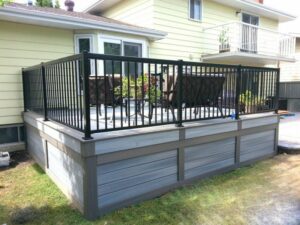 Faux stone
Faux stone is a versatile material that comes in a range of colors and textures.  Use actual stones in the landscaping around the deck skirt to give your deck an even more natural and earthy appearance.
Shrubs and Plants
There is no need for skirting when planting shrubs, flowers, and other plants around your deck to fill in any open places. Just remember that vegetation won't prevent racoons, opossums, and other animals from entering under your deck and making themselves at home.
Aluminum Panels
Aluminum Panels is becoming more popular for deck skirting material that can be used to create a very cool industrial aesthetic. Typically, these panels only come in white and black, but offer a variety of design and texture for a contemporary and modern look.
How Do You Want Your Deck Skirting to Function?
You must choose the purpose of the deck skirting before deciding on a style. Do you wish to store items under your deck, or will it just be utilized to cover empty spaces? How important do you think critter control is?
Additional Storage
Proper ventilation is essential if you plan to use the area beneath your deck as a storage shed to prevent dampness and mold growth in your items. Both lattice and Aluminum panels allow for excellent airflow while still offering sufficient bug defense. Furthermore, reducing moisture can be accomplished by lining the area beneath your deck with moisture barrier.
Keep Unwanted Animals Out
Animals like skunks, chipmunks, raccoons, and others can seriously harm your deck in addition to being a problem.
However, these burrowing pests can get through even the sturdiest skirting. Installing a wire mesh screen along and underneath your deck skirting is the greatest approach to keep undesirable animals out for this reason.
Care for Deck Skirting
By keeping your deck skirting in good condition, you may increase the lifespan of your deck. Here's how.
Ventilation Is essential necessary.   Without sufficient ventilation, the deck will sag as the top wood dries and shrinks while the beneath remains moist. In addition to being unsightly, water damage is also costly to repair.
Various skirting kinds need for various ventilation techniques. A decent rule of thumb is to leave at least an inch between each board when using deck boards. Materials like lattice and aluminum panels are naturally vented, but those that totally cover the underside of the deck, such faux stone and brick, need a ventilation system.
Cleaning
Remember that some deck skirting alternatives need more upkeep than others. Although lattice skirting is prone to breaking or warping. This is challenging to repair when it does, whole portions may need to be replaced. Materials like composite, aluminum, and faux stone, on the other hand, are easy to maintain, generally only requiring warm, soapy water and a little bit of elbow effort to keep them looking beautiful. They are, however, typically more expensive up front.