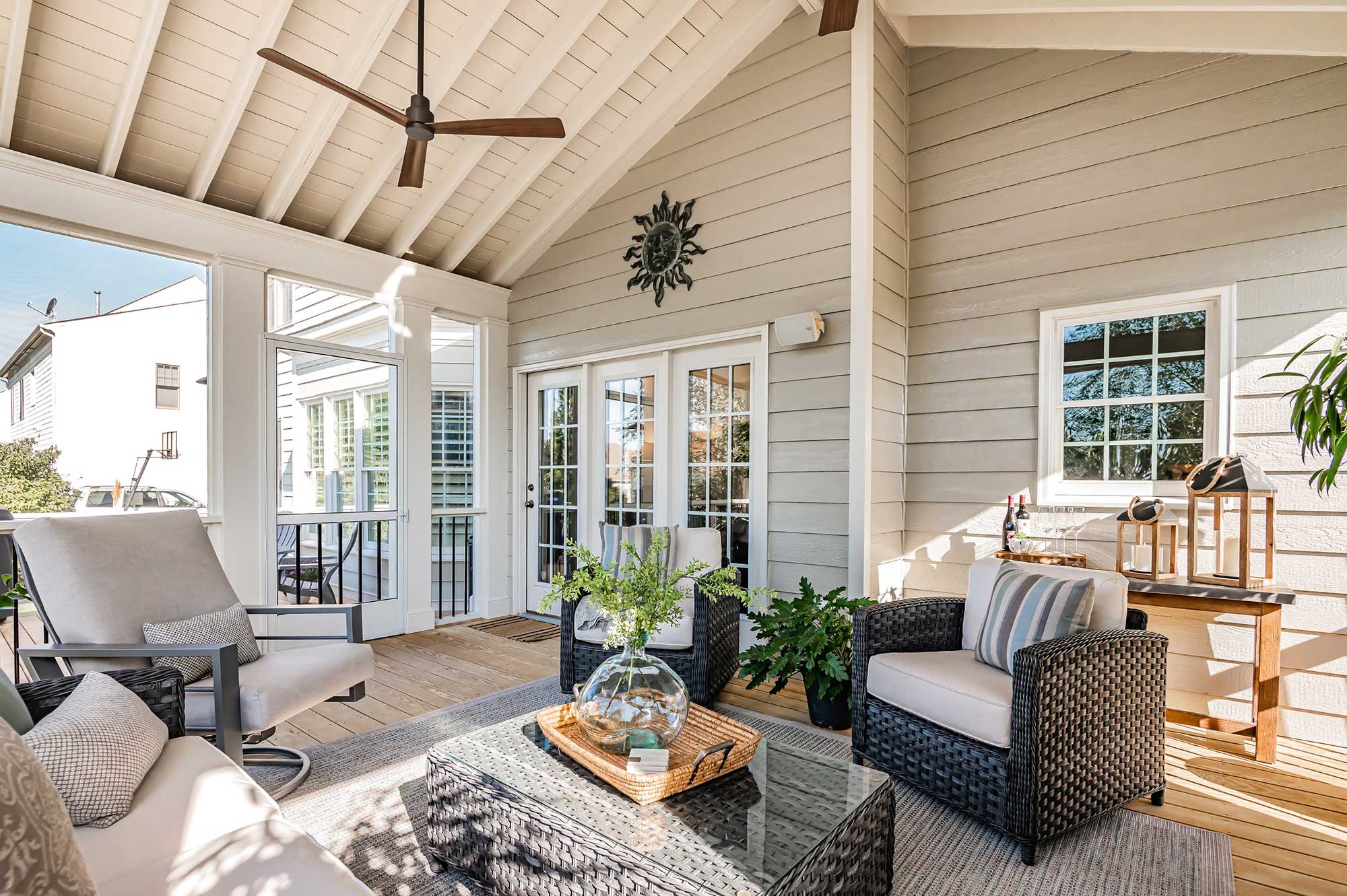 15 Jun

Choosing the Right Roof Style for Your Screened Porch

There are many various roof styles available, depending on where you want your covered porch to be. It is important to consider the existing roof lines, windows, skylights, bump out regions like bay windows, and many other things. The upstairs windows may prevent you from raising the roof line high enough to add a porch to a two-story house. We facilitate the integration by either keeping the porch roof line below or between the windows, depending on the type of roof (gable, hip, or single slope). In addition, when recommending roof placement and style for your specific project, we take into account water flow and proper drainage.
When Choosing The Right Roof Style, Many Factors Are Taken Into Consideration
Your screened porch could become magnificent with the appropriate roof style and design. But before putting the best functional and aesthetically pleasing design plan into place, there are several questions that need to be addressed.
What aesthetic are you aiming for? Classic, contemporary, modern, or perhaps nautical?
Do you wish to optimize the light from the sun?
What is the layout of the back of your house, and are there any existing second-story windows that pose architectural challenges?
All of these factors are taken into account as we strive to create the greatest screened porch design, and choosing the appropriate roof is a crucial component of that design.Our team can incorporate your roof type to offer the most utility, maximize outside vistas, and bring in a ton of natural light while still working within your current space restrictions, home style, and porch proportions with the proper implementation strategy in place.
Regardless of the type of roof you select, our team offers high-quality building that complies with building codes, has adequate drainage, and makes sure that second-story windows and balconies are not blocked. Beyond these crucial components, every sort of roof style has advantages, and your final decision is up to you! We'll work with you to determine the ideal screened porch roof option that will look great with your house and provide a comfortable way to spend time outside while being shielded from the wind, rain, and those pesky unwelcome insects. Every design will be special to your house and will let you enjoy the nighttime or daytime winds from the outdoors.
View a few of our most popular screened porch roof styles below.
Gable Roof
Also referred as an A Frame Roof. This style roof gives you the tallest peak with two slopes that meet each other. Gable roofs are popular with customers because they let a lot of light and air into covered decks with a vaulted ceiling. However, it has its limitations, and is not always possible with current roof lines or 2nd story windows.
Hip Roof
A hip roof is a more intricate roofing design. Each of the structure's sides softly slopes downward, giving it the appearance of a pyramid. These roof designs are typical in free standing porches. An interior open, vaulted ceiling is made possible by the roof construction.  Hip roofs frequently need a little bit more construction materials, which might increase their cost relative to gable roofs and other roofing options.
Single Slope Roof
A single-slope roof might be a fantastic alternative if your home has second story windows or other second story architectural features that limit your options for a tall cathedral ceiling. This type of roof has often been referred to as a "shed" roof. Any constraints on the home's second floor will limit the slope's steepness, which is dependent on a number of other factors. If you want a basic or broad coverage, this is a fantastic option. Remember that this roof style does not receive as much light as a gable or hip roof does when picking this roof style.
Combination Roof
For both aesthetically pleasing and functional reasons, a combination roof integrates a design utilizing different roofs on the same structure. When a full porch roof type is not feasible, this roof design can be a great alternative, however it does require a little more skill during construction.
Not All Roofs Fit the Same Style
Your new roof should blend in with the architecture of your home and the style of your present roof, but it doesn't imply that the same materials or pitch must be used. We will assess your current roof, whether it has a single roof line or several, and will choose the screened porch roof design that best achieves the desired aesthetic. Our goal is to create a seamless transition between your current roof and the new roof of your screened porch so that it appears to be part of the house.
Looking to Build A Covered or Screened Porch?
To start the process of designing and building your next screened porch, customers can contact Decked Out Builders if they have any questions. We are available by phone at (815) 900-5199, or homeowners can submit our online contact form.