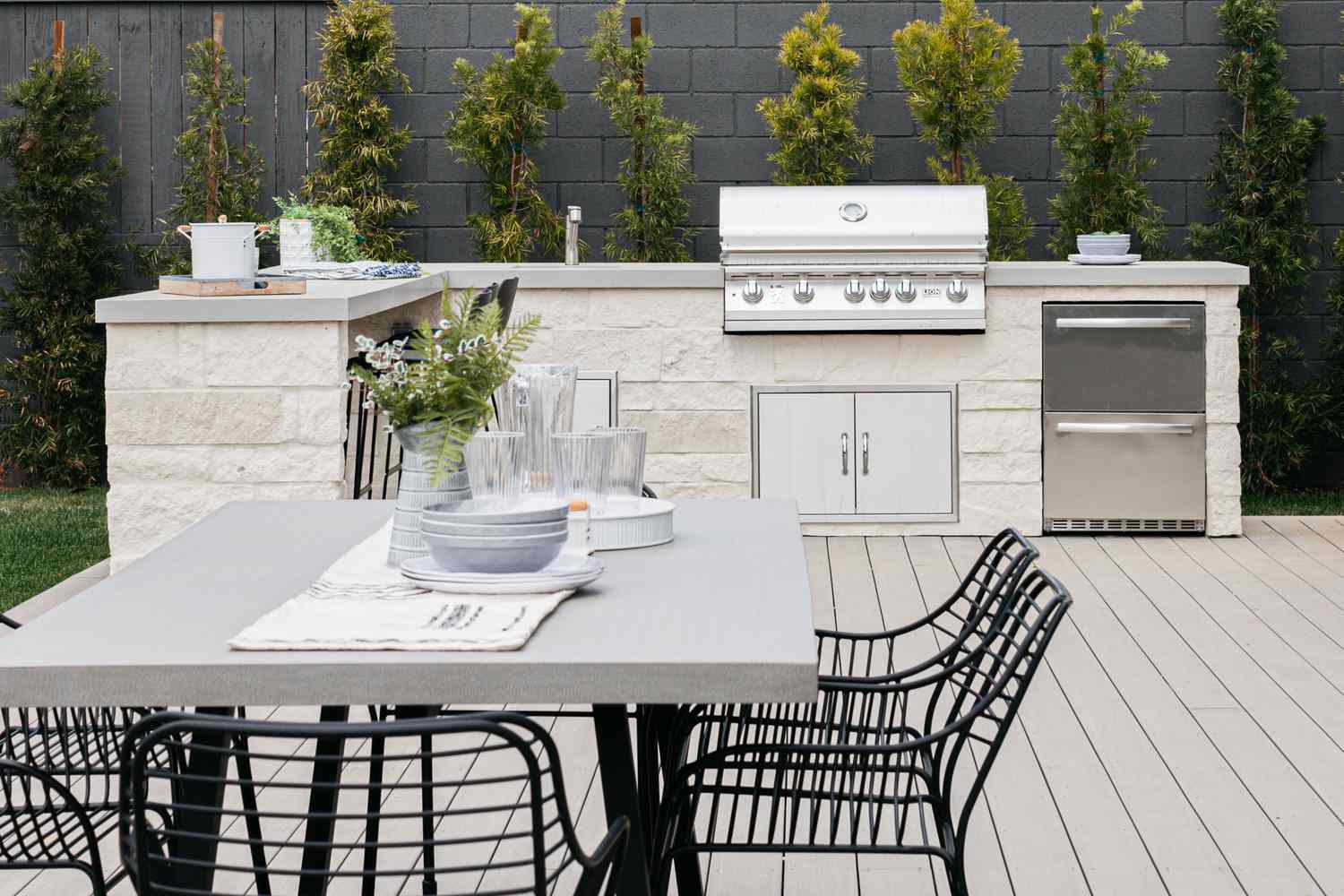 15 Jun

Things to Consider When Building An Outdoor Kitchen

All types of kitchens frequently serve as the center of activity in a house. It makes sense because interacting with others while food is being made is a pleasurable and engaging activity.   Utilizing and building an outdoor kitchen might improve this pleasurable experience. Picture yourself relaxing outdoors on a warm summer afternoon with friends, family, and neighbors while enjoying the experience of cooking meals.

When constructing an outdoor kitchen, there are many factors to take into account, such as the location, material choice, appliances, a covering, seating area, and much more.
1. Function
A meal's preparation might be more enjoyable with an outside kitchen, as was already mentioned. It might be more pleasurable for visitors to hang out outside near your new outdoor kitchen. If everything goes according to plan, the visitors will be nearby without getting in the way or trampled by those who are preparing the dinner. You'll find that installing an outdoor kitchen will turn it into the perfect gathering place for your visitors who are unwinding with you and your family. The value of your home can likely be increased by installing an outdoor kitchen, according to research.
2. Budget
Budgeting might be difficult when building an outdoor kitchen because there are so many configurable components. The type of materials used, the size of the space, the need for appliances, utilities, and other factors can all affect the price of building an outdoor kitchen.
3. Permits
A common question posed by homeowners is "Do I need a permit to build an outdoor kitchen?" It depends, you probably don't need a permit if you don't plan to install a roof and don't need electrical or plumbing work. In comparison, your project probably needs a permit if your outdoor kitchen designs call for any electrical equipment or heat sources.
4. Size of Your Outdoor Kitchen
The size of the kitchen will influence how it is shaped and how each component interacts with its surrounds. Do you want to use a small amount of your deck for your outdoor kitchen while leaving space for a lounge area or another type of area? Or do you prefer the thought of a huge outdoor kitchen that takes up the whole of your deck and was built with entertaining and feeding guests in mind? Including islands, built-in grills, and other useful amenities is much simpler if you have enough room to construct a bigger outdoor kitchen.
5. Location and Layout
Your outdoor kitchen should blend in with the rest of your space both aesthetically and functionally. For instance, you could desire the placement of an outdoor kitchen to have less exposure to the elements while creating the layout. The size, shape, format, and flow of outdoor kitchen ideas should all be thought of when designing.
Certain considerations should be made when positioning your outdoor kitchen. Is there a predominant wind direction on your deck, for instance? If possible, try to avoid placing your guests directly in the path of the cooking smoke. For the benefit of the chef as well as the guests, consider the sun's orientation. You don't want either of them looking directly into the glaring sun as they converse and mix in the late afternoon.
Planning the shape of your kitchen might be one of the most crucial steps in the design process once you have a solid concept of the size of your kitchen area. Think about the following to determine how to make the most of your space:
Counterspace that is accessible
Location near appliances
Zones that are hot, cold, wet, and dry
Number of guests you would like to accommodate
6. Materials Options for Cabinetry
Materials for outdoor kitchens come in a wide variety. Style, functionality, and cost will all be greatly affected by the material you choose. For seasonal weather changes, powder-coated stainless-steel cabinetry is typically your best choice. One of the reasons stainless steel is so common in commercial kitchens is that it can tolerate a range of chemical interactions in addition to standing up well to the environment.
7. Materials Options for Countertops
Just like with indoor kitchens, choosing countertops for your outdoor kitchen might be intimidating. With so many possibilities, you may personalize the area and create a kitchen that reflects your preferences. One of the most popular choices is granite since it is porous and water resistant, but if you choose this option, avoid dark hues because they absorb heat and can make outdoor countertops unbearably hot to the touch. While some stones, like marble, are stunning, they are also prone to staining and fading over time.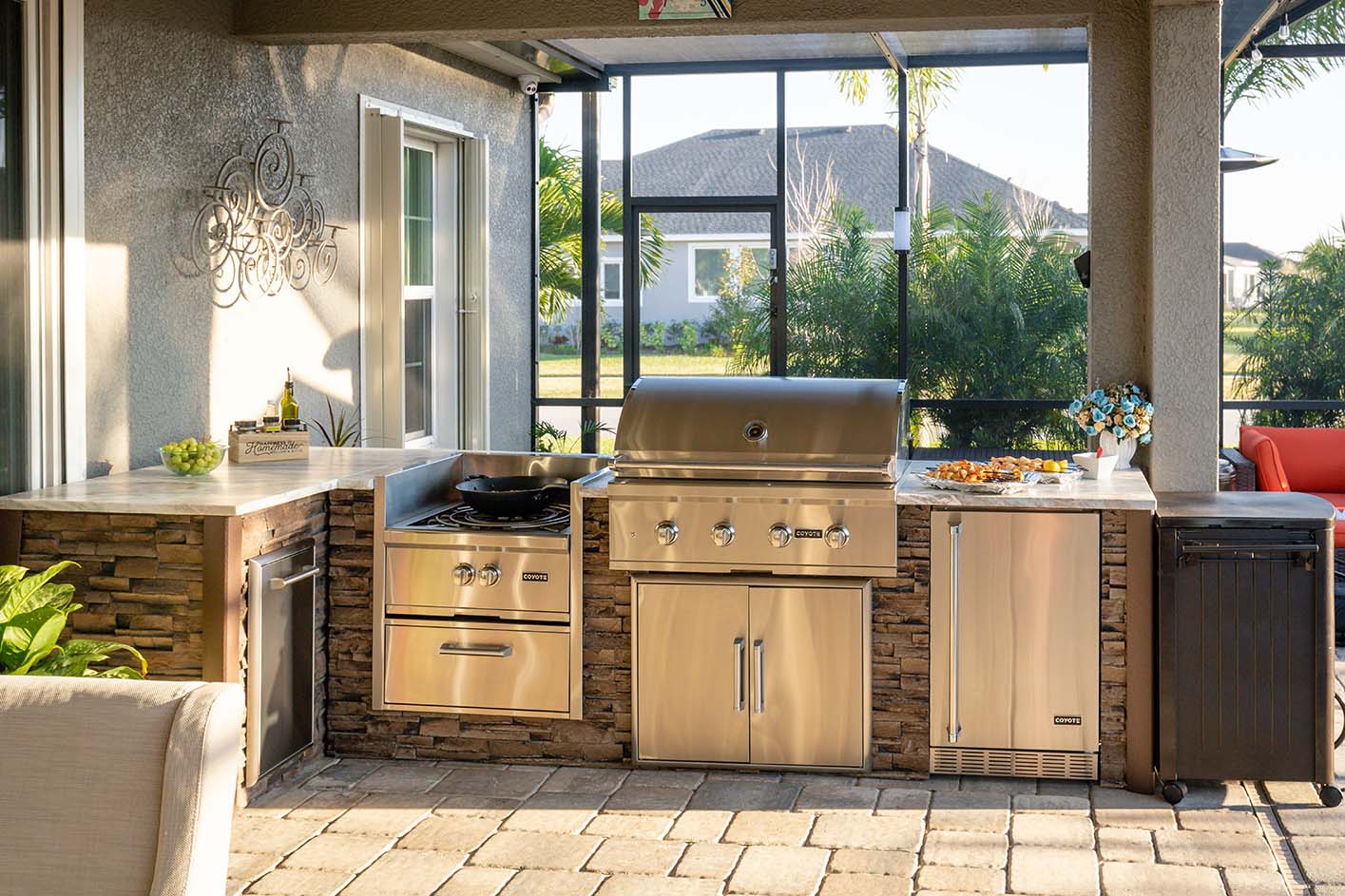 Although they are not necessary, they enhance the enjoyment of cookouts.
Sink: It is worth the investment to install plumbing and waste lines in addition to the sink because of how simple and hygienic it is to wash hands and vegetables without having to lug them inside.
A dedicated gas line should be installed if you have natural gas so that you won't have to deal with a propane tank or run out of fuel while having a barbecue.
A second burner is perfect for side dishes. There may be one included with some grills but be sure there is adequate room for your pots.
Refrigerator: The grill has access to cold beverages and ingredients thanks to an under-counter stainless steel refrigerator.
Start Your Outdoor Kitchen Project Today!
Be sure to keep these things in mind if you wish to include an outdoor kitchen in your deck design. Your outdoor kitchen installation will go more smoothly if you have a clear idea of the type of area you want as well as any amenities you may have your heart set on.
For additional information or to start designing your new outdoor kitchen, contact us today!