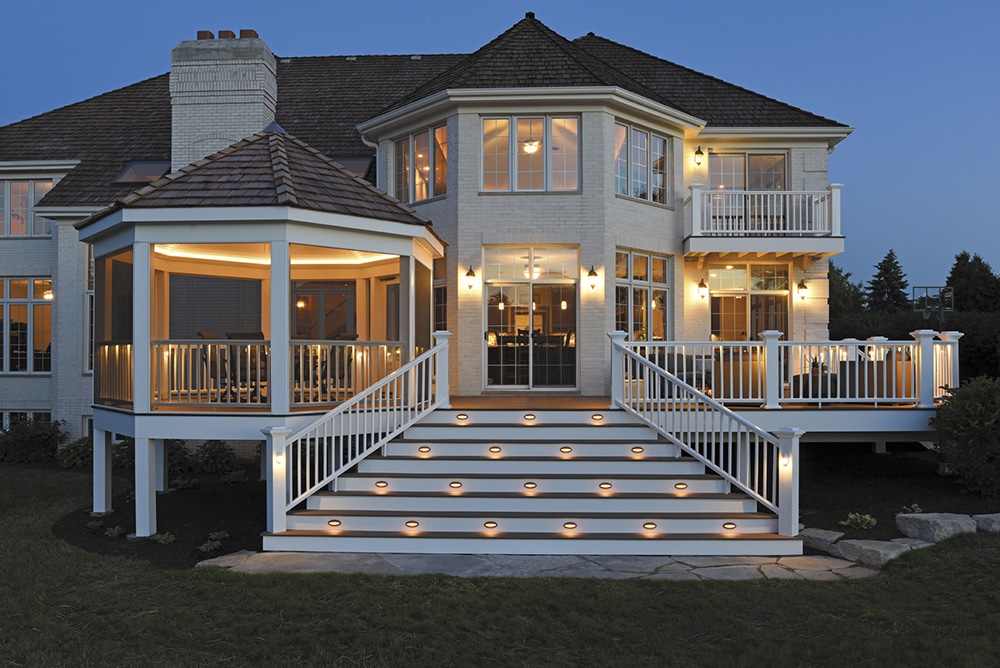 30 Jun

4 Deck Features to Include in Your New Deck Design

When your porch or deck features elements that you love, it is far easier to enjoy your time in this special area of the home. How do you want to use the outdoor space? The answer may change the way you think about how to plan your new deck design. 

If you're looking for inspiration, take a look at these five popular features that our expert team recommends for the perfect deck design.
How to Plan a Deck Design Everyone Will Love: 4 Cool Deck Ideas
Play With Deck Lighting
Lighting creates an atmosphere for entertaining guests or enjoying a nice evening under the stars. Deck lights are also one of the most effective deck features to highlight certain elements within your new deck space. Do you have rare plants or artwork you want to showcase?
Incorporate lighting into your new design by:
Post extensions for rope lights

Stair Lighting

Railing Post Cap or Accent Lighting
Make That Dream Outdoor Kitchen or Bar Area A Reality
When it comes to outdoor living inspiration, one of the most beloved elements is a beautiful deck. These structures provide a space for families and friends to enjoy nature's bounty, whether that involves relaxing in the sunshine with a refreshing glass of wine or grilling hot dogs while the children play.
Whether you want a full-service outdoor kitchen or just a barbecue, there are countless options available that could make your deck more enjoyable. Why not consider a built-in grill that is easy to use and allows you to cook with minimal clean-up afterward? If you are looking for more versatility, you might prefer a complete outdoor kitchen with preparation surfaces, a sink, and a convenient refrigerator.
Don't Forget About Pergolas, Covered Porches, Gazebos, and Screened Porches
It is no surprise that one of the most popular deck features is a covered structure. It provides shade for those who want to enjoy the deck in a sunny climate and encourages people to use the area more. For example, a design that includes a full overhang to cover the deck will make it possible to enjoy the outdoor area even in rain or snow.
Gazebos are perfect for adding a little bit of elegance to your upper deck design. They typically consist of wood, but be sure to ask our Decked Out Builders team about the many other materials that are available today. This type of feature also provides additional space for entertaining guests, relaxing with friends after work, or admiring the view of the yard or beyond.
Transform the Effect With Well-Placed Trellises
Shelter from the elements is not the only advantage of a stylish overhead feature, such as a pergola, awning, or arbor; a solid structural design also brings the benefit of privacy. If you would like to enjoy your new deck design without the neighbors or block out unsightly views, trellises are a great solution. These vertical structures consist of various materials, from metal to wood.
An experienced professional like Decked Out Builders can show you plenty of examples of how a trellis or similar feature can give the illusion of a wall without blocking the view. Budding decorators can also adorn the trellis with vines for added greenery, color, or romance in an otherwise bare outdoor space.
Whether you are looking to build a gorgeous outdoor living space or you just want a place to relax with family and friends, the deck design possibilities are endless. Why not take advantage of our expertise at Decked Out Builders as you plan and build your dream deck design? Our family-run business creates spectacular outdoor spaces built to last—call us at (815) 900-6265 today for inspiration on deck features and anything else you need to know.