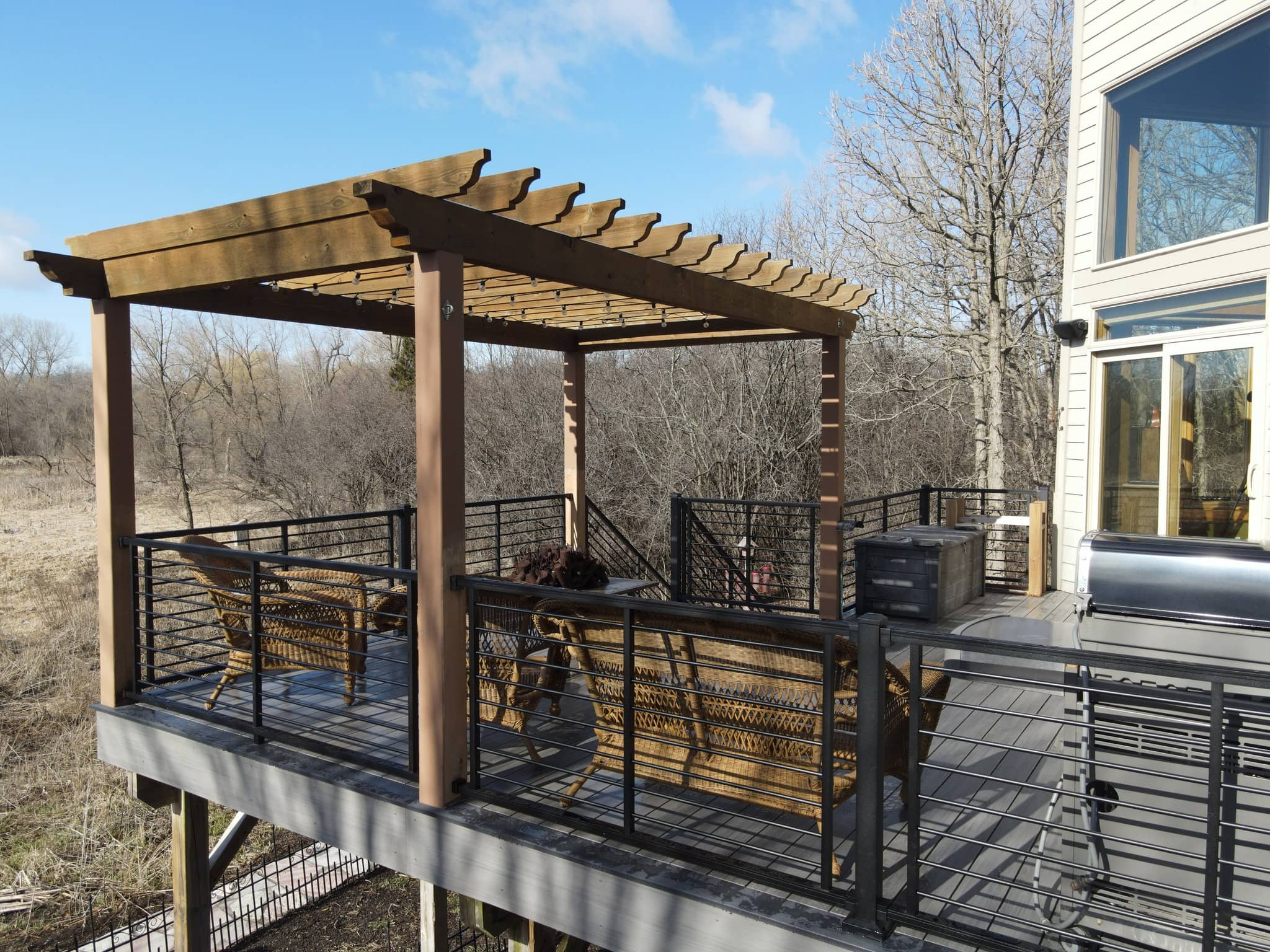 30 Jun

How Long Does it Take to Build a Deck?

Have you ever asked yourself, "How long to build a deck from scratch?" When considering a deck design for your outdoor space, the timeline is going to vary considerably depending on:
The kind of deck you want

The size of the deck area

The decking materials and more
Below, our expert team at Decked Out Builders break down a few details about the deck-building process that may affect your decision.
How Long to Build a Deck? Four Factors to Consider
An average deck at home will take about 2 weeks to build from start to finish. However, there are certain aspects of the job that may affect your timeline.
#1 How Big is Your Perfect Deck?
The deck's planned surface area will directly determine how much time and money goes into building it. The size of your family or social circle might also play a role in this decision. If you plan to host parties or cookouts on the new deck, it is probably best to build a larger one.
Beyond the size of the deck, other factors that will affect how long it takes to build it include:
Materials:

Are you using wood or composite decking materials? If you like wood, what type would suit your design best? For example, framing in cedar, redwood, or oak is more expensive for deck boards but is sure to last longer than pine.

Preparation:

Do you have an existing structure to remove? It may take several days to prepare the area before you can add support or posts.

Additions:

Will you be adding railings or stairs? Add some time to the installation process.
#2 Is the Deck's Design Complex?
What kind of deck design would best enhance your lifestyle or property? If you envision a simple outdoor area in which to relax and enjoy the weather, a deck projecting off the back of your house might be just what you need. However, if your ideas revolve more around entertainment or events in the yard, an elevated deck with stairs might be more practical.
A basic deck typically takes one to three weeks to construct. It may take a little longer if you are adding other features, such as:
Custom stairs

Deck Patterns and designs

Convenient built-in seating

Deck  & Accent lighting

Under decking and dryspace
Are you planning a large deck? The timeline will need to take into account the materials involved, the various build stages, and the labor commitment. If everything goes well, even a larger deck project will only take our professionals between two to four weeks.
Professionals like Decked Out Builders also advise working through the details ahead of time. Do you want intricate designs or elaborate features like railings or an attached gazebo? Decide on the details well before construction to avoid delays.
#3 Which Materials Catch Your Eye?
How long does it take to build a deck before you can enjoy the space for relaxing with friends or taking in nature? The answer may depend on how much experience your chosen contractor has with decks and your preferred materials. 
Different deck materials have varying time frames for install, so you'll need to take that into account. Most composite materials take the same amount of time to install. By contrast, railings can vary.  Custom railings, such as cable or rod rail can take longer.
#4 How Accessible Are Building Approvals in the Area?
Building a deck is a great way to expand your outdoor living space and make it more comfortable. These simple additions can also increase the value of your home on the open market. However, the final consideration is how easy it is to acquire permits from your local building department or building codes committee.
Don't worry; obtaining these approvals is often easier than homeowners think with the support of a professional like Decked Out Builders. 
Contact Us For a Quote From the Best Deck Builders in Woodstock, IL
So, how long will it take for us to build your dream deck? In most cases, it takes about two weeks from start to finish, depending on the building approval from local authorities. Once you settle on the size, design, and additions you want, the Decked Out Builders team can get to work.
Call Decked Out Builders at (815) 900-6265 today and let us take care of everything, from design through construction. All you have to worry about is looking forward to spending time on your new deck and not how long to build a deck.