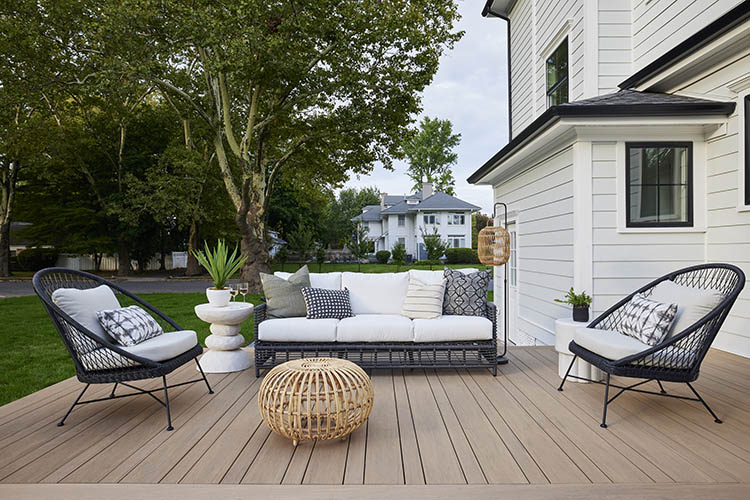 30 Jun

How to Plan a Deck Design for Your Backyard

What is the secret of how to plan a deck design that won't fail? If you are considering adding a deck to your property, there are several important things that you may want to take into consideration.

In this blog post, our expert team lays the groundwork for a successful deck design, including a few factors you may not have included in your initial plan.
Five Key Considerations Before Planning a Deck Design
Costs
What goes into building a beautiful deck that will last for years? Its purpose, size, and style will factor into the overall cost of building your dream deck. For example, if you plan to add an outdoor kitchen or grill area, it may be better to use more expensive materials that will minimize your maintenance requirements in the long run.
So, the first step to designing a deck is to determine your budget parameters. There are many ways to save money on your new outdoor space, but there are certain aspects where cutting corners only leads to added costs. Materials and solid design choices are two of these important areas, so be sure to ask professionals like us for recommendations during the design phase.
Size and shape
The size and shape of your deck will also affect how long it takes to build and the overall cost. The larger the space, the more materials you will need for construction and installation. A smaller yard that will incorporate a large deck might also need to consider adding multiple levels to maximize every inch.
Do the planned deck dimensions fit the available space? The designs should also account for whether the site is level before the building begins because surprises when installing footings and posts directly affect the project's timeline and budget.
Materials
A great deck design also includes the right deck material. For example, the type and condition of the composite you use will depend on its intended use and the climate where you live. An experienced deck builder like ours is invaluable in knowing how to plan a deck design that works for your property.
For example, we will be able to guide you through the process by:
Suggesting different ideas

Demonstrating the application of various materials

Streamlining your space

Planning around your budget and more
Two popular material options that our deck builders come across include cedar and composite decking.
Cedar

: As a classic choice for its natural beauty, cedar wood decks require little maintenance. They are more expensive but far more durable than other types of wood. However, oak or ash is a better choice of wood in a dryer climate.

Composite decking

: Composite materials for decking consist of plastic or wood fibers mixed with resins. It looks like traditional wood but does not require special treatment or much maintenance. These decks are popular for the myriad colors and styles available.
Why not ask our professional deck builder for comprehensive materials lists to help you formulate a solid deck plan?
Views and Traffic
Have you ever been on a deck that seems too high off the ground? It seems akin to a toddler trying to get around but misjudging how far down the stairs are or how much space there is to maneuver around the furniture. A great deck plan can help you avoid this feeling of being off-balance with specific features, including:
Guardrails that define its perimeter and help you enjoy the view

Benches or planters as visual guidelines

Safe throughways for foot traffic and more
Building Permission
What is the final step for how to plan a deck design? Acquiring a building permit. Every municipality has varying requirements, which may include submitting a drawing for approval and scheduling inspections.
Thankfully, hiring a professional like Decked Out Builders can streamline this process and ensure that your designs adhere to local guidelines for decks or building additions.
Professional Assistance Makes Planning Your Deck Design A Lot Simpler
A deck is a beautiful addition to a home's exterior, but only if it complements your style. A functional and durable deck is also easier to maintain and enjoy year-round, so it is worth thinking about these details in the planning stages. Why not take advantage of professional guidance to ensure the project is a roaring success?
Decked Out Builders provides quality construction services in Woodstock, IL, and the surrounding areas. Our services can help you plan the perfect deck, patio, or other features that:
Adhere to municipal codes and regulations

Exhibit high-quality workmanship

Create a space for outdoor fun and activities for the whole family

Increase your home's value overall
Do you want to make your beautiful deck design more affordable? Contact Decked Out Builders at (815) 900-6265 today and learn how to plan a deck design that is everything you imagined.