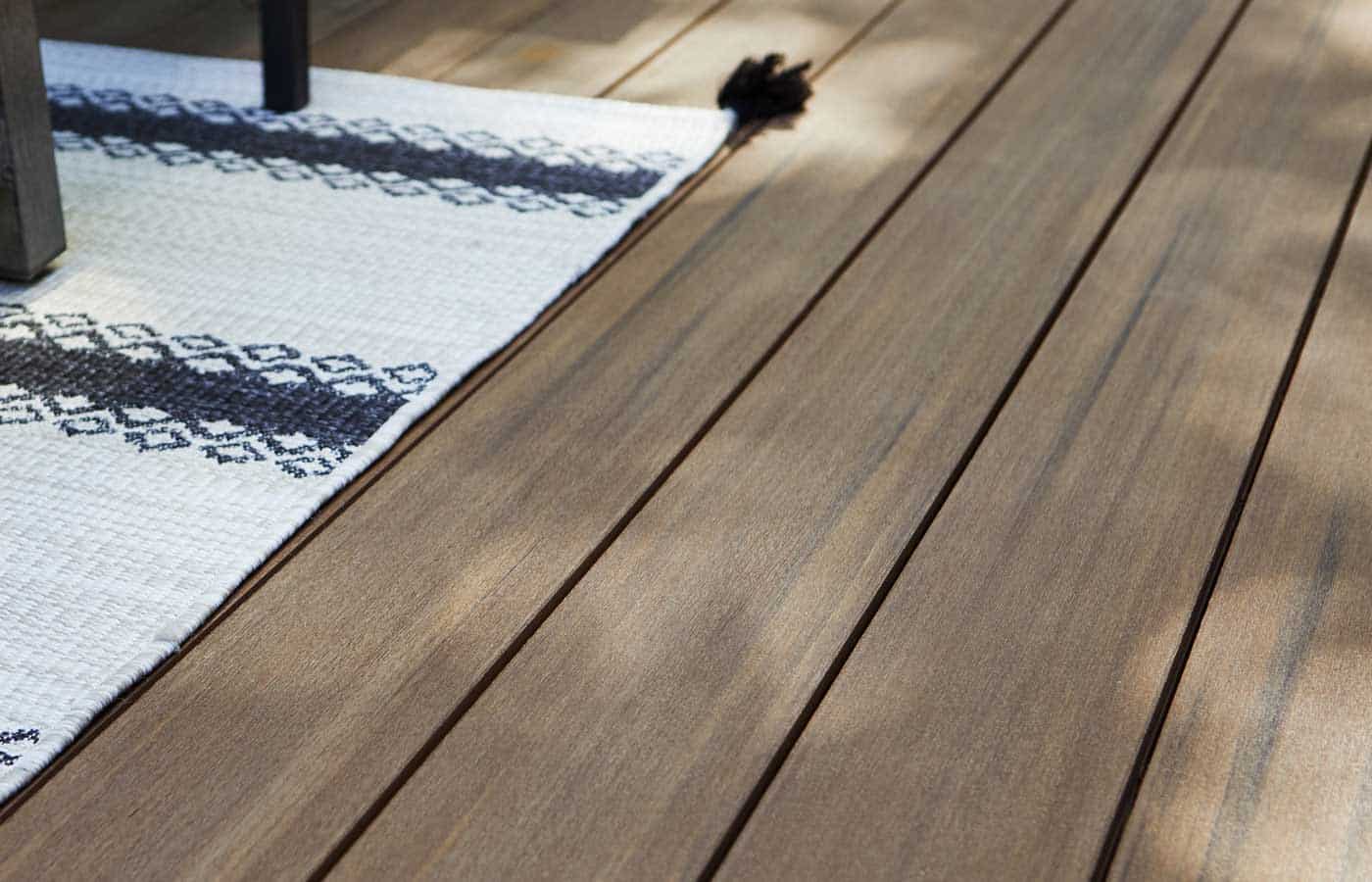 08 Jul

PVC vs Composite Decking

Although wood has historically been the most popular form of decking material, composite and PVC alternatives are gaining popularity year after year. It's simple to see their appeal given that they require less maintenance, have longer lifespans, and, when maintenance costs are taken into account, may even prove to be more cost-effective than wood. In the end, various materials are suitable for various situations.

PVC decking and composite decking are the two primary categories of engineered materials. Both are strong and weather resistant and are created from recyclable materials and polymers. But there are important distinctions between the two. In this article, we'll compare PVC and composite decking so you can decide which is best for you. Modern synthetic deck materials have a lifespan of twenty to fifty years and come in a variety of finishes that resemble real wood. Deck construction has been transformed by synthetic materials over the last few decades. They function well and require little maintenance, making them a more affordable option for decking than wood. The performance and available finishes of PVC and composite decking materials, however, differ since they are made of distinct components.
What is Composite Decking?
Composite decking contains two or more components, often wood fibers with one or more forms of recycled plastic. Because it does not have the flaws of natural materials, composite decking performs better than wood while cutting and fastening like wood. Because of this, composite decking requires less maintenance, such as power washing, sanding, and staining, and lasts longer.
Uncapped and capped wood composite are the two main classifications for composite decking. Due to its exposed wood components, uncapped wood composite is the most prone to mold and mildew. Capped wood composite boards are enclosed in a plastic shell, increasing their level of protection.
What is PVC Decking?
Polyvinyl chloride (PVC) or polyvinyl chloride decking is an engineered product that's made from 100% plastic polymers. Polymer or PVC decking is low maintenance, mold- and insect-resistant, like composite decking. Compared to other decking materials, PVC deck boards' polymers produce the most authentic-looking wood finishes in a wider range of hues.
PVC vs Composite Decking
The primary distinction between composite and PVC decking is the appearance. Composites frequently more closely resemble real wood. PVC, on the other hand, looks more plainly artificial. The two materials do differ in a number of other important ways, though, that are worth pointing out.
Cost
What is the price of a PVC deck? Because it relies on the level of the components, there is no straightforward response. PVC decking costs, in example, can differ significantly from one manufacturer to another, and certain materials are more protected from the weather than others. However generally PVC decking costs more than composite decking.
The cost of a composite deck varies from $70 to $95per square foot.
PVC decking typically costs between $85 and $105 per square foot.
Lifespan
The material's quality and the fundamental production techniques used will determine the decking's longevity. Although it's vital to clarify what the warranty covers, the typical lifespan will often coincide with any related warranties. Most composite decking has a lifespan of 25 to 30 years in comparison most PVC decking has a lifespan of 40-50 years.
Maintenance
Compared to wood, composite and PVC decking require less maintenance. To get rid of dirt and debris, composites and PVC should both be periodically swept and hosed down. That entails clearing clogs in boards and removing spills to avoid discoloration. Between the two product categories, maintenance is very comparable.
Eco-Friendliness
Both PVC and composite decking are produced using recycled materials. PVC is entirely recyclable because it is a pure synthetic substance. However, composites are typically made from a mixture of plastic and wood fibers that are heated and pressed together in a process called co-extrusion. As a result, some composites that are produced using this technique cannot be recycled unless they can be conveniently sent back to the producer. However, the majority of composites are constructed from recycled materials, which lessens their environmental impact.
Appearance
When comparing samples of PVC and composite, it could be hard for many people who are new to decking to notice much of a difference. Generally speaking, more PVC products have a more linear grain pattern and more composite manufacturers use wood-like grain patterns in their products. However, there are both exceptions and this is not a hard-and-fast rule.
Compared to composites, PVC frequently has a rougher texture, which, depending on personal preference, can be either a positive or a drawback. Finally, both product categories provide multi-tonal or "streaked" goods that mimic real wood. One PVC manufacturer even has a laminated product that some consider to be a very nice aesthetic alternative to wood. In the end, aesthetics are subjective, and there may not be much of a difference between different product kinds between manufacturers in terms of aesthetics.
Heat Resistance/ Absorption
More heat is absorbed by darker colors than by lighter colors, and heat is retained longer by dense materials. Because PVC is less dense than composite wood of the same color, it will dissipate heat more quickly. It won't feel as hot as composite wood, but it doesn't mean it won't feel hot underfoot at 100°F as all decking surfaces get hot.
Recent years have seen an improvement in heat resistance, particularly with Mineral Based Composite or PVC. Many manufacturers use synthetic material in the cap to prevent from absorbing heat.
Slip Resistance
Most PVC and certain premium composite boards such as Deckorators Voyage Mineral Based Composite have a textured surface that mimics wood grain. The texture promotes grip and traction, reducing the likelihood of slipping, claiming 40 percent greater traction. Although the embossed finish may feel harsh to the touch, it offers greater traction than many other deck materials when used near pools, spas, or in humid conditions.
PVC Decking Pros and Cons
The amount of sunlight, moisture, temperature fluctuations, and amount and type of use all impact how well a deck will stand up over time. When choosing a decking material, look for characteristics that will minimize maintenance and maximize enjoyment and improve the aesthetics of your home and yard.
Pros
Stain & Fade Resistant
Variety of color and textures available
Durable, low maintenance, and lightweight
No painting, sealing, or staining required
100% recyclable
Greater Slip Resistant and Heat Resistant
40-50 Year Lifespan
Cons
Most Expensive
Noticeable Expansion and Contraction
Composite Decking Advantages and Disadvantages
Composite decking contains organic material and reacts differently to climate issues than PVC. The difference between capped and uncapped composite boards is also much greater too. So, select a product that suits the environmental conditions and enhances your home and yard.
Pros
Looks more like natural wood than PVC
Less expensive than PVC
Capped boards are resistant to moisture, insects, mold, scratches, UV, and fading
Variety of color and grain options
Recycled materials
Low maintenance, durable, and long-lasting
No painting, sealing, or staining required
Cons
Not recyclable
Uncapped Composite can still stain, fade and mold
Find Out More About Which Type Of Composite Decking Is Right For You…
For your forthcoming deck-building project, both composite and PVC decking are fantastic choices. In actuality, appearance will play a major role in your decision. At Decked Out Builders, we are here to help local homeowners find the right decking material for their projects. Customers can get started by calling us at (815) 900-5199 or filling out our contact form.