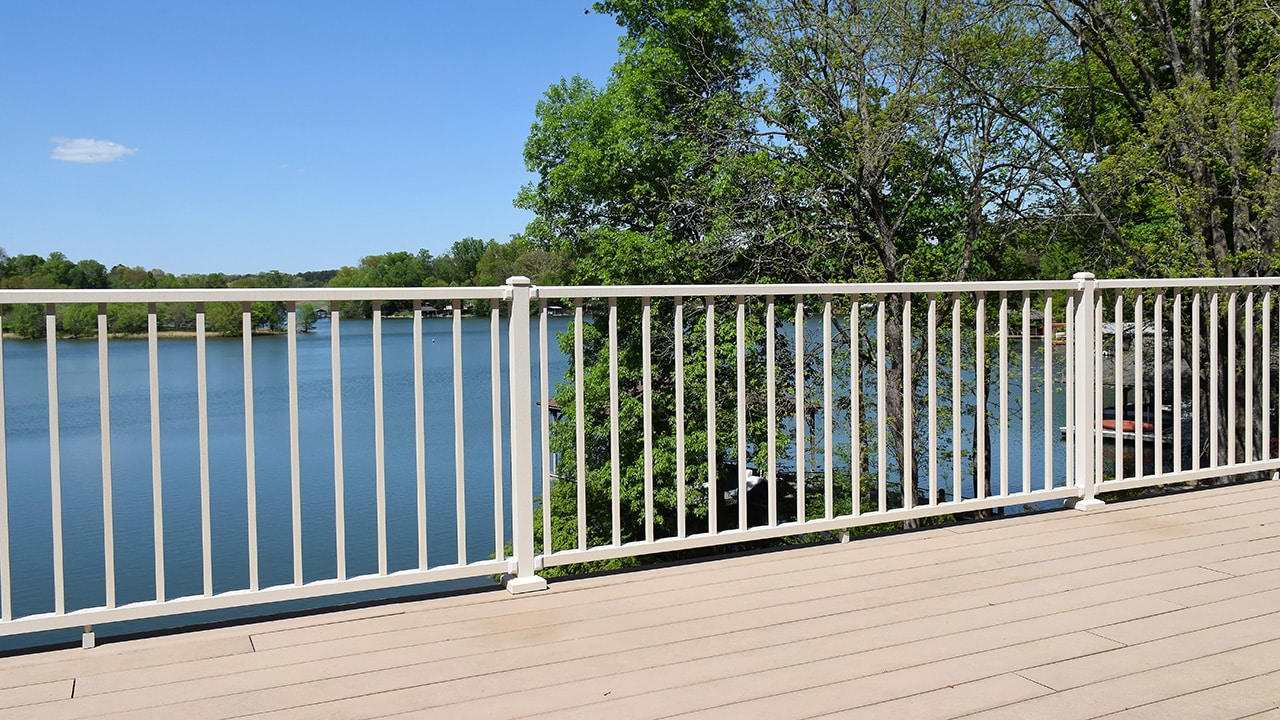 15 Aug

Best Aluminum Deck Railings

There isn't a particular material that works well for all railing projects. Finding the perfect balance between a variety of factors is necessary when choosing the material for your deck railing. Aluminum is often the best option, even though it may not be the first that springs to mind when compared to other widely used materials like wood and composite. As always, it's important to research each material to choose which is best for your project. You can narrow your choice by looking into the advantages and disadvantages of aluminum railing in more detail.
Cost
What is the cost of an aluminum deck railing?
Regarding performance and cost, aluminum railing is a premium material for railings. If we only consider the price of the materials, aluminum railing typically costs $70 to $100 linear foot. Installation costs per linear foot for can vary greatly based on the style and complexity of the railing.
Aluminum Railing Advantages
Aluminum is both lightweight and durable. Because of this, it's a fantastic option for decks where safety cannot be compromised. Its low maintenance and high longevity. Besides that, aluminum railing can offer a large selection of possibilities for aesthetic customization.
Strength and Durability
Aluminum is a versatile material that can be both strong enough to build with and frail enough to tear with your hands. The powder coated aluminum adds a necessary layer of environmental resistance. Aluminum that has been powder-coated is less prone to rusting than steel, won't decay like wood, and is more resistant to temperature changes than vinyl. Aluminum railings are therefore both durable and excellent for safety.
Low Maintenance
It is necessary to paint, sand, and reseal wood. Due to the common practice of powder coating aluminum railing, aluminum doesn't require much maintenance.   To help maintain your rails looking their best, it's still a good idea to periodically rinse them down. You should also make sure to repair any scuffed or scratched portions of your railing. For this use, most manufacturers provide touch-up kits.
Design and Customization
There are several colors available for aluminum railings, but the most popular ones are black, white, and bronze. Infills for aluminum railing come in a wide range of materials, including cable, rod rail, mesh, aluminum balusters, and even glass. Aluminum railing may really define your project because it offers for greater design versatility, blending traditional and contemporary styles for a more dramatic appearance.
Reviews of Aluminum Railing
Reviews of aluminum deck railings typically highlight a few key characteristics. To select the best answer, you must, however, evaluate a range of factors, from style considerations to cost. Fortunately, there are a few reputable companies that offer the essential qualities of a high-quality aluminum railing.
Westbury Railing
In terms of aluminum railing systems, Westbury is the industry leader with a 10 step powder coating process. Several custom color options are available, but the majority of their products are focused around just three colors: white, bronze, and black.  Westbury offers a wide selection of styles, different price ranges, and different post sizes so you may create a unique design.
Deckorators Railing
The heavy-gauge aluminum Deckorators Aluminum Railing is made of is weather-resistant and built to last. Only four color options—black, white, brown, and bronze—are available for Deckorators three aluminum railing configurations.
Trex Signature Railing
Trex Signature railing is very customizable, enabling you to choose from a wide range of different styles. Trex has a variety of distinctive designs, such as the rod rail that resembles like wire railing. Another choice is mesh rail, which has a highly distinctive, almost industrial design and uses 4″ x 4″ stainless steel mesh.
Choosing an aluminum railing for your deck, you must first evaluate your options, brands, maintenance requirements, and the aesthetic you hope to achieve. You can always choose railings that will go well with your deck and provide you with many years of enjoyment by giving your options considerable thought.