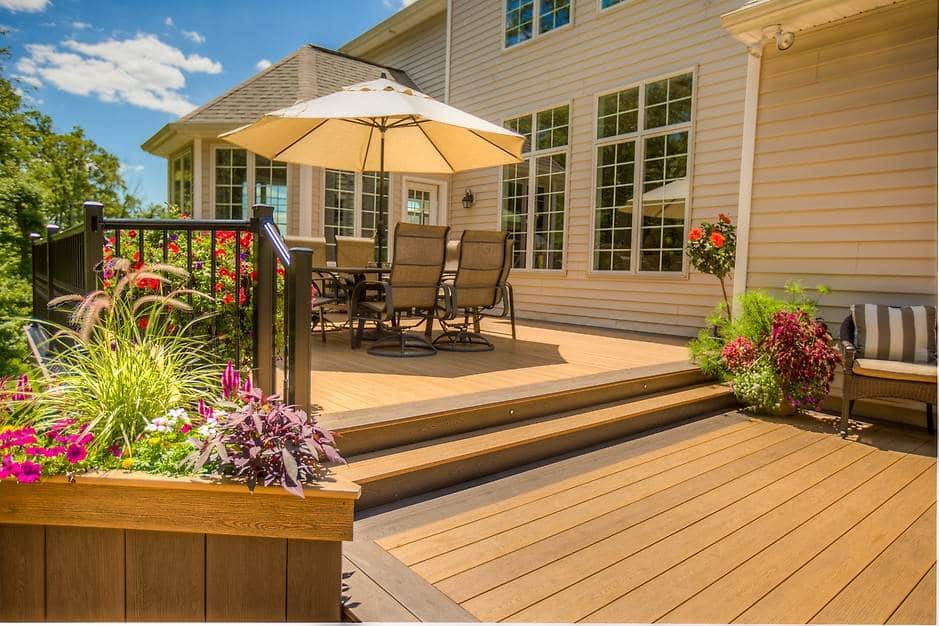 15 Sep

How Much Does Composite Decking Cost?
How Much Does Composite Decking Cost?
When hosting guests outdoors, a large, stunning deck serves as the starting point. Nothing is more useful for gatherings than a good deck on a lovely day. It's also important to understand the advantages of composite decks over natural wood as the cost of natural wood and composite decking approaches similar.
What is the price of composite decking then? For the decking alone, a composite deck typically costs between $11.00 and $18 per square foot, or between $65 and $85 per square foot when installed and consideration the substructure (joists, posts, and beams). Installed prices for natural wood decks range from $55 to $65. Ipe, a tropical hardwood, and other more desired woods will trend higher.
Deck Cost Factors
Decks typically have fascia, stairs, and rails as well. As a result, the price of the decking alone does not represent the total cost of a deck. The deck dimensions, elevation and design choices will all be important factors.
Other things to think about
Warranty: Wood doesn't have a warranty, but the majority of the top composite decking producers offer a 25-year or longer warranty on their products.
Maintenance: The majority of wood decks need to be thoroughly cleaned and refinished every few years to extend their lifespan, which takes time and money. With a hose and gentle cleaner, a composite deck is simple to clean.
Composite Decking vs Wood Cost: Is a Composite Deck Worth it?
According to these averages, a composite deck can cost between $24,000 and $45,000 and a wood deck can cost between $16,000 and $35,000. Although that may seem like a significant difference at first, composite decks are less expensive in the long run than natural wood since they last longer and need less maintenance. Better durability actually makes it possible to quickly cover the cost of a composite deck like Timbertech over time.
Composite decks may last 25 to 30 years or even longer than real wood decks, which, even with meticulous upkeep, may only last 15 years. This is because composite deck boards are made of a combination of synthetic and organic fibers that are wrapped in a protective synthetic shell, making them resistant to rot, splinters, staining and fading.
More often, homeowners are choosing to remove wooden deck boards and replace them with composite decking because of how much maintenance wood decking requires.  Because the new composite will surpass the existing frame, it is typically not advised to only replace the boards, instead tp start with a clean slate.
High Lumber Prices
Wood prices increased by 275 percent as of 2020. Although prices have decreased, wood still costs about twice as much as it did in the past. Due to this, composite decks are more affordable, even when compared to pressure-treated pine, the least expensive kind of wood.
Comparing Prices of Composite Decking Brands
Comparing quality and prices is important to ensure you get the best product that meets your budget. Many composite decking brands offer a range of products at different price points and benefits.
Need help budgeting for a new deck? See how much it will cost to build your deck right here.
118 Barrington Commons Ct Ste 207, Barrington, IL 60010
(815) 900-5199