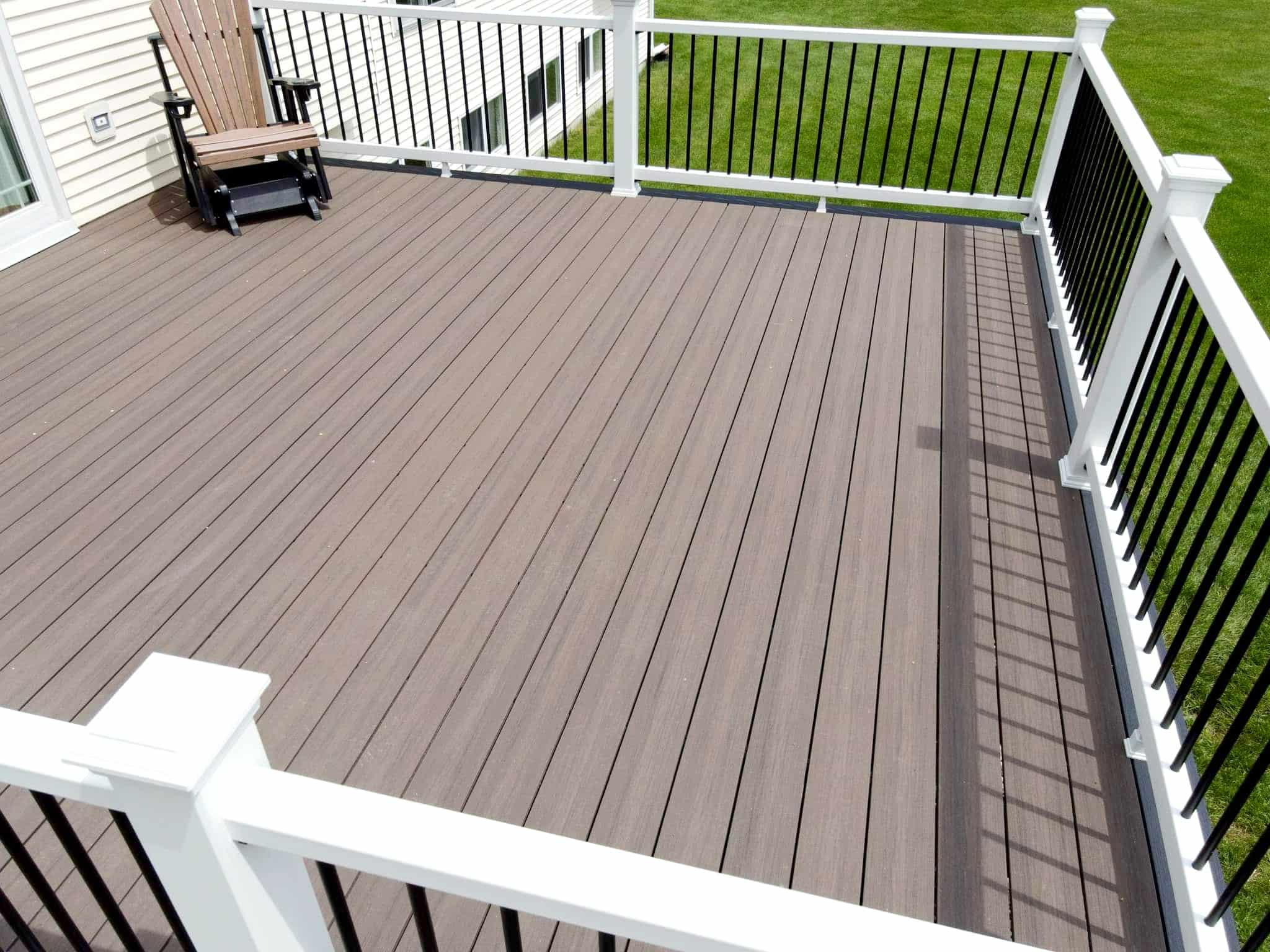 21 Oct

Composite Deck Maintenance Tips to Keep Your New Deck Looking Beautiful for Years
Composite Deck Maintenance Tips to Keep Your New Deck Looking Beautiful for Years
After investing in a beautiful, new deck, you're probably wondering how to keep it looking new. The good news is that if you have yourself a composite decking material, little maintenance is required. Composite deck is designed to be the most low-maintenance option available.
That doesn't mean you can just forget about it, however.
If you want to enjoy your deck for years to come, you'll want to put in a little effort to keep it looking its best. As with many other things outdoors, composite decks can eventually get dirty. Not only do you have to worry about foot traffic leaving behind mud and dirt, but you also have to deal with the dust and debris from simply being outside.
Whether you're dealing with leaves during a Northern Illinois fall or pollen in the spring, you'll want to follow these composite deck maintenance tips.
Cleaning Your Composite Deck
You will never have to worry about sealing or sanding your composite deck, but that doesn't mean you won't have any work to do. After all, composite planks are low-maintenance, not no-maintenance. Fortunately, cleaning your deck once or twice a year is easy. All you have to do is follow these instructions.
Sweep it Regularly
The first step is to pick up your broom. It's important that you sweep your deck often to remove any debris. Otherwise, dirt and leaves can build up in the gaps between the boards. Not only does this diminish the appearance of your deck, but it also makes it susceptible to mold and mildew growth.
While you don't have to thoroughly clean your deck more than once or twice a year, sweeping should be done regularly. You should do a quick sweep at least once a week. You may have to do it more frequently in the fall if you have many leaves in your backyard.
Scrub with Dawn Dish Soap
After you have swept any loose debris, it's time to start scrubbing. While there are several products specially designed to clean decks, you don't need to spend a lot of money on maintenance. Instead, you can use a product you probably already have in your house! That's right—Dawn dishwashing soap is actually one of the best cleaners for composite decking.
All you have to do is cover your deck in water and Dawn dish soap. You should then use a firm-bristled push broom to scrub the boards. Experts recommend that you alternate between scrubbing with and against the grain to get a thorough clean. You can then rinse the deck after a few minutes of soaking. The process can be repeated for the railing, but you should use microfiber cloths instead of a broom.
Use Other Cleaners for Deck Maintenance
If you would prefer to use another deck cleaning solution, there are plenty of other options available. You can find many online or at your local hardware store. It's important that you verify that the product is safe for composite decking.
You also need to follow the directions carefully. All cleaning products have their own process, so it's essential that you follow all instructions to prevent any damage and to get the best results.
How NOT to Clean Your Composite Deck
Many customers ask if they can use a power washer to clean their deck. However, this method is not recommended. Unfortunately, most power washers are too powerful, and if you use them too close to the deck, you could damage the surface. Since composite decking materials are softer than others, you can etch or open them up to chipping, mold growth, and more.
3 Things You Can Do to Keep Your Deck Clean
After you've taken the time to do your annual scrub, you should keep your deck clean by following these practices: 
Redirect Dryer Vents: If possible, ensure your dryer vent isn't near your deck. The moist air and warm temperatures aren't good for your deck. While redirecting vents may be extra work, it will be worth it in the end.
Cut Back on Organic Mulch Use: Organic mulch that is near or tracked onto your deck can promote mold growth.
Clean Grease Spills Immediately: Don't let grease stain your decking. Instead, wipe it up right away and scrub it with Dawn dishwashing soap to remove all residue.
Find out More Composite Deck Maintenance Tips 
Are you interested in learning more about how to maintain your deck? Do you want to upgrade to low-maintenance composite decking material? If you answered yes to either question, you've come to the right place. Contact Decked Out Builders' team to learn more.
118 Barrington Commons Ct Ste 207, Barrington, IL 60010
(815) 900-5199