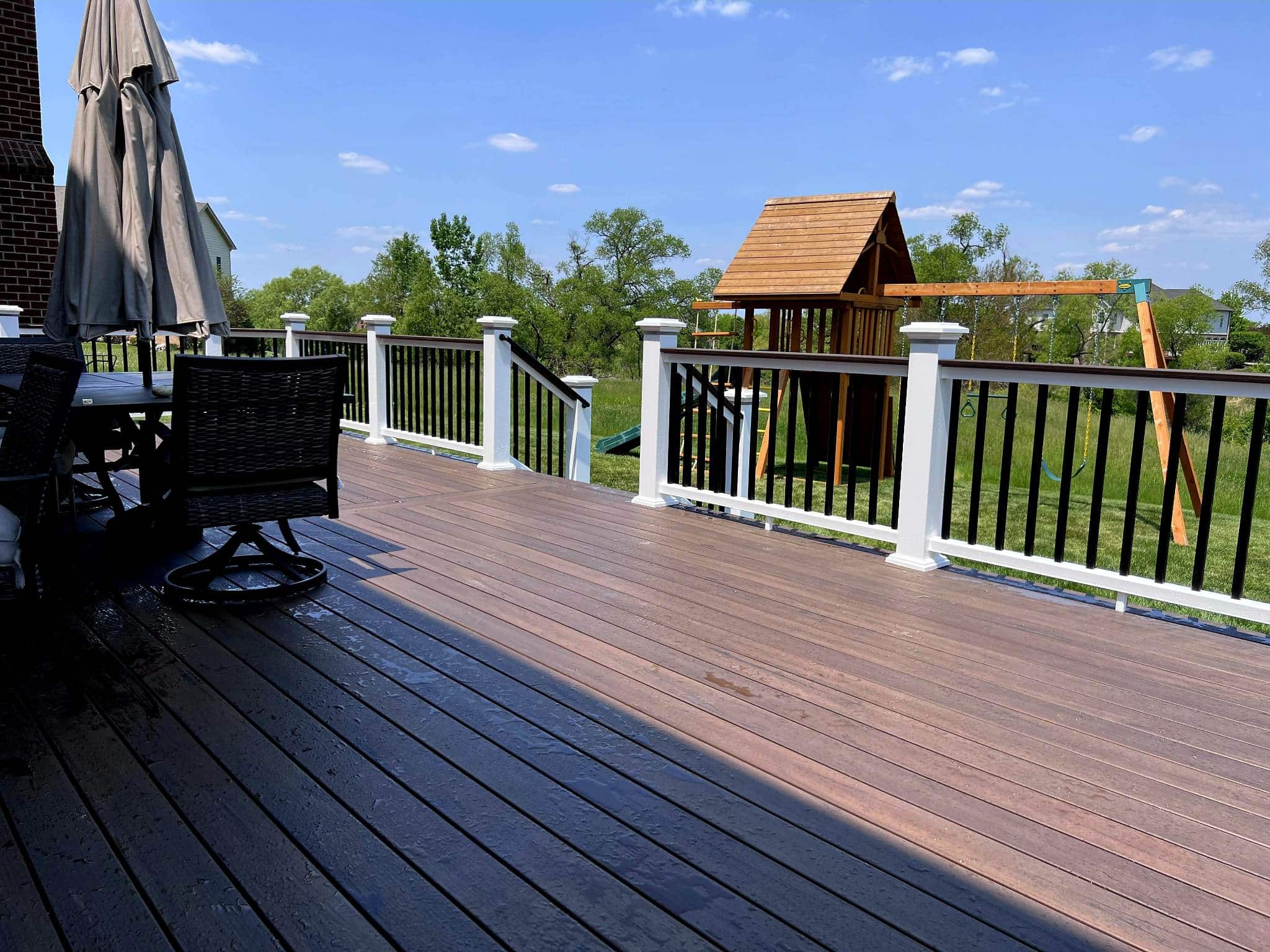 09 Dec

Top 3 Problems of Composite Decking
Top 3 Problems of Composite Decking
When compared to traditional wood, composite decking materials lead the way in many categories. Not only do composite decks require less maintenance than your typical wood decks, but they also come in many more design options. The benefits go on from there, but don't think that composite materials come without their fair share of problems.
Just as wooden decks have their downsides, a composite deck presents its own unique sets of challenges. Therefore, it's important for homeowners to weigh these pros and cons carefully if they want to choose the right material for their project. This is often easier said than done, but it's crucial for customers to understand that there are three problems to look out for when installing composite decking.
The Surface Can Get Extremely Hot
The heat is one of the first things that homeowners notice when they go to use their composite deck in the summer months. Composite decking materials are more heat-absorbent than other options, and they retain the heat to create a hot surface that won't cool down for hours. This can be especially painful if you want to sit on your deck or walk across it with bare feet. Pet owners will also need to use caution when allowing their furry friends to walk on the decking. Darker colors are more prone to absorbing and retaining heat than lighter options, so that is something to keep in mind when selecting decking.
What other ways can you combat the extremely hot surface?
Homeowners have a couple of options for dealing with this problem. If they truly have their heart set on using a dark composite material for the main part of the deck, then it is recommended to upgrade to a higher-end composite. These may be more expensive, but they are designed to reduce heat absorption. This high-end alternative can make a deck 30% cooler, so it is an excellent solution for homeowners who don't want to add a cover to their outdoor entertaining space.
Another great option to keep a deck cooler this summer is to cover it. There are a number of ways homeowners can do so. For example, a roof, pergola, or umbrella can provide enough shade to keep the surface more comfortable. The key is to avoid direct exposure to those powerful sun rays.
Not Enough Traction—Especially When Wet!
Customers love that composite decking materials are weather-resistant, but that comes at a price. While they don't have to worry about their decking absorbing the water and rotting, homeowners do need to be aware of the fact that this feature makes the boards more slippery than wood and other materials. If the water cannot be absorbed, it just sits on the surface of the deck and creates puddles. The smooth surface only compounds the problem and makes your deck a serious fall hazard when it rains or snows!
Fortunately, homeowners don't have to give up on their dreams of adding a sleek and stylish composite deck. There are a number of ways you can increase traction without compromising the aesthetic. In fact, many manufacturers offer a high-end alternative to their standard composite planks. These often come with greater traction to prevent accidents and falls.
Brands also give a lot of other design options, including wood-grain embossing. This technique not only makes the planks look more like traditional wood, but it can also create more texture and grip even when the deck gets wet.
Not Tough Enough to Resist Scratches
While composite decking materials are durable, that doesn't mean that they can't be damaged. It's not easy to do, but the planks can be scratched, so it's important that customers know the product is not completely scratch-resistant.
Though the product is not going to scratch just from foot traffic, it can be scratched when enough force is applied. Therefore, it's crucial to use caution when moving patio furniture or shoveling snow. Homeowners should reference their manufacturer's instructions regarding snow care to make sure that there are no scratches from the shovel. However, it is generally recommended that any kind of metal or metal-tipped shovels should NOT be used. In addition, homeowners should never chip at the ice to remove it, as this can also cause damage.
It's also worth noting that while patio furniture and shovels can cause scratches, they are usually minor. Therefore, most can be repaired without a huge hassle or cost. In fact, many composite scratches can be repaired with a simple heat gun and the proper technique.
Find out More About the Problems that Come with Composite Decking Materials
Though there are a few problems that come with composite decking materials, it's important to remember that there are still many benefits that outweigh the negatives. It's also crucial that homeowners consider all of their different material options because there is no one-size-fits-all solution.
Customers are encouraged to contact Decked Out Builders to learn more about composite decking. A convenient online contact form makes it easy to reach out with any questions, but homeowners are also welcome to call to speak with a professional directly. 
118 Barrington Commons Ct Ste 207, Barrington, IL 60010
(815) 900-5199