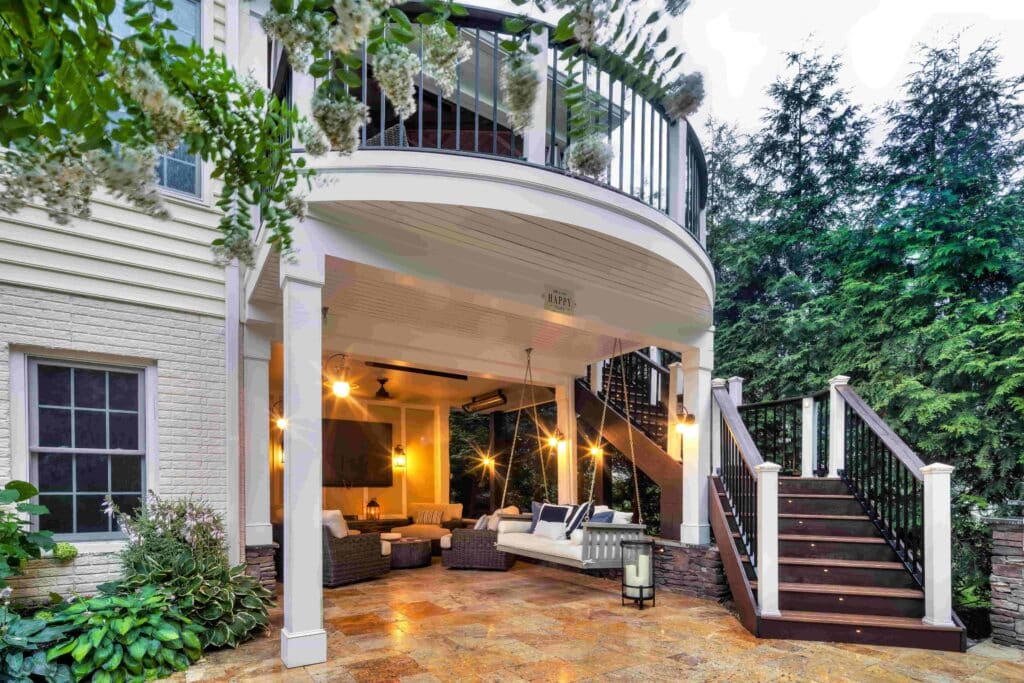 01 Mar

Under Deck Ideas for Maximizing Your Outdoor Space
Under Deck Ideas for Maximizing Your Outdoor Space
Having a summer BBQ, lounging with friends and family, or taking in the sunshine may all be done on a deck. A Raised deck can increase the amount of usable space in your outside area. Depending on the size and height of the deck, the area below can serve a variety of purposes, from being used as additional storage to creating an outdoor living area. Continue reading for 7 of our best under deck ideas to make the most of this frequently overlooked outdoor space.
Outdoor Living Room
One deck can become two functional living spaces with the addition of a sizable, finished under deck area that serves as an outdoor living room. On sunny days, the top of the deck makes a great location for dinners and gatherings, and if it starts to rain, the under-deck patio can keep the party going. You can utilize your outdoor living space all year if you add a fireplace, some cozy seating, and a deck drainage system.
Build a Patio Under your Deck
An under-deck space doesn't have to look out of place. Make your underdeck area a natural part of the terrain if you don't want to modify it. Continuating the garden or landscape features into the under-deck space is a simple technique to make a deck area look nice. By doing this, the deck and yard will have a more unified appearance, which will enhance their aesthetic value.
Critter Free
Searching for under-deck design ideas? If your under-deck area is too small to set up as a usable space, it can frequently be beneficial to have it critter proofed. By closing off the underdeck space, you can prevent animals like raccoons, skunks, rodents, and neighborhood cats from settling down there. Instead of leaving an empty space underneath the deck, closing off the under-deck area can give the deck a more finished appearance and add some elegance.
Storage Space
Have trouble finding room in the garage or shed? Instead, keep gardening and lawn equipment under the deck. In order to make it simple to get the rake, trowel, or wheelbarrow out when it's time to work, under deck storage keeps your gardening equipment just a few steps away from the garden or backyard. Just make sure your underdeck area is waterproof before using moisture-sensitive landscaping equipment.
Create an Outdoor Kitchen
On top of a deck, a barbecue is a common fixture, but a finished under deck space can offer even more varied cooking possibilities. You can make food and eat outside with the help of an under-deck outdoor kitchen, which can include cabinets, a refrigerator, a sink, and a seating space (you can also add outdoor heating for added comfort).
Privacy Enclosure
A living space beneath a deck can be transformed into a relaxing hideaway by adding screening. There are various options to increase the privacy of an under-deck area, including building an outdoor privacy screen, hanging outdoor curtains, or installing a privacy wall. 
Create a Poolside Oasis
The shade under your deck offers the ideal seclusion, whether you need to escape the heat or want to lay out a cool picnic feast for visitors.
Build Out Your Under Deck Space Today!
Maximizing the area under your deck can provide you with a variety of options that raise the value of your property and help you make the most of your outdoor space. Your under-deck area is a sometimes-overlooked area that offers unlimited potential and even more space to enjoy.
118 Barrington Commons Ct Ste 207, Barrington, IL 60010
(815) 900-5199