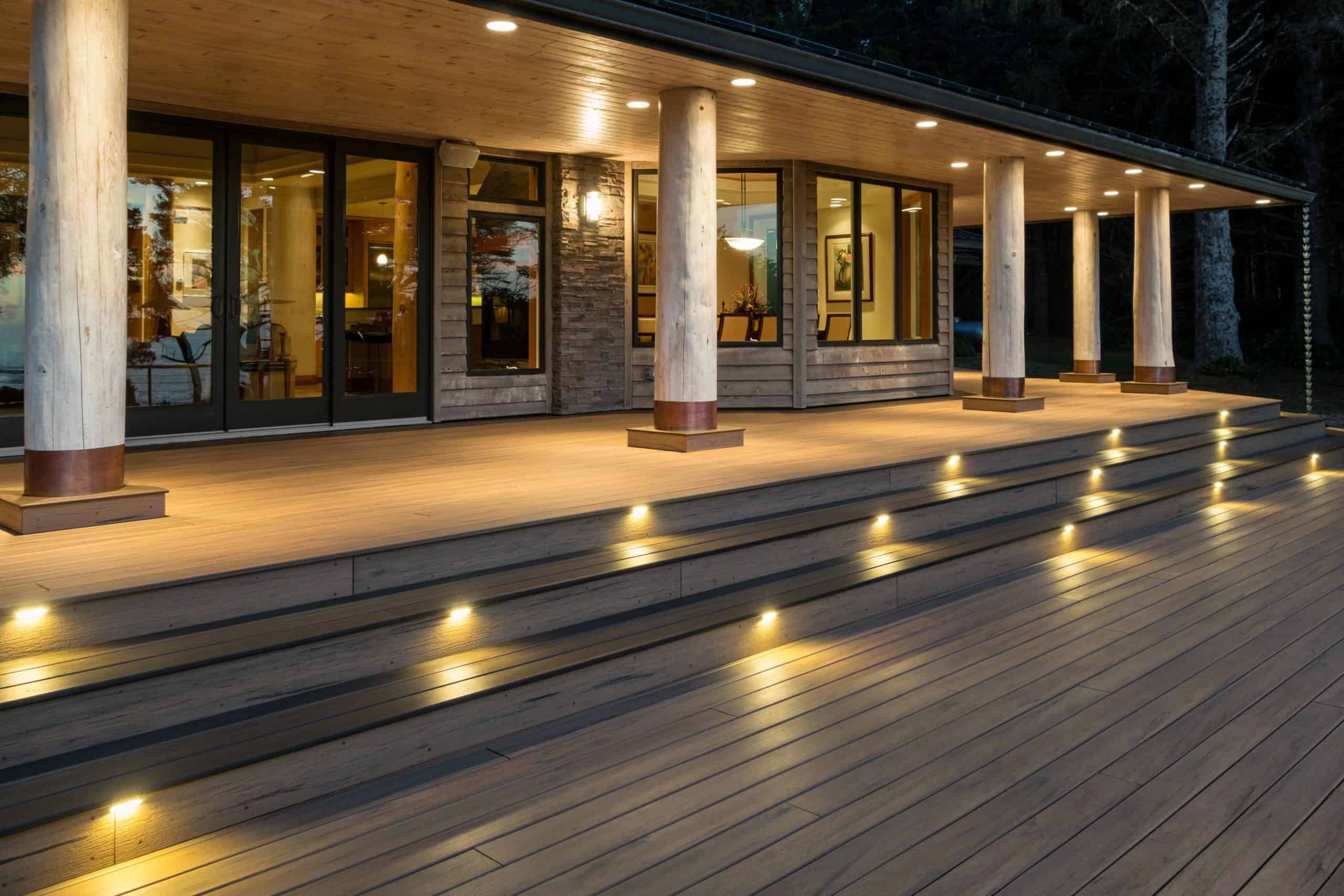 28 Apr

Best Outdoor Lights for Deck
Best Outdoor Lights for Deck
If you want to embrace outdoor living as much as possible, you need to consider installing lighting on your deck for when the sun goes down. Sunset doesn't have to end your enjoyment of your deck. In fact, the evening is one of the best times to make the most of your deck, either as you unwind after a long day at work, or if you want to entertain guests.
Adding lighting to your deck effectively buys you more time. Dinners on your deck can continue through dessert and onto drinks and late-night chats with family and friends under the night sky. Likewise, lighting can allow you to watch the sun come up with a hot cup of coffee.
As such, there are so many deck lighting options on the market today. And choosing the one that best fits your needs and lifestyle is important.
You might want to consider how you use your deck most, the ambience and aesthetic you're looking for, who is going to be using your deck (including elderly people and children) and whether safety is a particular concern.
Here are three of the most popular deck lighting options.
Low-voltage lighting
One of the most popular illumination options is low-voltage LED lights which draw less than two watts per fixture. These lights can be strategically placed in railings and stair risers to create a pleasant ambience with their soft glow, as well as illuminate the beautiful contours of your deck.
This type of lighting is also great for safety purposes. They highlight the perimeter of your deck and staircases so that you don't have to worry about tripping or miscalculating distances when outside at night.
Another benefit of low-voltage lighting is its hands-off light activation function. The transformer contains a photocell which automatically turns these lights on and off and can be paired with a timer that is set to turn off after a given amount of time.
What's more, with low-voltage lighting, you needn't worry about attracting mosquitoes and moths. They deliver just the right amount of light to illuminate the deck, without attracting the attention of bugs and insects. 
String lighting
Another popular option for lighting a deck is string lighting. These lights tend to hang overhead and are brighter than low-voltage lighting.
String lighting is perfect for installing on pergolas or other arbor-like structures, but can also be suspended between posts using cable wire or from the boughs of a tree to give off a warm, ambient light.
Outdoor string lights come in a variety of shapes and designs, making it easy to find lights that match your deck's aesthetics.
Well-executed string lighting can create a star-like twinkling atmosphere for your deck.
A fire pit
If you would like to add warmth as well as light to your deck, you might want to consider installing a fire pit for added coziness.
This option provides a focal point for a deck and often becomes a place around which people gather, particularly on chilly evenings.
However, burning wood on a deck is never recommended. It's extremely unsafe and will cause permanent and extensive damage if any kindling or ash flies out of the fire.
That's why if you're thinking about installing a fire pit, it should be a spark-free one. These use natural gas or propane to create the flame.
Spark-free fire pits have the additional benefit of having the potential to be added to a deck after it has been completed.
That said, they cannot illuminate an entire deck. A fire pit should be used in conjunction with other lights. 
Light up your deck with Decked Out Builders
Your choice of lighting can make a massive difference to any deck, whether it be creating the special atmosphere you're looking for or simply to get extra use out of your deck after dark.
At Decked Out Builders, we help homeowners in Northern Illinois make their decking dreams a reality. We plan, design and execute all types of deck projects in McHenry County, Lake County, Kane County and Walworth County.
We understand the role of illumination and can advise you on the most appropriate design choices to get the most out of your deck. 
To learn more about all your options, contact us today!
We help homeowners design the deck of their dreams!
118 Barrington Commons Ct Ste 207, Barrington, IL 60010
(815) 900-5199