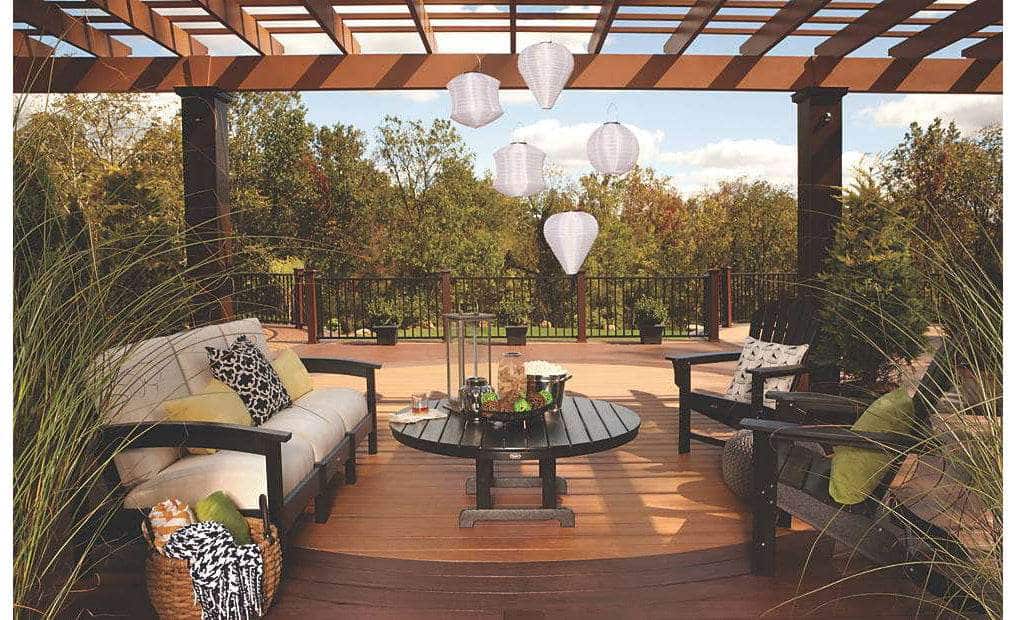 02 May

Custom Covered Deck & Patio Options
Custom Covered Deck & Patio Options
To enhance an outdoor living space and create a beautiful and functional area for relaxation and entertainment, a custom covered deck or patio may be the perfect solution.
Whether to create an extension of the indoor living space, add value to a property, or simply enjoy the great outdoors in comfort, there are endless possibilities when it comes to customizing a deck or patio. 
Here, we'll take a look at the benefits of installing a cover on a deck or patio and explore the various additions homeowners can make to their decks.
Why cover a deck or patio?
Adding a cover to a deck or patio can offer numerous benefits, making it a popular option for homeowners looking to enhance their outdoor living space. Here are some of the key benefits of adding a cover to a deck or patio:
Protection from the elements

. A cover provides protection from the sun, rain and other elements, allowing more frequent and comfortable use of outdoor space throughout the year, regardless of the weather conditions.

Increased home value

. Adding a cover to a deck or patio can increase the value of a home, making it more appealing to potential buyers should it be put up for sale in the future. A well-designed and well-built cover can also improve the overall curb appeal of any home.

Enhanced aesthetics

. A cover can add a stylish and elegant touch to a deck or patio, making it more visually appealing and attractive. The cover can be customized with a range of materials and finishes to complement the existing design of the outdoor space.

Multi-purpose

. A covered deck or patio can serve as a versatile space for a variety of purposes. Whether a dining area, a place to relax and read a book, or a spot for entertaining guests, a covered deck or patio can provide a comfortable and functional space for all these activities.

Provides privacy

. A cover can provide a degree of privacy, allowing enjoyment of the outdoors without feeling exposed to neighbors or passersby.

Reduced maintenance

. A cover can help to protect a deck or patio from the elements, reducing the amount of maintenance and upkeep required to keep it looking its best. This can save time and money in the long run.
Different Options
1) Gazebos
A gazebo is an outdoor pavilion-style structure with a roof and open sides that can be made from various materials and may feature a seating area or decorative elements such as lattice-work or planters.
It can provide a shaded area for a variety of purposes. Whether as a dining area, a place to relax and read a book, or a spot for entertaining guests, a gazebo can provide a comfortable and functional space not exposed to direct sunlight or other elements like rain or wind.
2) Covered porches
A covered porch is a type of outdoor living space – typically attached to a house – that is covered by a roof, providing protection from the sun and rain, but it is open on all sides.
Its main purpose is to create an outdoor living space which provides shade from the sun and protection from light rain.
It can be furnished with comfortable seating and other outdoor decor and lighting.
3) Screened porches
A screened porch is very similar, but it is enclosed by screens which can be made from various materials and features.
This allows for maximum airflow, but keeps pests and other unwanted debris out.
4) Pergolas
A pergola is an outdoor structure that is typically made of vertical posts or pillars that support crossbeams and an open roof. Pergolas are designed to provide some shade and add aesthetic appeal to a backyard, garden or other outdoor area.
They can be freestanding or attached to a house or other structure, and can be made from a variety of materials, such as wood, aluminum, or composite materials.
A pergola can create an elegant outdoor dining room or bar area for guests; a pool house with space for storage and getting changed; a shaded garden oasis; or even an outdoor cinema.
If space is more limited, a pergola could also be used as a cover for a barbecue grill or to create a small, secluded seating area.
Pergolas can be customized with outdoor curtains, climbing plants, lighting, or other decor to create a unique and personalized look.
5) Sails
A shade sail is an outdoor covering made of durable fabric that offers protection from the sun for patios or decks.
To install shade sails, the fabric is stretched and tensioned to attach the corners to mounting points, such as a pergola, post, tree or wall. This tensioning creates a taut and stable structure that can withstand the wind and rain.
Shade sails come in various sizes, shapes and colors, making them a versatile and attractive option for any outdoor space. With their simple design and easy installation, shade sails are an affordable and practical way to provide shade and comfort.
6) Large umbrellas
Large umbrellas are the most cost-effective shade-providing solution. Several types of umbrellas can be used to provide protection from UV rays, with the most common being a freestanding umbrella, which is mounted on a base and can be moved around as needed.
Another popular type is a cantilever umbrella, which is mounted on a side pole and hangs over the area, creating less obstruction. Some cantilever umbrellas also have tilting and rotating mechanisms to provide even more versatility.
Additionally, wall-mounted umbrellas can provide shade in a more compact space. These come in a variety of sizes and shapes, including round, square and rectangular. 
Decked Out Builders, the experts in outdoor spaces
When choosing a cover for a deck or patio, it is important to consider factors such as the size of the deck, the type of material and durability, and the style and aesthetic of the overall outdoor living space.
At Decked Out Builders, we have the expertise to help property owners choose the most appropriate solution for their space and design a dream deck.
118 Barrington Commons Ct Ste 207, Barrington, IL 60010
(815) 900-5199