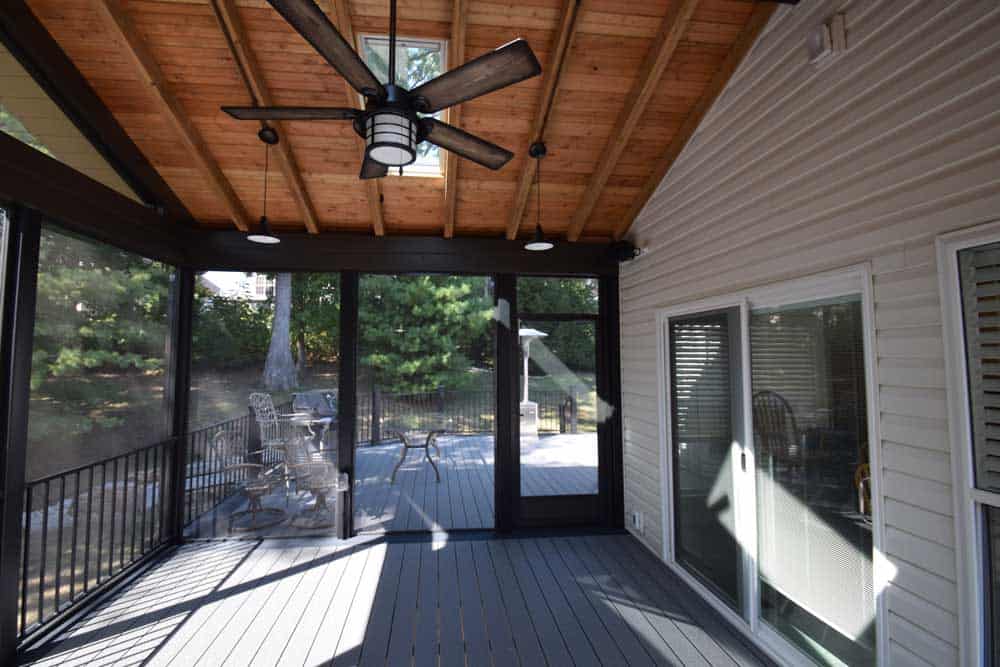 25 Jul

Screened Porches
5 Unique DIY Screened Porches Ideas to Brighten Up Your Home
Are you in the market for a screened porches to bring natural beauty and outdoor living into your home? There are many great ways you can incorporate a screened porch into your existing house design. From open-air decks to cozy nooks with built-in seating, there are lots of opportunities available today! We've rounded up five unique DIY ideas that can help you make the most of these beautiful additions while also creating an enjoyable and comfortable spot for entertaining, lounging, or relaxing. Read on to explore each idea along with helpful tips and tricks so that you can begin building the perfect screened porch today.
Bright and Cheery Sunroom Addition
Looking to add some natural light and cheer to your home? A sunroom addition could be just what you need. These spaces are designed specifically to capture sunlight and create a warm, inviting atmosphere in your home. Whether you're looking for a place to relax with a good book, entertain guests, or simply bask in the beauty of nature, a bright and cheery sunroom is the perfect solution. And with so many options available, there's sure to be a style that fits your unique taste and needs. So why wait? Add sunroom to your home today and start enjoying the benefits of natural light and a sunny outlook.
Creative Covered Porch
A covered porch is a classic addition to any home, offering a comfortable outdoor space protected from the elements. But why stick with a plain and mundane design? Adding colorful accents or patterns to the walls can transform your porch from ordinary to extraordinary. Not only will it make a unique statement, but it can also enhance the overall atmosphere of the space. When designing your creative covered porch, consider incorporating bold colors or patterns that complement your home's exterior. With a little bit of creativity, you can turn your porch into a stunning and inviting outdoor retreat.
Cozy Corner Screened Porch
Transforming an unused corner into a cozy screened porch area is a wonderful way to add value and functionality to your home. This inviting space provides an opportunity to enjoy the outdoors without the intrusion of pesky insects, all while relaxing in the comfort of your own home. The possibilities for designing your screened porch are endless, allowing you to customize it to fit your personal style and needs. From retractable screens to cozy furniture, this cozy corner can be transformed into a year-round oasis. Let us help you create the perfect retreat for you and your family to enjoy for years to come.
Go Modern with Minimalism
Looking to give your screened porch a modern and sleek redesign? Look no further than minimalism. Simple lines and a clean, white color scheme can instantly transform your outdoor space into a contemporary oasis. By opting for minimalistic furniture, you can create a serene and relaxing environment perfect for unwinding after a long day. The beauty of this design is in its simplicity – less is truly more. Whether you're sipping your morning coffee or entertaining guests, a minimalistic approach to décor is sure to impress. Go ahead, embrace the simplicity, and create a modern sanctuary on your screened porch.
Upcycle Furniture for Style and Comfort
Upcycling old furniture is an eco-friendly practice that has become increasingly popular in recent years. When it comes to outdoor living spaces like screened porches, upcycling can provide a stylish and comfortable seating solution. By transforming old chairs and tables, you can achieve a unique look that suits your personal style while reducing waste and saving money. Plus, upcycling furniture for outdoor use means you're adding durability and functionality to pieces that may have otherwise been discarded. Whether you're going for a rustic or chic aesthetic, upcycling furniture can add character and charm to your screened porch, making it a welcoming and inviting space to relax and enjoy the outdoors.
Adding a screened porch to your home or garden can make any space more functional and beautiful. No matter, if you're aiming for a bright and cheery sunroom addition, a creative covered porch, a cozy corner screened porch, a modern look with minimalism, or upcycled furniture for style and comfort – achieving the screened porch of your dreams, is just one good design decision away. And with the power of learning now available through Workflow online training courses, you'll be armed with all of the resources and knowledge you need in order to transform any outdoor living space into something uniquely yours. So, get creative and take control of your outdoor opportunities by creating the perfect screened porch today!
118 Barrington Commons Ct Ste 207, Barrington, IL 60010
(815) 900-5199