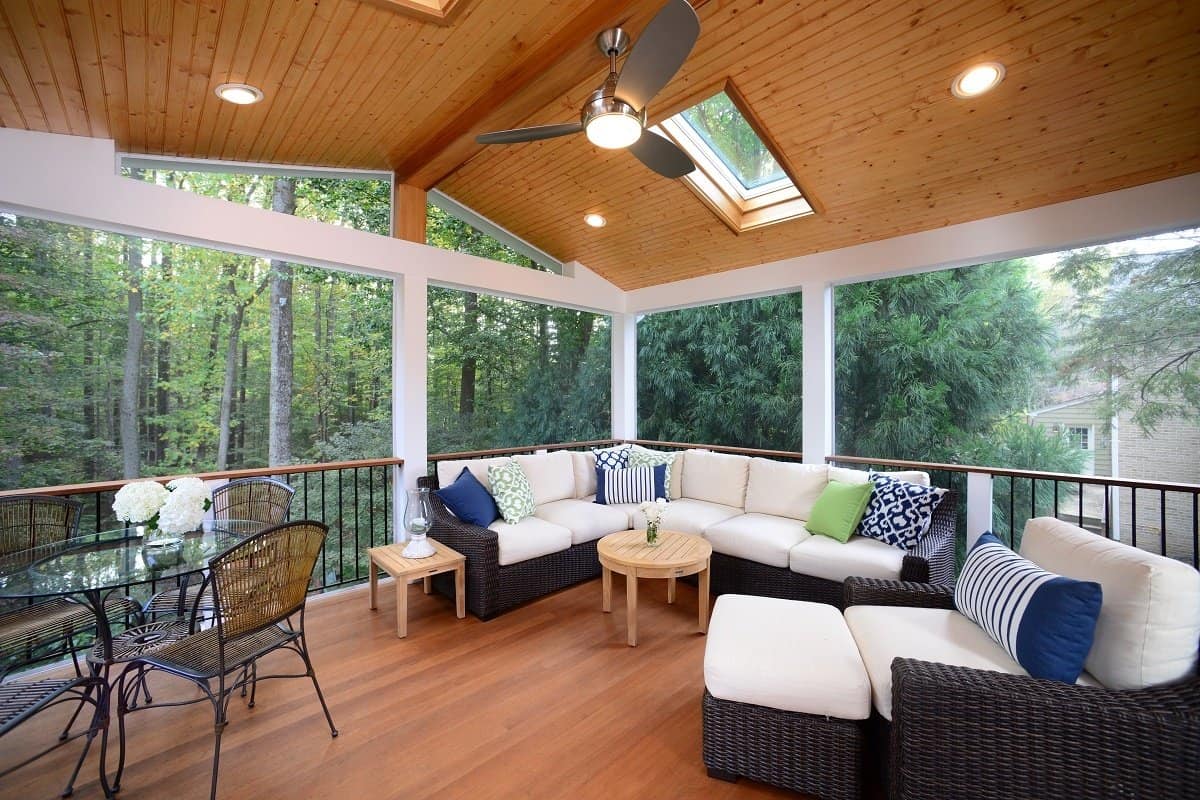 27 Jul

Screened in Porch
How to Design and Create the Perfect Screened in Porch
Having a screened in porch in your home can add a relaxing place to enjoy the outdoors without worrying about bugs and other pests. Whether you're dreaming of an outdoor oasis for entertaining or simply looking for the perfect spot to relax with a good book, there are many decisions that go into building the perfect screened-in porch. We've put together this guide as a resource for anyone who is planning to build their dream screened-in porch – no matter what your style may be! Read ahead for insights into designing, building & decorating this special piece of living space so you can start crafting your very own backyard retreat.
Consider the architecture of your existing home
When it comes to homes, architecture is something that is often overlooked. However, evaluating and considering the architecture of your existing home is an important step in home improvement. Analyzing the layout, style, and overall design can not only enhance the aesthetic appeal of your home but can also improve functionality for daily life. Whether it's shifting walls, opening up rooms or even changing the roofline, modifications to your home's architecture can make a significant difference in its value and livability.
Choose the right type of screening material for your needs
Choosing the right type of screening material for your needs is an essential part of any project or renovation. Whether you're looking to create more privacy in your backyard or need a durable fence for your property, selecting the right material is crucial for achieving a quality result. Understanding the different types of screening materials available, such as timber, composite, or aluminum, can help you identify which one is the most suitable for your project. You'll want to consider factors like durability, maintenance requirements, and the desired level of privacy or visibility.
Select appropriate colors and textures to match the style of your home
Choosing the perfect colors and textures for your home is a crucial aspect of achieving a cohesive and stylish look. It's essential to consider your home's architectural style, as well as the existing elements such as flooring, cabinets, and furniture. For a modern and sleek look, opt for neutral shades like gray, black, and white, and add textured accents such as frosted glass or stainless steel. On the other hand, a traditional home can benefit from warmer shades like beige, taupe, or cream, accompanied by natural materials such as wood or stone. Whatever your preference, it's vital to choose colors and textures that complement your home's overall style and create a welcoming and inviting atmosphere.
Design a lighting plan that will make the space both functional and beautiful
Designing a lighting plan that seamlessly blends functionality and aesthetics is a key aspect of creating an inviting and polished interior space. As a lighting professional, I understand the importance of taking into account the intended purpose of the space and the overall design scheme. By carefully selecting fixtures and strategically placing them throughout the room, I can ensure that the lighting enhances the ambiance and provides ample illumination for everyday use.
Incorporate features like ceiling fans, fireplaces, and outdoor TVs to customize your screened-in porch
Incorporating features like ceiling fans, fireplaces, and outdoor TVs can elevate your home's screened-in porch to the next level. Not only do these features add functionality and comfort, but they also add a touch of personalization and style to your outdoor living space. A ceiling fan can circulate cool air during the summer months, while a fireplace can bring warmth and coziness during the chilly fall evenings. And who wouldn't want to enjoy a movie or sports game on a beautiful day with an outdoor TV? By customizing your screened-in porch with these features, you can turn it into a luxurious oasis that meets all of your needs while also providing a stylish and unique touch to your home.
All in all, adding a screened-in porch to your home can be an incredibly rewarding and enjoyable experience. Planning ahead with the right considerations and taking into account your own personal style — from furniture selection to color to lighting — is one of the best ways to make sure that you'll end up with an outdoor space you'll love for years to come. Not only will it be a comfortable respite from your everyday stresses, but it can also be a great place for entertaining guests or just relaxing with members of your family. With careful thought regarding architecture, materials, furnishings, design elements, and other special features, you can create a beautiful screened-in porch that will fit perfectly into the plan of your home.
118 Barrington Commons Ct Ste 207, Barrington, IL 60010
(815) 900-5199