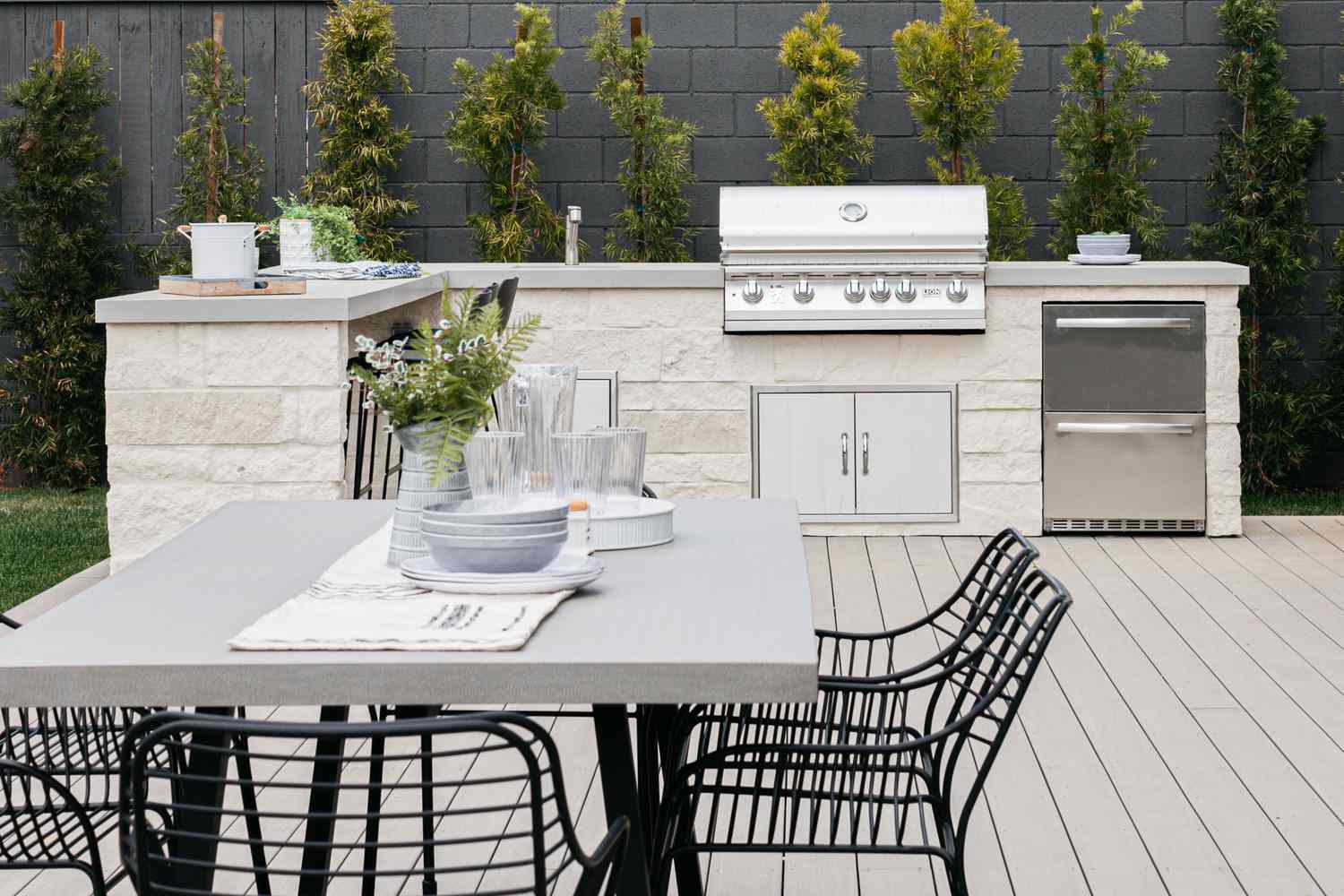 15 Aug

Covered Outdoor Kitchen Ideas
Designing the Perfect Covered Outdoor Kitchen Ideas and Tips
Creating the perfect outdoor kitchen can be an exciting and rewarding experience. Not only will you have a space to cook and entertain outdoors, but with your custom-designed covered outdoor kitchen ideas, you'll get to enjoy all the flavor of dining al fresco in any weather. Get ready for backyard barbecue season as we share ideas and tips on how to design the perfect covered outdoor kitchen that everyone in your community is sure to envy!
Consider your budget – how much do you want to spend on the project
When embarking on a new project, one of the most important factors to consider is your budget. Determining how much you are able or willing to spend on the project can help guide decisions throughout the entire process, from choosing materials and suppliers to determining the scope of the work. It's essential to thoroughly evaluate the costs involved in order to avoid unpleasant surprises further down the line. A professional, realistic approach to budgeting can help ensure that your project is completed on time, within budget, and to your satisfaction.
Think about the size of your outdoor kitchen and what kind of appliances you need
One of the most important factors to consider when designing an outdoor kitchen is the size you have to work with. Before deciding on specific appliances, take time to map out the physical dimensions of the space. This will not only dictate what appliances can fit but also help you make decisions about the placement of different features. Once you have a general sense of the size of your outdoor kitchen, consider the appliances you want to include.
Choose a design style for the space, such as traditional or modern
When designing a space, choosing a design style is an important decision. It sets the tone for the entire space and helps create a cohesive look. A traditional design style embraces classic details, ornate patterns, and a more formal atmosphere. On the other hand, a modern design style favors simplicity, clean lines, and a streamlined look. Whether you prefer the elegance of traditional design or the simplicity of modern design, selecting a style that fits your personal preferences and functionality needs will make the space feel complete and polished.
Decide on materials – wood, stone, metal, concrete, etc
When it comes to deciding on materials for a construction project, there are many factors to consider. Each material has its own advantages and disadvantages, making the decision-making process crucial to the success of the project. Wood is a popular option due to its versatility and cost-effectiveness, while stone and metal offer durability and a more polished look. Concrete is a strong and sturdy choice for larger structures, but it can also be more expensive and time-consuming to work with. It's important to weigh the pros and cons of each material to determine the best fit for your specific project needs.
Add lighting & ceiling fans to brighten up the area
When it comes to brightening up any living space, lighting, and ceiling fans can make a big impact. With so many options available on the market today, it can be overwhelming to decide which ones are right for your specific needs. Fortunately, a professional can help guide you through the process and make recommendations that fit your budget and style preferences. Whether you're looking to upgrade the lighting in your kitchen or add a fan to your bedroom for better air circulation, making these improvements can enhance the overall ambiance and comfort of your home.
Include seating so guests can enjoy your new space
When welcoming guests into your new space, it's essential to provide them with comfortable seating to enjoy their stay. Offering seating options not only adds an element of comfort and hospitality but also enhances the appearance and functionality of your space. You want your guests to feel at ease and encouraged to relax and enjoy themselves, so providing a variety of seating options such as couches, chairs, and stools can accommodate everyone's needs and preferences.
In conclusion, outdoor kitchens can be an incredibly rewarding addition to any property. You should consider carefully the size, design style, and materials needed for your budget. Traditional materials like wood, stone, and metal can all be used with lighting & ceiling fans to brighten up the area. Seating is also a great addition as it allows guests to relax and enjoy the new space you've created. With careful consideration of cost, design style, materials, and features you can create an outdoor kitchen that will add value to your home and provide years of enjoyment for you and your friends.
118 Barrington Commons Ct Ste 207, Barrington, IL 60010
(815) 900-5199