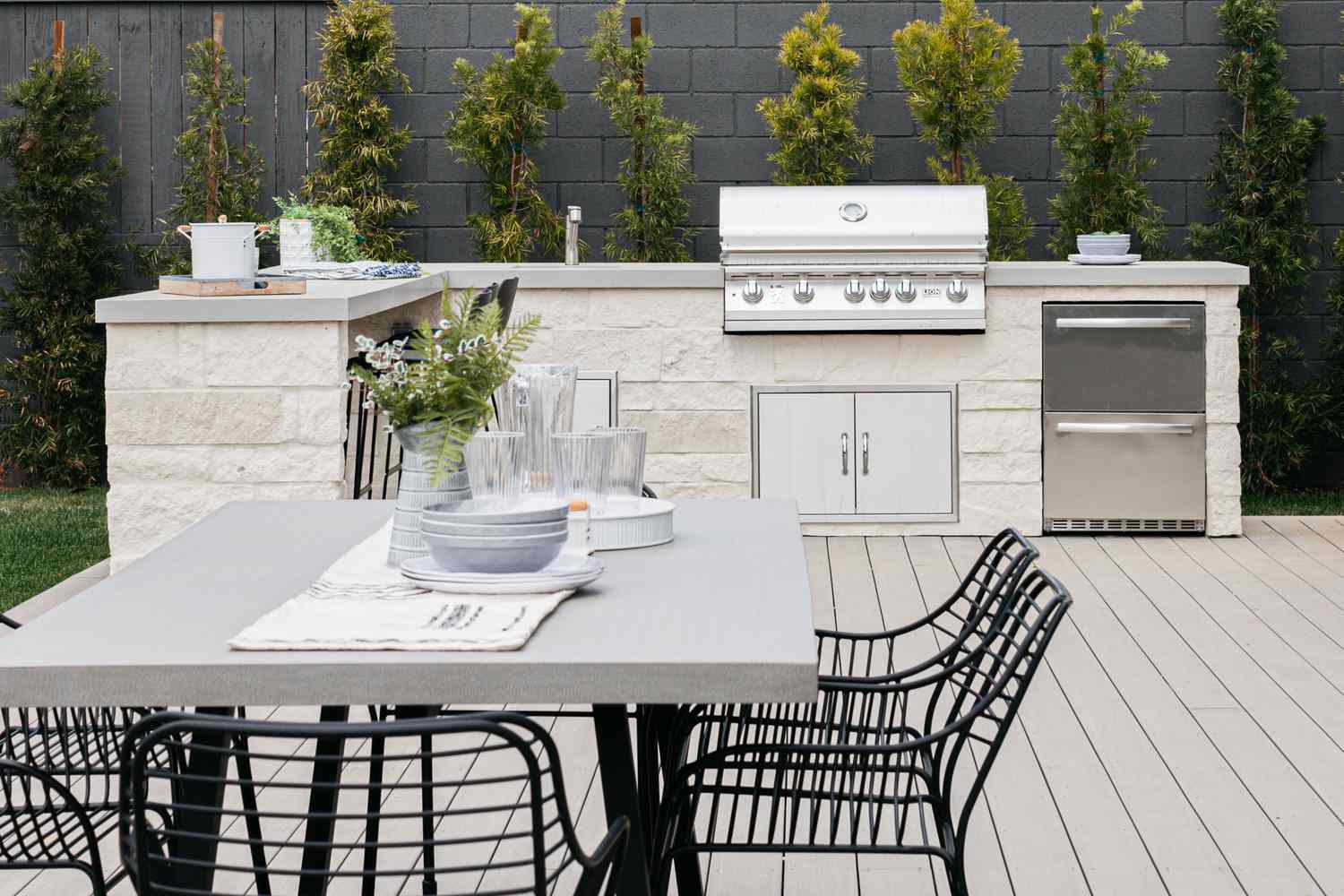 14 Sep

Outdoor Kitchen Designs
How to Create an Outdoor Kitchen Designs
For many homeowners, creating an outdoor kitchen designs is the opportunity to bring their dream living space to life. Not only can outdoor kitchens improve the look and feel of your backyard or patio area, but they're also highly functional spaces that make entertaining and serving meals easier than ever before. With numerous design elements available at every budget level, constructing an outdoor kitchen you love while staying within your budget has never been simpler. Packed with helpful advice on navigating the process of building a custom outdoor kitchen that will transform your yard into one of your favorite home features; this blog post will equip you with all the information you need to get started on designing yours today!
Consider functionality
When designing an outdoor kitchen, it's important to consider the functionality of the space. Start by considering the appliances you'll need to install. Think about the cooking and prep work you'll be doing and narrow down your appliance list to those that will be most useful. Perhaps a grill, sink, and refrigerator are at the top of your list. Or maybe a pizza oven and wine cooler are must-haves for entertaining guests. Whatever your needs, make sure to select appliances that match the design and style of your outdoor space while still providing the functionality you desire.
Think about the layout
When it comes to designing a space, one of the most important things to consider is the layout. It can make all the difference in how functional and visually appealing the area ends up being. Planning out where everything will be located beforehand ensures that nothing will feel out of place or cluttered. Beyond just function, a good layout can elevate the aesthetic of a space. The way items are arranged and the flow of the space can impact how people interact with the area and how they feel inside it. It's essential to approach the layout with attention to detail to create a harmonious balance between utility and beauty.
Choose materials
When it comes to choosing materials for your home renovation, the options can seem endless. From granite to quartz and tile to hardwood, the possibilities are vast. As a professional, it's important to consider the practicality of each material in relation to your client's lifestyle, budget, and design preferences. Will the countertops withstand heavy use and potential spills? Is the flooring suitable for pets or high-traffic areas? These are important questions to ask when choosing materials for your project. By carefully considering each element and weighing the pros and cons, you can ensure a successful renovation that meets both your client's needs and style.
Add extra touches
As a professional in the field of outdoor design, I can confidently say that adding extra touches to your outdoor space can make a world of difference. From a simple fire pit to a full outdoor seating area, these features can transform your backyard from a simple space into a welcoming oasis. The addition of a fire pit can add warmth and ambiance to your evenings, while comfortable outdoor seating can encourage socializing and create a cozy atmosphere for guests. By adding these extra touches, you can maximize the use of your outdoor space and create a more inviting environment that you and your loved ones can enjoy for years to come.
Make sure it's efficient
When it comes to designing a functional kitchen, efficiency is key. Ensuring that both water and electricity can easily reach the kitchen will undoubtedly make the cooking experience more streamlined and convenient. Whether you're planning a renovation or simply upgrading your appliances, it's crucial to take into account the location of electrical outlets and plumbing fixtures in relation to your kitchen layout. By carefully considering these elements, you can make the most of your kitchen's potential and create a space that fosters both productivity and ease of use. Remember, a well-designed kitchen can not only improve your daily routine but also add significant value to your home in the long run.
With the right planning, your outdoor kitchen can be a perfect addition to your backyard. Whether you are looking for a full kitchen setup or simply additional seating and storage, an outdoor kitchen can offer an upgrade to your existing entertainment area. Utilize materials that will stand up against all types of weather conditions while also adding aesthetic appeal. Don't forget the extra touches like decorative lighting fixtures that will bring out the beauty of the space at night or comfortable seating options for lounging during those summer evenings.
118 Barrington Commons Ct Ste 207, Barrington, IL 60010
(815) 900-5199