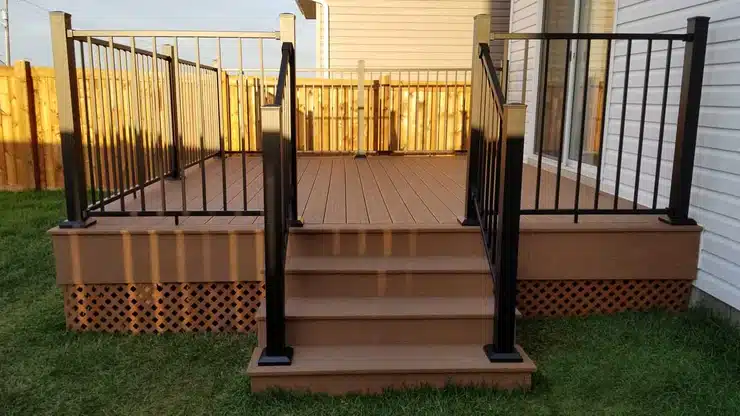 05 Oct

Most Cost-Effective Deck Size

The question is posed what deck size offers the most value? The quick response is

12'0″ wide by 12'0″ deep is the most cost-effective size for a deck. The largest deck area that still complies with IRC standards and produces the least amount of material waste.
Why?
We will dig in deeper below, but this comes down to material sizing and labor.
Material Lengths
Lumber and deck boards are sold in 2 foot increments. The deck must be constructed without significant joist and decking offcuts in order to reduce waste. Thus, the most economical deck size, regardless of size, is an even number.
Building Compliance
The International Residential Code (IRC) allows a 2×8 joist made of pressure treated lumber to span 11' 1" when it is 16" on center. With this a 2×8 joist can overhang the beam 1' 10" which would give you safely 12' out total.
For decks greater than 12' out will either require a larger joist (2×10 or 2×12) or an additional beam.
Deck Height
Deck height has a great impact on deck costs. Where it may be out of your control based upon the elevation of your house. A Deck less than 30" don't require railing. This can save you considerably in deck costs. Deck railing can cost between$45 to $110 LF in materials alone.
Labor
Every contractor's labor cost will vary. Some contractors price based solely on square footage, some price materials x3 and some materials plus daily labor rate.
The major difference between a 12×12 and a 12×20 will be 2 concrete footings, additional joists, and a longer ledger & beam plus of course the different size deck boards and additional railing.
If using materials plus daily rate for example, with required inspections let's say 1 day for footings & concrete; 1 day for framing; 1 day for decking and 1 day for railing. 4 days total for a 12×12 deck. Going smaller in sizing won't decrease the daily rate due to required inspections. Where in comparison a 12×20 deck 1 day for footings & concrete; 1-2 days framing. 1 day decking; 1-2 days railing.
The utilization of a 12′ by 12′ deck is limited. It can be preferable to spend a little more money while still minimizing the need for materials. It might be preferable to make the decks 16′ or 20' wide.
There are other things to consider when deciding on your deck size, we recommend reading more "What Size Should my Deck be"