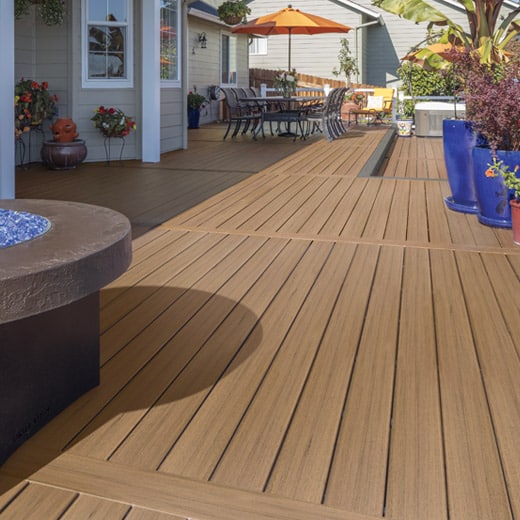 08 Oct

Benefits of Composite Decking
As composite decking gets more popular, you may be wondering the benefits of building a composite deck. Here we will go over a few of the main benefits why homeowners choose composite over traditional wood.
#1 Low Maintenance
Composite decking number one benefit is the low maintenance required. Traditional wood decks require regular sanding, staining or painting. Composite decking is designed to eliminate that. With the ease of cleaning, that is all composite decking requires.
#2 Durability
Composite decking is made to upstand moisture and rot, one of the main reasons why decks fail. Deckorators Voyage is best for this category as it is a mineral based composite decking rated for ground and water contact backed by a 50-year structural warranty. The best in class when it comes to durability.
#3 Eco Friendly
Due to its use of recycled materials, composite decking helps the environment. It varies by brand. Trex is among the industry leaders with a 95% recycled content rate, while TimberTech is also an eco-friendly product by significantly lowering the amount of trash going to the landfill.
#4 Vibrant Permanent Colors
The aesthetic of composite decking is a significant advantage as well. especially the color they may bring to your house and yard. From Browns to Grays with different blends and hues, each manufacturer to different collections offers a wide variety of choices with the ability to mix and match.
#5 No Splinters
The surface of composite decking is splinter-free. Your deck is safe for bare feet because there are no splinters or painful slivers. Take off your shoes and relax on your deck.
#6 Warranties
The assurance that your composite decking will last a long time. The length of warranty varies by brand, but nearly all high-quality composite decking brands range 25-50 years. These warranties include structural, stain and fade and companies like Deckorators offering a 25 year replacement/labor warranty.
#7 Savings Overtime
The initial cost of composite decking is higher, which is frequently considered to be its main drawback. But, over time and with low maintenance requirements, installing composite pays for itself. A significant advantage of composite is the long-term savings.
The advantages of composite decking don't stop at these. See Pros and Cons of Composite Decking for a more thorough list of advantages and disadvantages.
Here we go through in greater detail the benefits and drawbacks of composite decking.
There are several brands of composite decking on the market, not all created equally. Read more to view some of the top composite decking brands.
The way homeowners use their decks has changed because of Composite decking. Less effort means more fun.