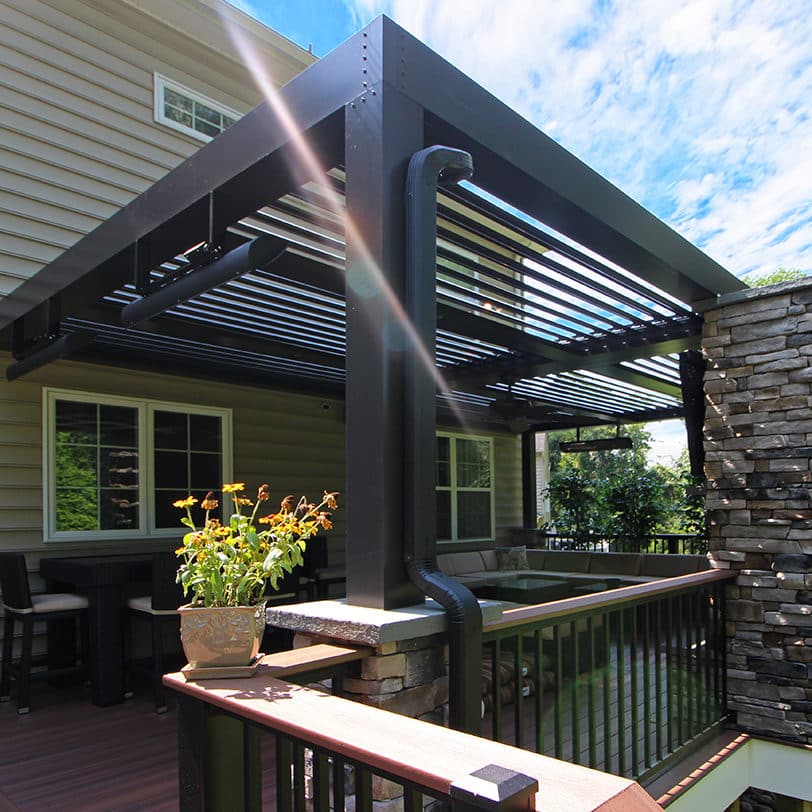 10 Oct

What's Better, Pergolas or Covered Porches?
What's Better, Pergolas or Covered Porches?
There is nothing better than spending time outside on a sunny summer day, yet frequently the intense sun is enough to drive you and your family indoors. Installing a covered structure can help provide enough shade your outdoor space during the summer, when it is one of the finest times to enjoy your backyard, patio, or outdoor living space.
Decked Out Builders is a deck and porch contractor in the Northwest Suburbs IL and Southern Wisconsin Area. We can take care of all your needs, from covered patio and pergola installation to designing outdoor living spaces. We'll examine patios and pergolas in more detail below, along with how to decide which is best for you.
Outdoor Living Structures: Pergolas Vs. Covered Porches
When trying to add a shaded area to your deck or patio pergolas and covered porches are the two options that immediately come to mind.
What is the difference between pergolas and covered porches?
Pergolas
Pergolas are a typical addition to decks where space allows. They can be built with wood or low maintenance materials like fiberglass or aluminum, just like decks. By adding a pergola, even the most uninteresting part of a yard can become something. Pergolas can be built free standing or attached to your home or another structure.
Covered Porches
The purpose of covered porches is similar to that of pergolas in that they are meant to offer shade and a sense of location. A covered porch in your own backyard can be a great spot to eat, hang out with loved ones, or just relax. Most covered porches are constructed to be permanent additions to your home; however they can also stand alone.
A dining table and chairs, a couple of lounge chairs, or even a fireplace and kitchenette can be placed under a covered porch. In fact, many of the suggestions for using a pergola are also ideal for a covered porch.
Varied of Uses
Over and surrounding a hot tub, a pergola or covered porch adds privacy as well as a sense of spaciousness.
On a deck or patio, a pergola or covered porch can offer shade, seclusion, and help define an area. For example, dining under a pergola near the grill or cooking area would be perfect.
Near a pool, a pergola or covered porch might be the ideal place for swimmers to find shade and protection from the sun. Everyone enjoys relaxing by the pool, so a strategically positioned pergola enables the best of both worlds.
For large open spaces, a pergola or covered porch can serve as a focal point for big open areas, around which you can build a patio, incorporate a fireplace or fire pit, and create the atmosphere of "camping out" without leaving your backyard.
Cost
Because pergolas are simple, individual structures they typically tend to be cheaper than covered patios. Plus, covered patios will take longer to build as they are built as an extension of your home — both the cost and project timeline will be more for a covered patio than a pergola, simply because these structures are larger and provide more protection.
Which Option Is Best For Your Outdoor Living Area?
Your demands and preferences play a major role in choosing the best shade structure for your backyard. Building a covered porch is the best choice if comfort, shade, and protection from the elements are your top priorities. You may add furniture, lighting, fans, and other elements to the room to make it feel cozier and more like a living room.
On the other hand, pergolas are far more standard with design. These buildings enhance the beauty of a backyard area and can be built to exactly match your style. Their sturdy construction can provide shade for your outdoor space if kept up with. Even string lights can be added so that the space can be used at any time of day.
No matter what your deck or patio structure dreams entail, Decked Out Builders can help you make them a reality!
118 Barrington Commons Ct Ste 207, Barrington, IL 60010
(815) 900-5199