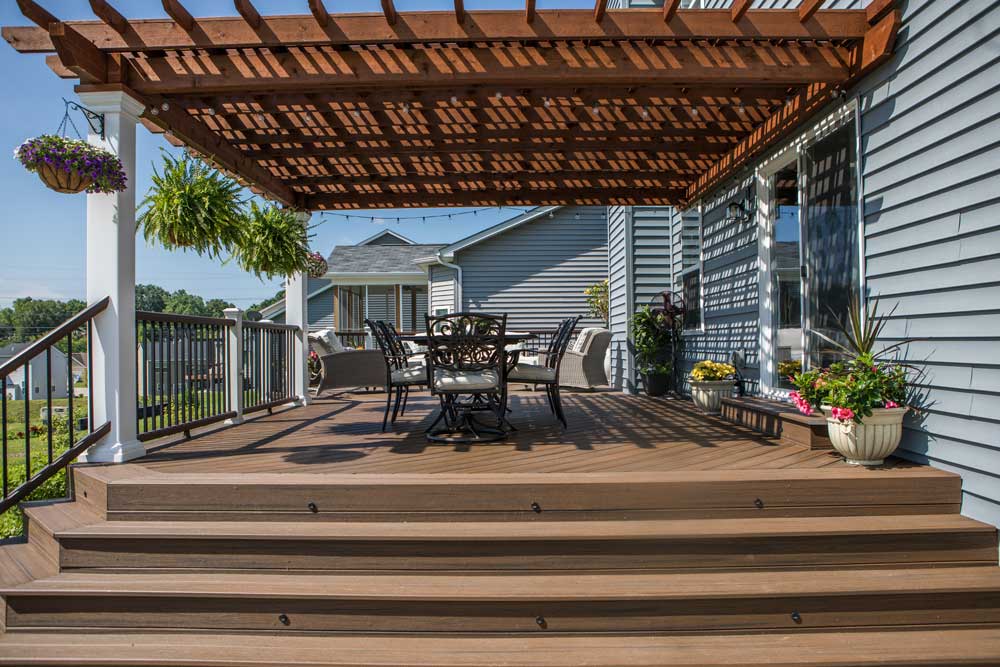 01 Sep

Benefits of Building a Pergola
Benefits of Building a Pergola
Pergolas are excellent, classic outdoor features that establishes an atmosphere, offers seclusion and shade, identifies dining locations, and enhances the beauty of gardens. A pergola is appropriate as people spend more time outside in opulent settings. Build a modern pergola to add style, define your landscape, or serve as a natural extension of your house.
Nonetheless, a lot of individuals still have trouble deciding which kind of pergola to get in order to get the best return on their investment. That's why we've compiled answers to the most often asked questions about pergolas, including how to make the most of a pergola in your space, different types of pergolas and their advantages and disadvantages, and how going with a made-to-measure alternative can reduce costs.
Why Install a Pergola?
For a variety of reasons, you can decide to install a pergola in your outside area. In fact, contemporary choices can be tailored to meet your specific outdoor requirements and have greatly expanded on the classic fixed-louver pergola form.
A few advantages of including an outdoor pergola in your garden, lawn, or pool area are as follows:
1. Increasing the Value of Your House
Your outdoor area's addition of a sturdy, high-quality pergola can greatly raise the appeal and value of your house. With homebuyers looking for an area where they can envision themselves unwinding and appreciating nature's beauty in a sophisticated, finished environment, outdoor living is a trend that is growing year after year.
Of course, it's crucial to pick a well-designed, long-lasting pergola built of durable, high-end materials that meld flawlessly with the decor of your home if you want to guarantee a return on your investment you can rely on. After all, the value of your home will be harmed rather than increased by a poorly planned or built exterior building.
2. Enhancing Your Outdoor Area
Your outdoor area can be transformed from dull to the ideal backyard retreat by adding a pergola. This hardscaping improvement is one of the less expensive options to improve your area and may double as an outdoor living room.
With today's current pergola designs, you can select from free-standing, modular, modern, contemporary, or classic types to add precisely the finishing touch you're looking for to create the outdoor space of your dreams.
3. Creating an Extension of Your Home
A pergola is also the perfect way to create an outdoor extension of your home and improve the flow and usability of your living space. You can choose from an attached pergola or free-standing structure to provide a defined space with outdoor privacy that seamlessly transitions to an outdoor entertainment area.
4. Providing Privacy, Shade, and Rain Protection
While some pergolas feature attractive cabana-like designs for optimal privacy, others use roofs made of insulated sandwich panels that completely block out the sun and rain.
5. Decorative
One of the best part of a pergola is the ambiance it creates! During the day it feels like an outdoor living room. You'll notice when even installing a ceiling fan it creates a breeze during the day and helps with bugs at night! Add some string lights and make it more intimate and relaxing.
6. Cost-Effective
One of the benefits of a pergola is that they are really cost-effective and much cheaper than its outdoor structure counterparts. For instance, a covered porch can cost 2-3x of a pergola.
Pergola Options
As picking the appropriate structure to enhance your outdoor space is your first step, let's look at the materials you may use now that we've talked about the advantages adding a pergola can provide.
Wood Pergola
A cedar wood pergola is probably the one that most people are familiar with. Although this style of building has advantages such initial beauty after construction and a lower cost than pergolas using higher quality materials, it can also have serious disadvantages.
These types of outdoor covers require regular maintenance to preserve their beauty and this maintenance can subtract substantially from their initial cost savings.
Fiberglass Pergola
Of the materials, fiberglass has undoubtedly the one of most contemporary appearance. It is also without a doubt the most resilient next to aluminum.
Pergolas made of fiberglass are perfect for whatever location you choose for your pergola in your yard, fiberglass is a highly lightweight alternative that will make it simple to build. Also, because of its natural resistance to corrosion, it can sustain regular wear.
Aluminum Pergola
An aluminum pergola with a strong metal frame may provide the stability of a wooden structure with a simple elegance and be entirely customized with accessories. Your aluminum pergola will be guaranteed to survive through a lifetime of both rain and shine because it is also durable and essentially maintenance-free. The material is also an ideal recipient of powder coating which safeguards against sun-induced color fade, and protects against rust. . Overall, the sleek look of an aluminum pergola has a distinctly modern appeal.
Louvered Pergola
You can also like a pergola with louvers. This kind of pergola not only has a sleek, modern appearance, but it is also durable, needs little to no maintenance, and offers insulation to improve your outdoor living space.
In addition, a louvered design allows you to take advantage of natural ventilation while yet letting in just the right amount of light for your needs. While this can be seen as an upgrade from a wood structure while still seeing some savings, the downsides again can add up on the backend of the installation.
Why Quality and Made-to-Measure Matters
After deciding on the type of pergola that will enable you to achieve your outdoor living priorities, increase the value of your home, and provide the shade, privacy, and rain protection you need, it's critical to take into consideration two additional factors: high-quality construction and custom-made structures.
Construction experts concur that it is better to forgo installing a pergola altogether than to jeopardize your outdoor area with a poor construction. The initial cost savings that lesser quality initially offers are eventually offset by ongoing maintenance, poor use, and the eventual necessity for reconstruction.
Average Cost to Build a Pergola
A high-quality pergola is a fully customized build; therefore, the price will depend on the project's total footprint, the material you select, and the particular engineering requirements of your project. Of course, larger projects call for more materials, which means a higher outlay. If you decide to add patio fans, integrated heaters, motorized retractable blinds, or LED lighting, the cost of the entire installation will increase.
118 Barrington Commons Ct Ste 207, Barrington, IL 60010
(815) 900-5199