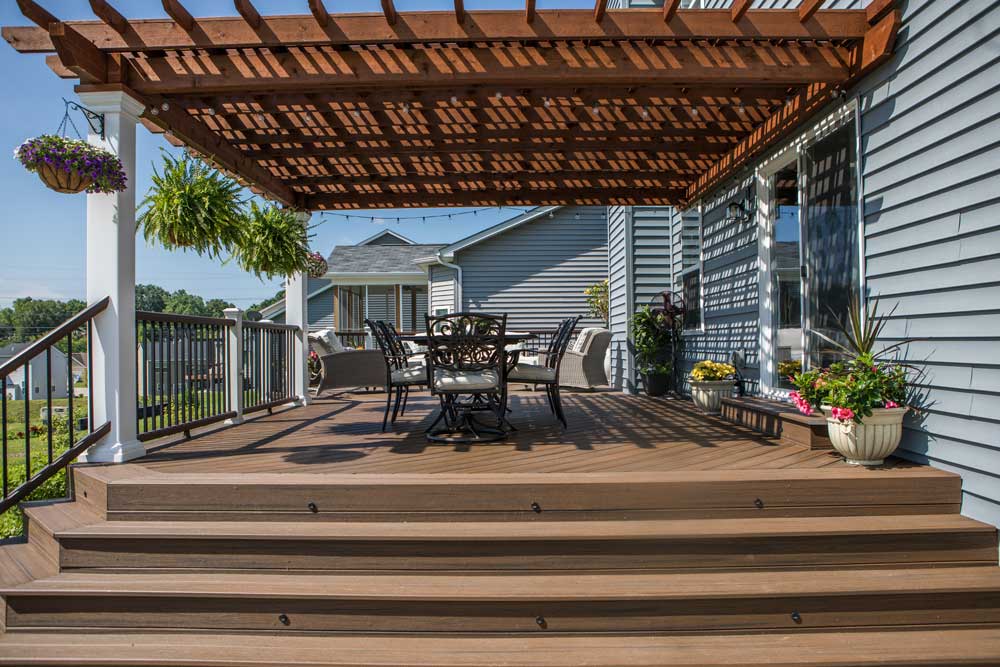 08 Aug

Covered Pergola
How to Design the Perfect Covered Pergola for Your Outdoor Space
Finding the perfect covered pergola for your outdoor space can be a daunting task. With so many options on the market, you have to make sure that you are picking the right style and design to meet both your functional needs and aesthetic desires. Thankfully, it doesn't have to be complicated – you just need some guidance in order to pick exactly what best fits your goals. Our article today will provide tips on how to help create a beautiful covered pergola that will perfectly suit any garden or patio area!
Overview of the Benefits of a Covered Pergola
A covered pergola is a valuable addition to any home that can bring about various benefits. Apart from providing an ideal space for outdoor relaxation, it also increases the overall appeal of the property. A covered pergola not only adds aesthetic value but also offers protection from extreme weather conditions. Rain, sun, or even snow will no longer be an issue when spending time under this structure. The addition of a covered pergola also extends the lifespan of outdoor furniture, making it a practical investment for homeowners. With the perfect blend of functionality and charm, a covered pergola is a smart choice that can enhance any outdoor space.
Considerations When Designing Your Pergola
Designing a pergola can seem daunting, but by considering a few key factors, you can create a functional and beautiful outdoor space. One of the first things to consider is the size and shape of your pergola. What purpose will it serve? Will you be using it for entertaining or as a relaxing retreat? Another important consideration is the material you will use. From wood and metal to vinyl and fiberglass, each material has its own strengths and weaknesses. Additionally, think about the climate in your area and the level of maintenance you are willing to take on. By carefully considering these factors, you can design a pergola that enhances your outdoor space and meets your specific needs.
Choosing the Right Materials and Finishes for Your Covered Pergola
When it comes to installing a covered pergola, choosing the right materials and finishes is crucial for ensuring its longevity and functionality. The primary materials used for pergolas are wood, vinyl, and metal, each with its own advantages and disadvantages. Wood offers natural beauty and can be stained to match your home's exterior, but requires regular maintenance to prevent rot and decay. Vinyl is low-maintenance and durable but can be limited in terms of color options. Metal, typically aluminum, is lightweight and long-lasting but can be more expensive than other options. Additionally, selecting the appropriate finish can enhance the pergola's appearance and protect it from the elements.
Maximizing Your Outdoor Space with a Covered Pergola
If you're looking to maximize your outdoor space, a covered pergola can be an excellent addition. Not only does it provide shade and shelter from the elements, but it also adds an element of beauty and sophistication to your outdoor area. With a covered pergola, you'll have the opportunity to create an outdoor living space that is both functional and stylish. Whether you want to use it for entertaining guests, dining al fresco, or simply enjoying a peaceful afternoon outdoors, a covered pergola is sure to enhance the appeal of home and functionality of your outdoor space.
Ideas and Inspiration for Creating the Perfect Covered Pergola Look for Your Home
Are you looking to transform your outdoor space and add a touch of elegance to your home? A covered pergola may just be the answer you're looking for. The perfect pergola can provide an inviting atmosphere and a focal point that will enhance the beauty of your backyard. But where do you start? With so many design options available, it can be overwhelming. Fear not, as there are plenty of ideas and inspiration that can help you create the perfect covered pergola look for your home. From classic columns and arches to modern minimalist designs, the possibilities are endless. With careful consideration of your personal taste and style, you're sure to create a beautiful and inviting outdoor living space that you can enjoy for years to come.
In conclusion, investing in a covered pergola can be a great way to maximize your outdoor space for both aesthetics and functionality. Consider the various ways you'd like to use it, choose the right materials and finishes, follow proper installation instructions, and take some time for inspiration to create the perfect outdoor oasis. With careful planning and execution as outlined in this blog post, you'll be able to achieve the harmony between form and function that a well-covered pergola will bring into your outdoor living area.
118 Barrington Commons Ct Ste 207, Barrington, IL 60010
(815) 900-5199