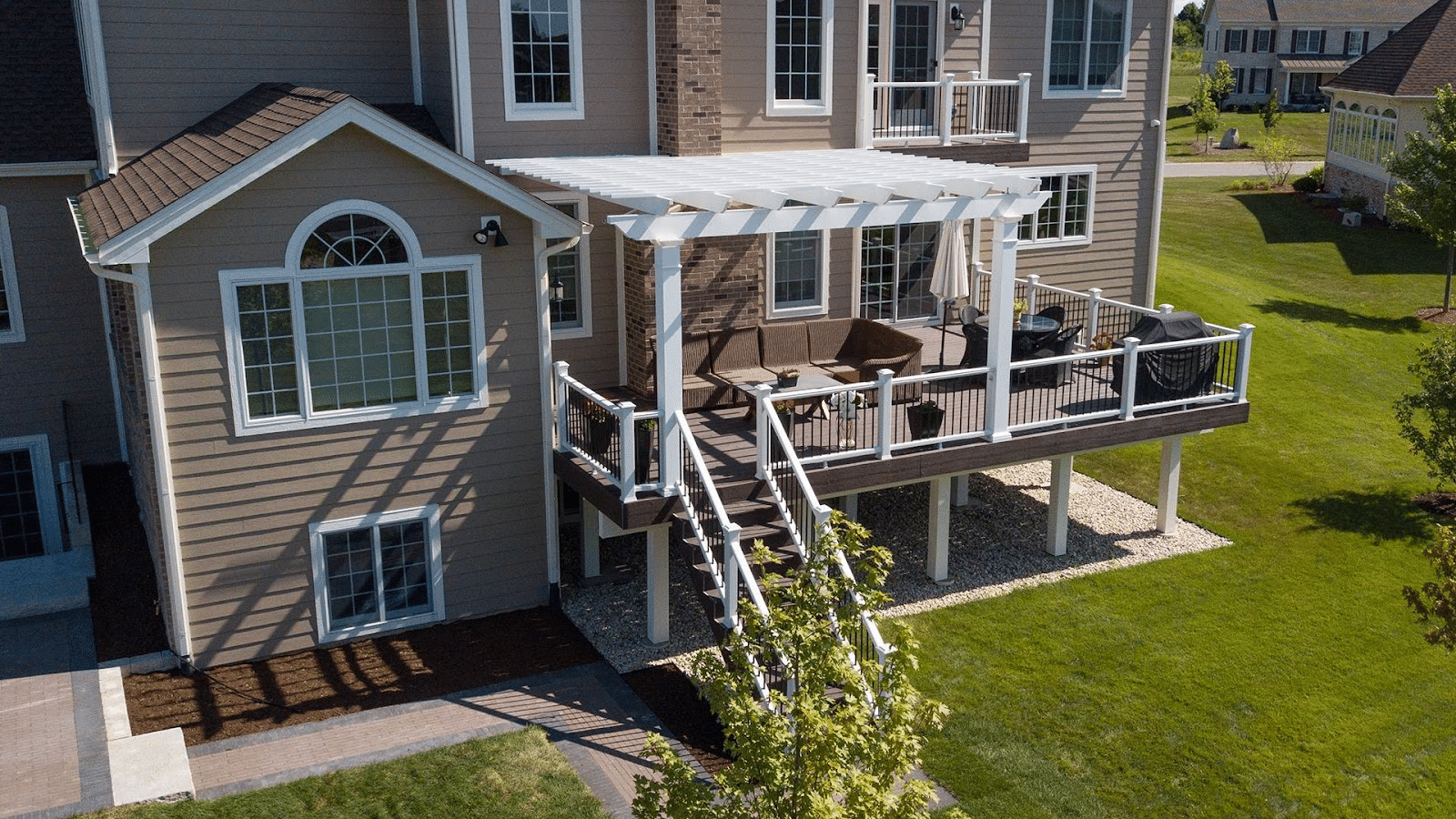 10 Mar

Adding a Pergola on Your Deck
Adding a Pergola on Your Deck
If you want to upgrade your outdoor space, adding a pergola is an excellent way to create a new extension to your home that can be used all year round.
In fact, building a pergola is probably one of the easiest ways to give new life to a deck and transform it into a multi-function space.
Exciting uses for a pergola
You may choose to build a pergola for many reasons. The possibilities really are endless.
A pergola can create an elegant outdoor dining room or bar area for when you've invited guests; a pool house with space for storage and getting changed; a shaded garden oasis; or even an outdoor cinema.
If space is more limited, you could build a pergola as a cover for your barbecue grill or simply create a small, secluded seating area that is protected from the elements.
Attached or freestanding?
One of the biggest considerations to be made when building a pergola is whether you want the structure to be attached to the house or if you'd prefer a free-standing version.
Both have their benefits: obviously, you can choose wherever you like for a free-standing option, while a pergola attached to your home can create a seamless transition from inside to out and increase the volume of your overall living space.
Attached pergolas are also more structurally secure, as they share the stability of the structure, which also provides added protection from the elements. 
Choosing the right material for your pergola
When building a pergola on a deck, your choice of material is vital. Of course, a lot depends on the type of pergola and how you want it to look. However, its function, location and your budget must be considered too.
Most traditional pergolas are made of wood, primarily because this is an affordable material with endless styles to choose from.
Cedar wood is our preferred choice because it is naturally durable. Its natural oils and resins make it less likely to decay or become infested with insects, and it offers a more rustic and natural style to your outdoor space.
However, like all wood that is left outdoors, cedar wood requires semi-regular maintenance (painting or staining).
Luckily, several other low-maintenance materials for pergolas are now commonplace on the market. These include:
Aluminum

.  More and more homeowners are opting for next-generation aluminum pergolas. This is because they are lightweight, yet long-lasting and durable. They're also sleek and are designed to match all housing styles: modern, contemporary or classic. Over time, aluminum holds its dimensions and stays straight and true.

Fiberglass

. This is an exceptionally strong and durable material. Fiberglass can withstand heavy snowfall or high winds without becoming droopy or warped. Its strength (greater than steel) also means you can have a much wider span between columns, therefore allowing for a larger and more open structure, if desired. Fiberglass is also extremely low-maintenance. Only minor touch-ups are needed to keep it pristine – it won't rust, corrode or pit. 

PVC

. Like fiberglass, PVC is also very strong and highly durable. PVC pergolas hold up well in all weather conditions and aren't impacted by extreme cold or high UV. This makes them ideal for installation in more extreme climates. As the color of PVC runs throughout the material, it's very low maintenance and is resistant to peeling, chipping and fading.
Pergolas can be designed using a combination of materials and wrapped in deck fascia to create a continuity of design that is pleasing to the eye and not jarring.
Ideas to consider when building your pergola
When building your pergola, there are a number of extras you can consider to make the best use of the space and create an area that not only looks great, but is functional too.
Add polycarbonate roof panels
Adding a roof to your pergola will allow you to enjoy your new outdoor space all year round. One of the best materials for this is polycarbonate panels. This will allow you to enjoy plenty of natural sunlight without worrying about excessive heat (polycarbonate blocks UV rays), rain or glare.
Your choice of lighting can radically change the appearance of your pergola. String or lighting can create a perfect atmosphere for entertaining.
Adding curtains to your pergola, via tension rods attached to the beams, can quickly and easily change the vibe of your new outdoor space – and give you privacy when you need it.
Another way to increase privacy while you're enjoying your outdoor space is to add some privacy panels. The most visually pleasing are perhaps trellis screens. Training vines through the small openings can help beautify the space, increase shade and block out external noise.
If you love entertaining guests, creating a covered outdoor kitchen within your pergola can make outdoor dining convenient and fun! Add some counters with a grill, fridge and sink, as well as outdoor heaters or ceiling fans to create a cozy atmosphere.
Find out which type of pergola is right for you
At Decked Out Builders, we're here to help local homeowners make their dreams a reality.
If you want to add a pergola to your deck, contact us now to get your project off the ground.
Call us at (815) 900-5199 or fill out our contact form.
118 Barrington Commons Ct Ste 207, Barrington, IL 60010
(815) 900-5199