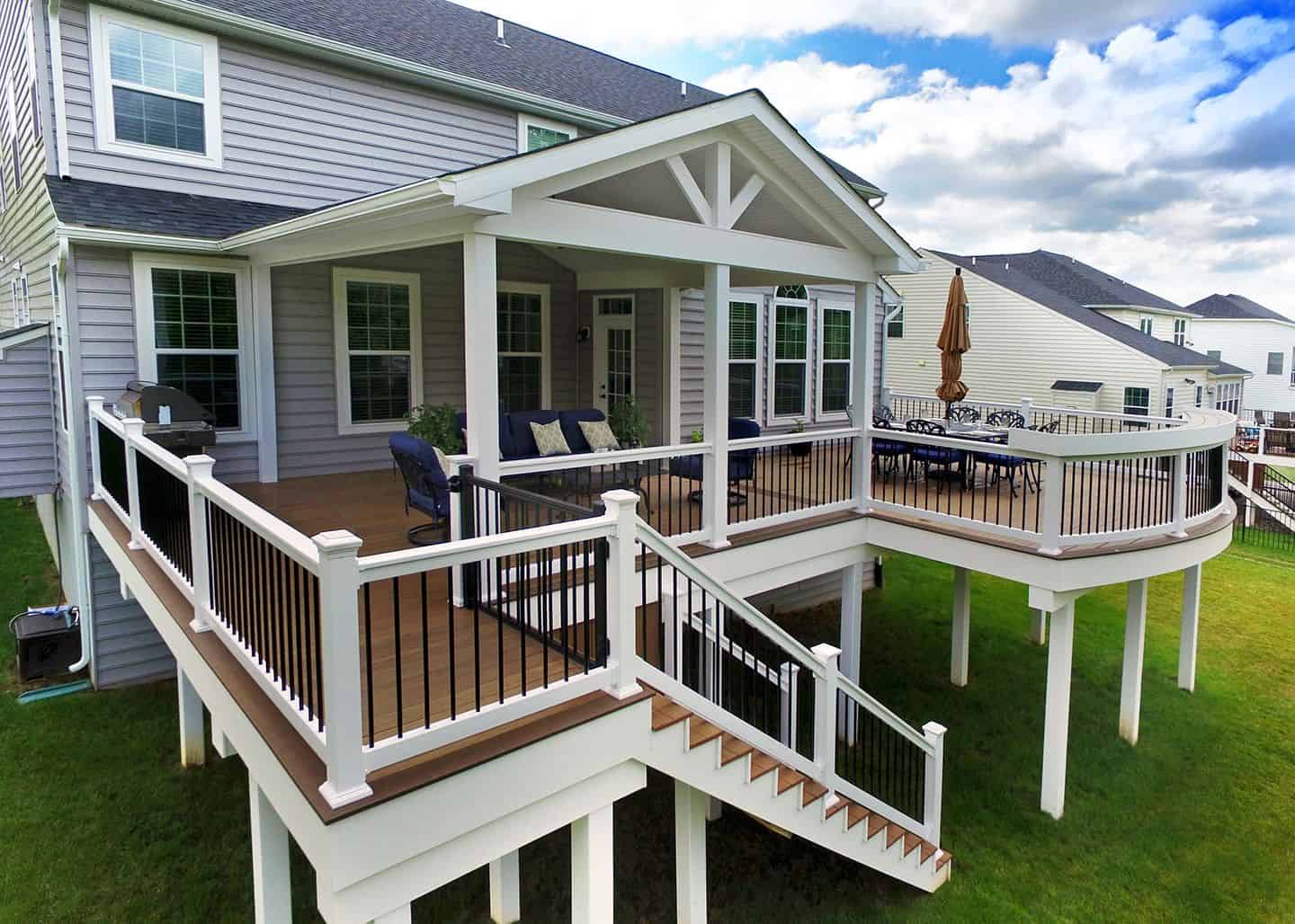 14 Oct

Can You Add a Covered or Screened Porch to an Existing Deck?
Can You Add a Covered or Screened Porch to an Existing Deck?
Have you been dreaming of adding a screened porch to your deck? Do you want a place where you can enjoy a Northern Illinois summer in the shade? No matter the reason, you might find yourself asking, "can I add a porch to an existing deck?"
Unfortunately, this isn't a simple yes or no question. The answer largely depends on several factors. While it's certainly easier to build a screened porch with a new deck, it isn't impossible to add one to the current deck on your home.
If you want to determine whether or not the project is feasible, you should contact a team of professional deck builders. They can inspect your current deck and discuss all of the options with you. You can also sit down with them to discuss the benefits of completing a total rebuild instead.
Things to Consider When You Want to Add a Porch to an Existing Deck 
When you work with professional decking contractors, you can expect them to look over your deck from top to bottom. They will be looking for things that could impact the safety or design of your screened porch addition. In fact, there are at least four major things to consider when you add a porch to an existing deck structure.
1. The Current Condition of the Deck
First and foremost, you need to look at the condition of your existing deck. An aging deck that has been exposed to the elements can quickly rot, leaving you with damaged supports and planks. If that is the case, those materials will need to be replaced before you can consider adding a covered or screened porch.
A professional deck builder will also check to make sure that your deck is up to code. If you've lived in your house for years, your deck might not meet the current building requirements in your area. In that case, you'll need to get the structure up to code before you can consider moving forward with a porch addition.
2. The Design of Your Existing Deck
There are several different ways of building a deck. Depending on how your deck was built, it may be easier or harder to add a screened porch or cover.  Some homes have grade-level decks, which are built into the ground. They create a seamless transition from deck to yard but are challenging to inspect since the framing is in the ground. A contractor won't be able to do a thorough inspection without tearing the deck apart.
Fortunately, decks that are built above ground are much easier to examine. A team of contractors can look underneath to assess the condition of the framing to determine whether there is enough support. If more support is needed, you can usually add them if your deck is high enough to work on.
3. The Ability to Support a Covered or Screened Porch
Even if your deck is in excellent condition, it still might not be the strength to adequately support a screened or covered porch. The extra building materials will add a significant amount of weight, and the builders will also have to account for additional weight from the new load.
To determine whether your deck can support a porch, you should look at the concrete footings. They will need to be oversized in order to withstand the additional weight of your new porch.
4. How Your Current Deck Limits Your Porch Design Options
If you are not building a new deck and porch, you will be limited in terms of design. Anytime you are working with an existing structure, you'll face more restrictions. With decks, you'll specifically have to adjust your porch design to fit your deck's:
Placement
Size
Shape
Additional Features
Reasons a Rebuild May Be a Better Option
You might think that adding a porch to your existing deck is the easier option, but that usually isn't the case. After assessing your deck, you might find it's better to build a new deck with a porch for these reasons:
Safety: If you find that the condition of your deck simply can't support the weight, a rebuild may be your only option. This is especially true if you have a lot of rot or lack the proper framing.
Cost: You could spend as much money fixing your deck as you would on building a new one.
Design: With a rebuild, you have more options to create your dream porch.
Learn More About Adding a Porch to an Existing Deck 
Contact Decked Out Builders today if you want to add a porch to your home's existing deck. Countless homeowners in Northern Illinois and Southern Wisconsin have trusted Decked Out Builders' team to create safe and beautiful decks and screened porches, so you can rest assured that your project is in good hands.
118 Barrington Commons Ct Ste 207, Barrington, IL 60010
(815) 900-5199