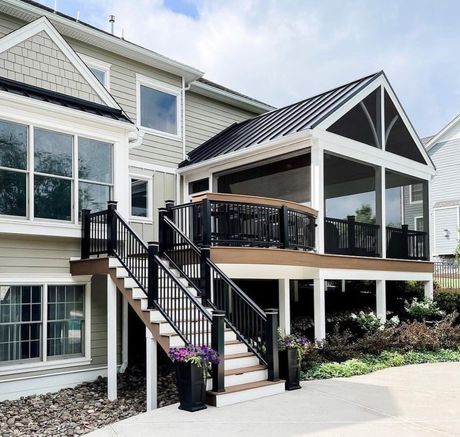 24 Oct

How Much Does It Cost To Build a Screened Porch Huntley IL?
How Much Does It Cost To Build a Screened Porch Huntley IL?
Have you been thinking about building a screened porch Huntley IL? Are you wondering how much it will cost? Then, you're in the right place. Decked Out Builders is happy to provide local homeowners with more information on how you can determine the cost of your project. We'll also talk more about average costs and how the investment can add value to a home.
Factors Impacting the Cost of Building a Screened Porch
A number of items go into determining the cost of building a screened porch in Huntley, IL. From the design of the screened porch to the electrical work, many decisions influence the overall price of the project.
Deck or Patio Design
Screened Porches can be built over patios or decks. However, if building on a deck the deck needs to be built to support the weight of the screened porch.  So this impacts the total cost of building a screened porch. Typically, an existing deck isn't built to support a screened porch unless it was preplanned.  The size also plays a role in the price. Large, complex designs require more time and materials, so homeowners should expect to pay more for them.
Roof Styles
Homeowners can choose from different roof styles, including gabled and hip roofs. Some are more intricate than others, so they will increase expenses. Existing roof lines, windows, existing skylights, bump out areas such as bay windows and many other factors must be considered. Whereas single slope roofs tend to be the most budget friendly, Hip roofs cost significantly more.  Not to mention, the type of roofing material customers select will also affect the total cost of the project.
Height
The height of the screened porch and/or deck will also play a huge factor in the overall cost. The higher the porch is off the ground the more it will cost. This should come as no surprise, as building a higher screened porch requires more materials, equipment, and labor.Therefore, customers end up paying more money for a screened-in porch on a second story than they would for a ground-level porch. It's also important to note that different municipalities have different safety requirements and building codes, in some cases are required to have an architect. 
Ceiling Finishes
Cedar Tongue and Groove or PVC BeadBoard are popular choices but can be costly. Some customers choose to go with more of a farmhouse look with exposed rafters to make the ceiling the star of the show. With many styles and options the ceiling of a screened porch really sets the mood and gives the wow factor of your screened porch.
Electric
From lighting, to maybe a tv or even electric heaters for those warm chilly nights adding electricity is an important thing to think about when planning your screened porch build. A Screened Porch is an extended space to your home. Its purpose isn't only to enjoy during the day but also to enjoy at night.
Material Selections
The type of materials used in a project is another huge factor impacting the cost. Fortunately, there are a wide variety of options, so customers can easily choose something that they love and that compliments your home.
Other Options
There are many other upgrades that homeowners can add to their screened porches. However, they all differ in cost, so it's important to speak with a professional contractor to see what is feasible for a custom screened porch build. The following are just a few popular options to consider:
Fireplace
Outdoor Kitchenettes
Skylights
And More
Cost Breakdown
BREAKDOWN OF COSTS FOR A SCREENED PORCH BUILD/REMODEL
While many different factors influence the cost, the amount of influence varies greatly. It's essential to understand how the typical cost of a screened porch build can be broken down. The cost breakdown chart can help customers get a better picture of how different decisions can impact their quotes.
As the image shows, labor is one of the biggest influences, so it's important to choose a contractor that can be trusted to get the job done right. It's equally important to find professionals who are upfront with their pricing so that there are no surprises.
SO WHAT IS THE COST TO BUILD A SCREENED PORCH IN Huntley, IL?
For help with the planning and budgeting of your screened porch project, here are some recent projects we have completed to give an  idea of screened porch costs.
Screened Porch Cost Near Me
This Screened Porch & Deck in Woodstock, IL includes Deckorators Voyage Decking, Trex Select Railing, LP Smart Trim Posts & Headers, LP Smart Side Ceiling, Screeneze, and Full Electric
Approx. Screened Porch & Deck Cost $145,000-$155,000
This Screened Porch & Deck in Lake Geneva, WI includes Deckorators Vista Decking, Trex Select Railing, LP Smart Trim Posts & Headers, LP Smart Side Board & Batten Wall, Exposed Rafters & 2×6 Plank Ceiling, Gas Fireplace Screeneze, and Full Electric
Approx. Screened Porch & Deck Cost $115,000-$125,000
This Screened Porch & Deck in Batavia, IL includes Deckorators Vista Decking and Cladding, LP Smart Trim Knee Wall, Posts & Headers, Cedar Tongue & Groove Ceiling, Screeneze, and Full Electric
Approx. Screened Porch & Deck Cost $75,000-$85,000
The Value of Building a Screened Porch
We know that might seem like a lot of money to spend on a screened porch, but the value it adds to a home makes it well worth it. Not only does it increase the amount of entertaining and living space available, but it also provides homeowners with privacy while they enjoy the peaceful outdoors.
That's not all!
A screened porch can add financial value as well. The majority of homeowners can get a 70-75% return on their investment. The exact size and features of the deck will influence a home's resale value, and of course, the amount will also depend on the local real estate market.
Find Out More About the Cost of Building a Deck in Huntley, IL
To start the process of designing and building your next screened porch in Lake in The Hills, IL, customers can contact Decked Out Builders if they have any questions. We are available by phone at (815) 900-5199, or homeowners can submit our online contact form.
118 Barrington Commons Ct Ste 207, Barrington, IL 60010
(815) 900-5199