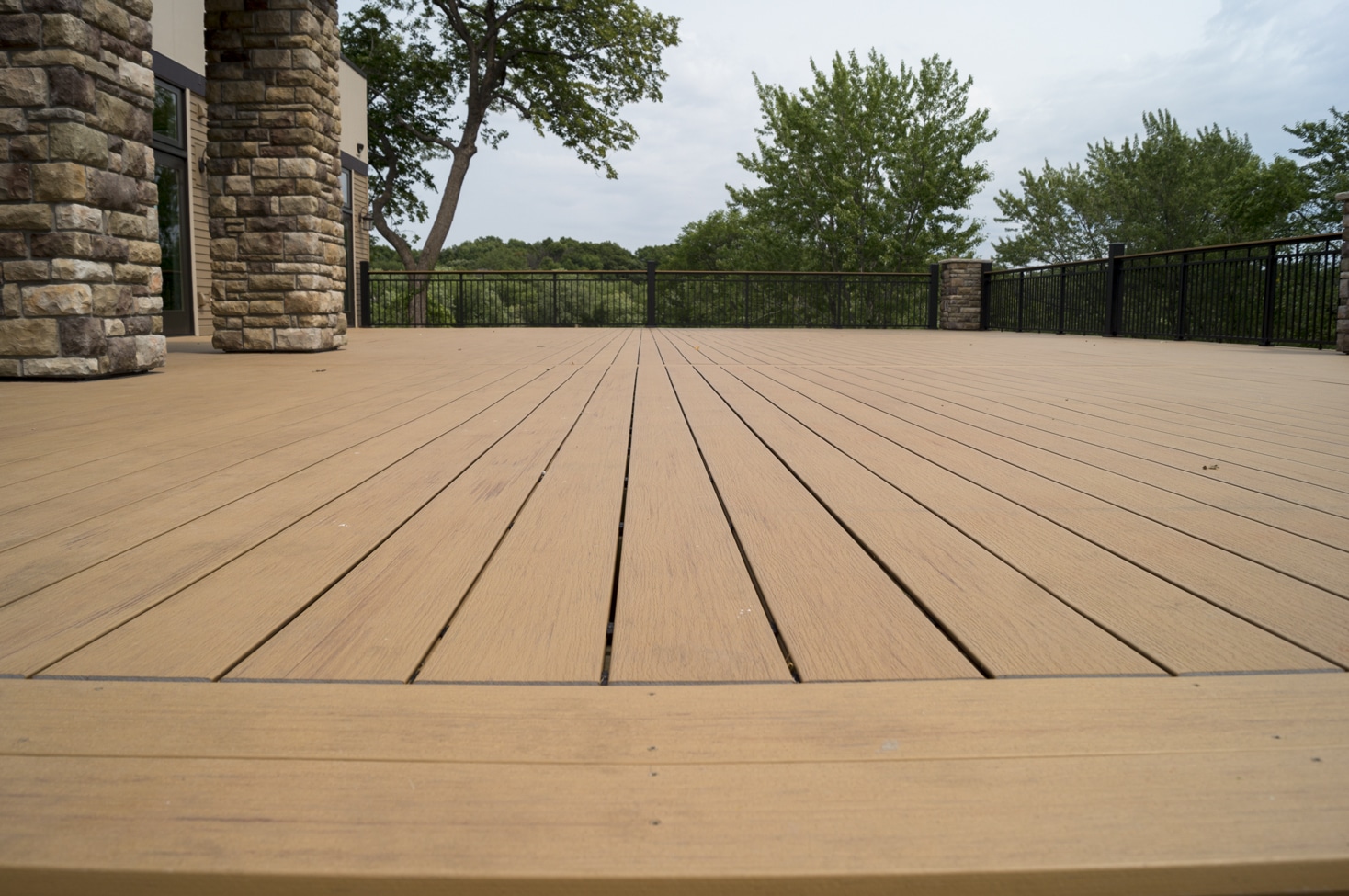 13 Jan

Different Types of Composite Decking
Different Types of Composite Decking You Need to Know!
When building a new deck, the first decision that every homeowner must make is what type of composite decking to use. A lot of people don't realize how many options exist, but things have come a long way since the days of just using wood planks.
Today, more and more people realize the benefits of composite decks, which makes the decision even more complicated. Now, homeowners can choose from all different types of composite materials with different benefits and price points. Choosing the right decking material can mean the difference between long summers of relaxation and a high-maintenance regret. Keep reading to learn more about the different composite decking materials and how they compare.
What is Composite Decking?
It's important to know what composite decking is in order to understand how one type is different from another. As the name would imply, these planks are made of a composite of various materials. Unlike wood that can be found in nature, these decking materials must be manufactured.
Most manufacturers use a combination of natural and synthetic materials. These can include wood fiber, plastic, minerals, and chemical additives for bonding. Some companies use recycled plastics to create an eco-friendly alternative to other decking materials. The exact combination of these different materials is what creates the different types of composite decks.
Wood Based Composite
Wood-based composite(traditional composite) decking is made from a mix of wood fibers and other recycled materials. It gives homeowners all of the benefits of a wood deck without any of the maintenance. You won't have to worry about seasonal painting, sealing, or staining! These planks are also resistant to insects, and they won't rot, warp, or splinter like traditional wood. Wood based composite comes in scalloped and solid board profiles. The scalloped board profile tends to be more budget friendly with the same low maintenance benefits.
Appearance
Wood Based Composite decking has come a long way since the older generations. From different manufacturers to different collections the appearances of composite vary. For Example Trex composite has a deeper grain than comparable composites, where also different composites vary in the grain patterns, color blends and hues.
Capping
Wood composites can come with or without capping. However, there are many benefits to choosing capped wood. The cap provides extra protection against stain, fade, mold and mildew that could otherwise cause damage to the wood fiber in the planks. Different types of capping can range from different composite decking brands. Keep in mind, scalloped boards often are only capped on three sides versus capping on all four sides, so there is still a risk of absorbing moisture.
Durability & Warranties
For many people, wood based composite is an excellent choice. While it is usually more affordable than the other types of composite materials, it still provides great durability and warranties. Homeowners can expect wood-based composite decks to last 25-30 years with a warranty to protect against structural issues as well as staining and fading.
Material Brands
Wood based composite being around the longest and being the traditional composite decking, there are a lot of brands out there.Here are just a few that we offer:
Deckorators Venture™
"This deeply scalloped version is a wood-plastic composite with a scratch-resistant polyethylene cap. It is available in two colors: Saltwater and Sandbar. Both have variegated coloring and embossed wood texture. In theory, the lighter weight profile makes this board not as strong as the heavier solid profile, it is still strong enough to span joists 16″ on center.
Deckorators Vista™
Wood-plastic composite capped on 3 sides with a polyethylene cap. Available in four natural wood colors including Driftwood, Silverwood, Ironwood and Dunewood. It has a excotic hardwood embossed wood grain and very natural looking variegated coloring.
Timbertech Pro
TimberTech Pro comes in five different composite decking collections: Legacy, Reserve, Terrain, Prime + and Prime/Premier. The looks can vary from Naturally varied wood grain patterns with a low-gloss, wire-brushed finish to Cathedral wood grain with wire-brushed finish or plain Cathedral Wood grain.
TimberTech Legacy Collection defined by textured hand- scraped finish and a complex blend of hues gives a variable grain pattern for unique board to board variation, no two boards are alike. This collection comes in 6 colors: Whitewash Cedar, Pecan, Mocha, Ashwood, Tigerwood, and Expresso.
TimberTech Reserve gives a reclaimed wood look by heavy wire brushed, low gloss finish and advanced color blending. This decking collection comes in 4 colors: Antique leather, driftwood, dark roast and reclaimed chestnut.
TimberTech Terrain(Scalloped)
The Timbertech Terrain Decking collection is a rugged cathedral wood grain pattern with peaks and swirls. This decking is available in 5 colors with Sandy Birch(special order), Stone Ash, Silver Maple, Brown Oak and Rustic Elm.
TimberTech Prime + (Scalloped)
This 3 sided capped composite decking is available in 3 different colors, Coconut Husk, Sea Salt Gray and Dark Cocoa. The TimberTech Prime scalloped composite decking line allows homeowners to ditch the costly and laborious maintenance that comes with traditional wood for good!
Timbertech Prime/Premier
Timbertech Prime offers the same colors as the Premier Collection but with a scalloped board profile. These decking collections give a subtle straight grain pattern available in Maritime Gray and Dark Teak.
Fiberon Concordia
Fiberon Concordia premium PE composite decking has a four sided PermaTech Cap Layer that combines classic and on-trend colors and grain patterns with unbeatable performance. Available in three collections: Astir, Horizon, and Symmetry.
The Astir Collection features a rustic cathedral grain in three colors Seaside Mist, Prairie White, and Mountain Ash.
The Symmetry Collection features a low-gloss formula and micro-texturing to create a wire-brushed finish.This collection comes in three colors Burnt Umber,Graphite and Warm Sienna.
The Horizon Collection only offers 2 colors, Castle Gray and IPE. This decking gives a sweeping cathedral grain with dramatic streaking that emulates exotic hardwoods.
Fiberon Sanctuary
This decking is a three-sided PermaTech® cap layer providing superior stain and fade resistance. This decking features bold, multi tonal colors and rustic embossing that comes in 5 colors: Moringa,Latte,Earl Gray, Chai, and Espresso.
Fiberon Goodlife(scalloped)
Fiberon Goodlife is priced closer to wood. Good Life decking is capped on 3 sides including 6 classic multi-tonal and solid hue selections, Cottage, Cabana,Cabin,Tuscan Villa, Bungalow, and Beach house.
Cost
Wood based composite decking comes in a larger variety of selections and grades across manufacturers. Scalloped boards are more budget friendly, as they use less materials, however some wood based composite can still cost as much as Mineral Based Composite or PVC.
Mineral Based Composite
As the name implies, this type of composite decking is made of a blend of advanced plastic polymers and durable minerals, combined and then stretched (pull extruded). Mineral based composite decking comes in a solid board and is the most durable technology in this industry. This type of composite decking does not use any wood, but is created with a unique combination of stable minerals and plastic that helps prevent expansion and contraction in the planks when temperatures change. The major advantages of Mineral Based Composite over Wood Composites is the superior strength, stability and water contact.
Appearance
Though they don't have any wood materials in them, mineral-based composites can still mimic the appearance of traditional wood like their wood-based counterparts. Similarly, mineral-based planks come with wood grains and a variety of beautiful colors for a high-end look without maintenance.
Capping
These thermoplastic composite deck boards are co-extruded using proprietary inorganic fillers and polypropylene (PP) materials with a polypropylene cap. Mineral Based Composite unique cap contains infrared reflective materials and embossing for enhanced traction. Deckorators MBC are the only approved composites engineered for use on the ground or in the water.
Durability & Warranties
Mineral-based composite decking lasts longer than most wood varieties. In fact, many manufacturers are willing to stand behind their products with 50-year structural warranties and 25-year stain and fade protection. Deckorators MBC has a strength-to-weight ratio that is unrivaled in the composite market. In terms of durability, the clear winner is Deckorators.
Material Brands
Deckorators is what we consider the most known & trusted brand for Mineral Based Composite:
Deckorators Vault & Deckorators Voyage
Deckorators Voyage™
Both the Voyage line (shown) and the vault line are a specially manufactured MBC or Mineral-Based Composite with a polyethylene 4-sided cap. The Voyage line is available in six variegated colors simulating vertical grain:Sierra, Tundra, Mesa, Costa, Khaya, and Sedona. This line is also available in three different plank widths that give you the option of mixing up the widths to achieve a more varied and random appearance. The unique mineral plastic extrusion makes the decking boards lighter and stronger. See below for an explanation of Decorator's MBC. MBC decking also does not expand and contract as much as other composite decking with changes in weather and temperature.
Deckorators Vault™
Like the Voyage line, Vault is a specially manufactured MBC or Mineral-Based Composite with a polyethylene 4-sided cap. The difference between Vault and Voyage is that Vault has an embossed flat grain pattern as opposed to a vertical grain pattern. The Vault line is available in just two variegated colors: Mesquite and Dusk .
Reasons to love mineral-based composite:
Voyage provides 34% greater traction
Enhanced textured embossing for better traction both when wet or dry
35% lighter than traditional composites
Virtually no thermal expansion or contraction
Warrantied for installation in the ground or water
Cost
Mineral Based composite decking, is not an entry level cost decking. It is on the higher end for cost that may not be with in everyone's budget.
Capped Polymer Decking
Capped polymer decking is one of the top choices for low-maintenance materials because it is made 100% with polyvinyl chloride (PVC). This type of decking comes in a solid board profile and contains absolutely no wood or any other organic material.
Appearance
Like the other types of composite decking materials, capped polymer also replicates the appearance of wood planks. However, you can enjoy its beautiful appearance for decades to come since it doesn't contain any materials that would be susceptible to mold, rot, or insects.
Capping
As the name implies, capped polymer planks do have capping. The cap provides an extra layer of protection so that the boards are more resistant to stains and fading, but also stay cooler on hot days and provide greater traction.
Durability/Warranty
Leading manufacturers back their products with lifetime warranties and 50-year guarantees for structural, fade and stain resistance. It's worth noting that since these planks are 100% plastic, they do expand and contract with temperature changes slightly more than other composite decks.
Material Brands
Timbertech Azek offers 3 different collections with 13 different colors to choose from.
The Azek Vintage Decking collection is a wire brushed, low gloss finish with highly blended colors. This decking is in the designer series and is available in 6 colors with Weathered Teak, Coastline, Mahogany, Cypress, English Walnut, and Dark Hickory.
The Azek Landmark Decking collection is a cathedral wood grain pattern in solid colors. This decking, inspired by reclaimed lumber available in 4 colors with French White Oak, Castle Gate, Boardwalk and American Walnut.
The Azek Harvest Decking collection is a cathedral wood grain complemented by a rustic crosscut and matte finish with highly blended unique colors. This decking is composed of natural shades and available in 3 colors with Slate Gray, Brown Stone and Kona.
Fiberon
Fiberon offers 2 different PVC Lines with 10 different colors to choose from:The Fiberon Promenade Decking has four sided capping featuring the aesthetic of handcrafted wood decking, available in 6 colors with Shaded Cay, Moonlit Cove,Sandy Pier,Natural Reef,Weathered Cliff and Russet Dunn.
The Paramount Decking has three sided capping with a combination of durability and style, featuring a palette of solid and multi-tonal color options,
The Hearth Collection features two stunning multi-tonal hues – Brownstone and Sandstone.
The Mantel Collection offers Clay and Mineral, solid colors that provide a classic look.
Cost
Capped polymer decking is one of the most expensive options, but for many, it is worth it. Already mentioned, Azek has 3 different collections. Each one of these collections have different price points. Vintage Collection is going to be your high end, premium cost decking with Landmark coming in a little less but still up there in cost compared to some other composites. Azek Harvest collection with the same benefits is your beginner cost PVC decking.
Conclusion
Choosing a type of material for your future deck is not a decision to be taken lightly. With more options than ever before it is important to take into consideration all the options that decking materials offer. However, do not feel overwhelmed. At the end of the day, it is important to take two big points into consideration. The first is your budget and the second is deciding what material is going to fit you and your family's lifestyle best. Whatever decking material you choose, we are sure you and your family will be making so many memories on your new or updated outdoor addition.
118 Barrington Commons Ct Ste 207, Barrington, IL 60010
(815) 900-5199