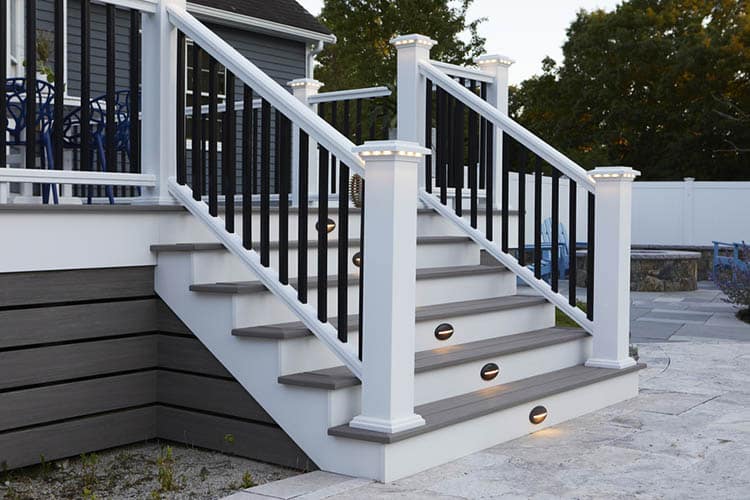 10 Feb

8 Must have Deck Features
8 Must have Deck Features
More people are breaking away from building basic decks to create spaces that complement their hobbies and lifestyles. That's why understanding the latest composite decking ideas and deck features is essential during the planning process. The difference is in the features and amenities you choose to explore.
Are you looking to spruce up your deck? Here are 8 must-have features to consider for your project.
1. Deck and accent lighting – adds style and function.
Lighting is one of the most popular accessories for composite decking designs for a reason. This feature may add style and an inviting ambience to any outdoor living space, bringing it to life even after the sun goes down. Since constructing a deck is an investment, deck lighting increases the space's value and functionality.
Deck lighting is a great way to add personality to your backyard retreat. It can create a welcoming environment for family, friends, and guests while also providing safety. Deck Lighting can either be low voltage or solar.
2. Outdoor kitchens
Do you know what is better than relaxing on your deck? Cooking on it.
Depending on the dimension and layout of your deck, it can be the perfect space for an outdoor kitchen. Asides from increasing the value of your home—homes with outdoor kitchens sell for nearly 30% more than expected—this deck feature has several other pros. Some include:
Convenient and efficient food prep.
Lower energy bills
It improves cooking convenience.
As a plus, there is a theory that food just tastes better when cooked outside. Think of it as yet another win.
3. Covered Porch or Pergola.
We all love a bright and sunny day. But the scorch? That we can't stand, even on a beautifully decorated deck.
A covered porch or pergola takes care of this problem.
Beyond providing shade on sunny and rainy days, a covered porch or pergola improves the look and feel of your deck. It is also a great way to showcase your personality and add to the aesthetic appeal of your outdoor space.
4. Fire pits.
Nothing says cozy like fire crackling in a pit on your deck while enjoying the company of the people you love and the taste of good food. With a fire pit on your deck, you can rest assured that your evenings outside will be warm and relaxing, especially during colder weather.
While fire pits enhance the atmosphere of your deck, they can also pose a risk. It is essential to take the proper safety precautions to minimize the risk of fire damage by hiring a professional deck contractor to handle this.
5. Deck Designs & Inlays
Not sure how to express your style and creativity on your deck? A decking inlay is a great place to start. An inlay, which is composed of deck boards with different colors or orientations to create a design or pattern, can be used to enhance the visual appeal of composite decking by adding a decorative touch. There is no doubt that adding an inlay to a wall requires a high level of technical expertise, which is why it is recommended to leave it to a professional.
By adding an inlay into the space, you get the opportunity to use more than one color in the composite decking design and to achieve a custom, unique look. In addition to generating conversation, this contrast can easily tie together the entire aesthetic of the deck.
6. Privacy screens
Decks are intimate spaces best enjoyed by family, friends, and guests. Its purpose of intimacy is defeated when it is in full view of everyone in the neighborhood. This is where a privacy screen comes in.
A privacy screen is a barrier between your deck and the rest of the world. In addition to protecting your outdoor moments from the prying eyes of nosy neighbors, privacy screens also enhance the appearance and style of your deck. Thankfully, there are several pattern and design options you can explore.
Depending on the type you choose, a privacy screen can serve other purposes, including:
Wind resistance.
UV shielding.
Childproofing.
Decor holding.
7. Underdecking
Want to expand your outdoor space, you can now double it and keep the underneath side of your deck dry. There are different systems on the market nowadays: Trex Rainescape, Upside, Zipup and Timbertech Dryspace to name a few common ones. Deck drainage and gutter systems can be installed above or below the joists. Above-the-joist systems like Trex RainEscape shield the entire substructure from water, protecting joists and fasteners against rot and corrosion.
This provides you the opportunity to truly create that living space you've always desired outside:
Add Ceiling Fans or Lighting
Add a TV or Projector
Install a full outside kitchen
Create comfortable seating areas
Relax and enjoy with a nice hot tub space
Increase your storage space
8. Built-in seating
What is a deck without a place to sit and relax? Every deck needs good seats. Even better, every deck will benefit from a built-in sitting solution. For one, it reduces your visits to furniture shops and is a creative way to make your outdoor space pop. With the built-in seating deck feature, you can explore a wide range of bench ideas, from L-shaped or curved benches to backless or cushioned ones.
Your built-in benches can also serve as storage units and planters to add a splash of greenery to your deck.
Bring your deck to life with Decked Out Builders
Picture your outdoor space with these aesthetically-pleasing deck features. Can you see it come alive? Can you imagine all the fun and intimate things you can do with your family and friends? Now it's time to make the necessary improvements to make your small or expansive deck a sanctuary you'll love with Decked Out Builders.
118 Barrington Commons Ct Ste 207, Barrington, IL 60010
(815) 900-5199