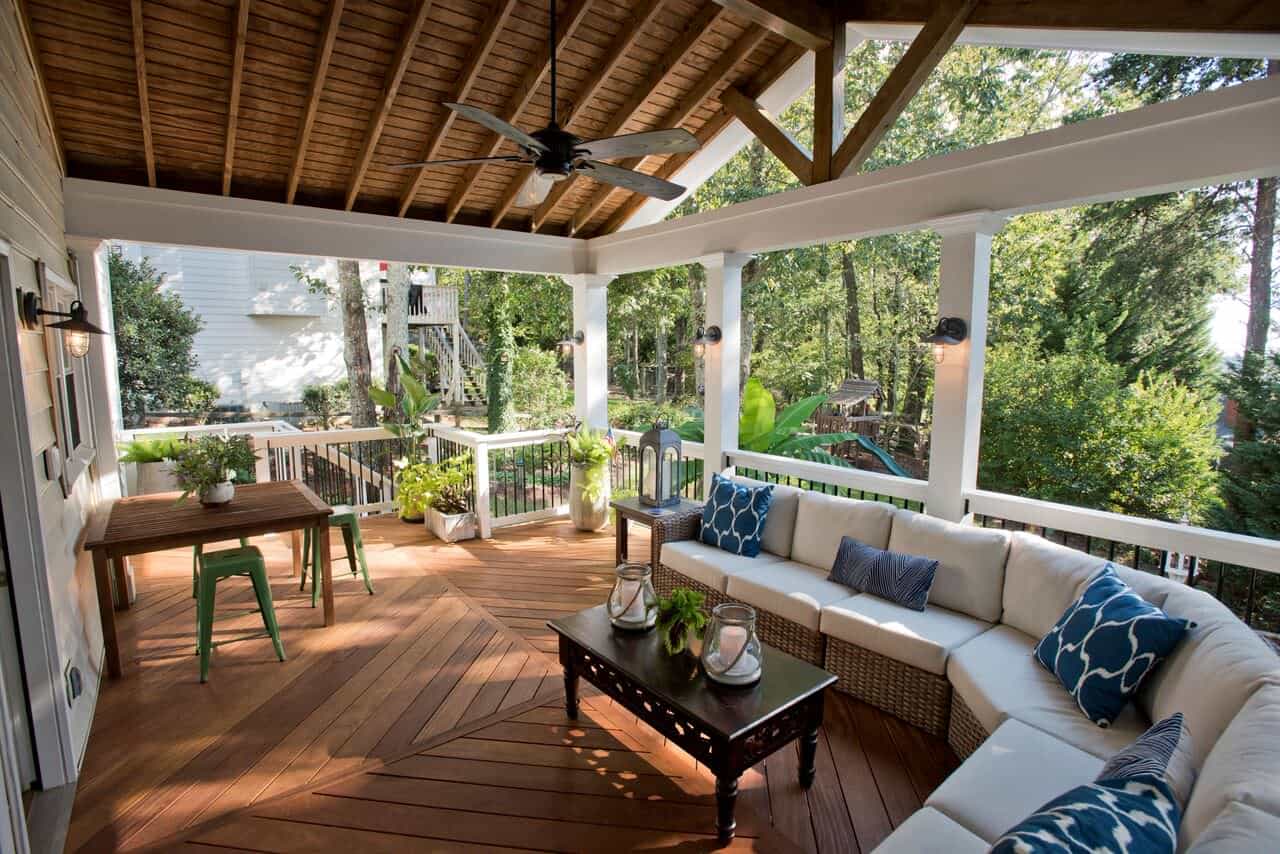 03 Aug

Screened in Porch Ideas
Get Inspired by These 5 Stylish Screened in Porch Ideas
Are you looking for ideas to transform your outdoor space into an inviting and stylish screened in porch ideas this summer? If so, you'll be delighted with the range of designs waiting to inspire your next project. Whether you're aiming to create a place where conservations can flow seamlessly from indoors to outdoors or simply want to find ways to make the most of your outdoor living area, these five stunning screened-in porch ideas will point you in the right direction. Read on as we explore five fantastic design possibilities for transforming any patio into a cleverly designed outdoor oasis!
Install a Hanging Chair for Intimate Gatherings
If you're looking to enhance your screened-in porch, consider adding a hanging chair. Not only does this piece of furniture create a cozy and inviting atmosphere, but it also provides a unique seating option for intimate gatherings with friends and family. With its suspended design, a hanging chair can be a focal point in your outdoor space that adds a touch of relaxation and tranquility. Whether you're looking to curl up with a good book or share a drink with loved ones, a hanging chair on your screened-in porch is an excellent addition to any home.
Add Some Color to Your Space with Potted Plants and Flowers
If you're looking to refresh the look of your porch or outdoor space, consider adding some potted plants and flowers. A few carefully selected plants can have a big impact on the overall aesthetic of your space, instantly livening it up with bursts of color and dimension. Whether you prefer a more subtle approach with small, simple potted plants, or a bolder look with larger, showier blossoms, there are options to suit any taste. Plus, with so many different types of plants available – from vibrant annuals to low-maintenance succulents – there's a perfect plant just waiting to brighten up your space.
Hang String Lights for a Cozy Ambiance
When it comes to outdoor lighting, string lights have become increasingly popular for creating a warm and inviting ambiance. Whether you have a screened-in porch, a backyard patio, or a quaint garden, hanging string lights can instantly add a touch of whimsy and charm to your space. With a variety of creative designs and ways to hang them, you can customize your lighting to suit your personal style. Not only do string lights look beautiful, but they also serve a practical purpose by adding extra lighting for nighttime gatherings or simply enjoying a quiet night under the stars. So, if you want to create a cozy and inviting atmosphere outdoors, consider hanging string lights for a chic and stylish look.
Accentuate Your Porch with Artful Wall Decorations
The porch is often the first thing visitors notice about your home, so why not make a statement with some stylish wall decor? Artful wall decorations can instantly add a touch of personality and character to your porch, making it a welcoming and inviting space for family and guests. Whether you opt for colorful prints, eye-catching sculptures, or a series of framed photographs, there are countless options to choose from. With so many styles and designs available, you're sure to find something that complements your porch's existing decor and enhances its overall aesthetic appeal. So why not accentuate your porch with some artful wall decorations today?
Create an Outdoor Dining Area
If you're looking to create a comfortable outdoor dining area, why not start with some stylish outdoor furniture? Including chairs, tables, and benches can make it easier to entertain and enjoy drinks in the fresh air. A screened-in porch provides a perfect spot to admire nature while being protected from pesky bugs. Add some mood lighting and cozy throws for those chillier evenings, and you'll have a charming spot to dine and unwind outdoors. With a well-planned setup like this, you'll be sure to impress your guests and enjoy everything the great outdoors has to offer without sacrificing comfort.
With these screened-in porch ideas, you can transform your outdoor space into a beautiful and functional gathering area. Adding elements such as a hanging chair, string lights, wall decorations, and furniture will transform the room into an inviting and charming setup. Whether you have friends over for dinner or an evening get-together, having a screened-in porch can provide the perfect cozy atmosphere for all occasions. Don't forget to personalize your outdoor escape with potted plants and flowers to add even more life to the space. Get creative with your screened-in porch design today – it's sure to be worth the effort!
118 Barrington Commons Ct Ste 207, Barrington, IL 60010
(815) 900-5199