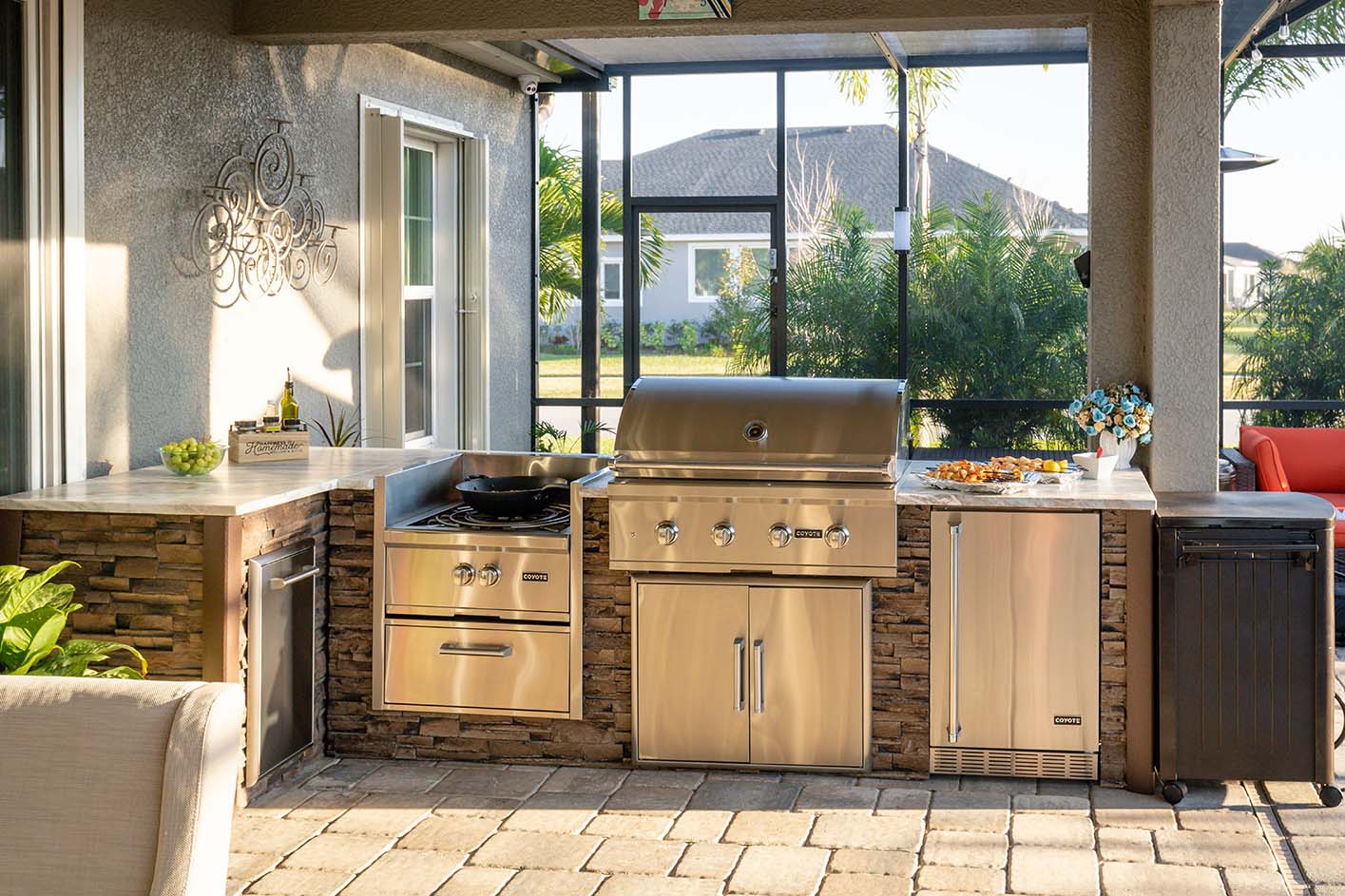 21 Sep

Small Outdoor Kitchen Ideas
Get Inspired by These Easy and Budget-Friendly Small Outdoor Kitchen Ideas
Are you hoping to add an outdoor kitchen space to your backyard but feeling daunted by the prospect of not having enough room? With a little ingenuity, you can turn even the smallest of yards into a fully functional outdoor cooking and entertaining haven. From patios and decks equipped with portable grills or side burners to charming setup options like bar carts, there are plenty of design ideas that will help bring personality and flair no matter how small your area may be. Here are some budget-friendly ideas for creating a unique small outdoor kitchen ideas that fits perfectly in any sized space.
Take advantage of your outdoor space with a compact kitchen island
As the warmer months approach, there's no better time to freshen up your outdoor space. Take your backyard to the next level by incorporating a compact kitchen island that's both functional and stylish. With a compact island, you'll be able to easily prep, cook and entertain guests outside. Gone are the days of running back and forth from your indoor kitchen to your backyard oasis. Invest in a durable and weather-resistant island that can stand up to the elements, while still looking chic and modern. Whether you're hosting a barbecue or simply enjoying a quiet evening outside, a kitchen island can transform your outdoor space from average to extraordinary.
Embrace the grill to become an outdoor cooking pro
Summer is the best time to experiment with outdoor cooking, and embracing the grill can take your culinary skills to the next level. Whether you're a seasoned chef or just starting to dive into the world of cooking, there's something undeniably special about grilling up your favorite meals under the open sky. The grill isn't just a tool for making burgers and hot dogs – it's an entire outdoor kitchen waiting to be explored. By mastering your grill, you open up a world of possibilities for outdoor entertaining, from perfectly grilled vegetables to mouth-watering steaks and seafood.
Add multi-functional furniture pieces for storage and extra countertops
In today's fast-paced world, people are constantly looking for ways to maximize space and functionality in their homes. One way to achieve this is through the use of multi-functional furniture pieces. By incorporating items like storage ottomans or coffee tables with hidden compartments, you can add both storage and style to your living space. Additionally, furniture pieces with extra countertops, such as kitchen islands or sofa tables, can provide much-needed space to prepare food or work from home. With so many innovative options available in the market, it's easier than ever to create a design that is both practical and visually appealing.
Create clever zones for seating and cooking areas
In today's modern world, homeowners are constantly looking for innovative ways to maximize their living spaces. One trend that has taken hold is the creation of clever zones for seating and cooking areas. These areas can serve multiple purposes and are designed to be efficient and comfortable. Whether it's a cozy nook for enjoying a cup of coffee in the morning or a small area for prepping meals, these zones can be tailored to fit any space and any lifestyle. By separating seating and cooking areas, homeowners can create distinct areas that are meant to serve different functions.
Brighten up with the right lighting solutions for your small outdoor kitchen
When it comes to designing a small outdoor kitchen, choosing the right lighting solutions can make a big impact on transforming the space into a warm and inviting gathering place. Adequate lighting not only allows for better visibility during food prep and cooking but can also enhance the ambiance and mood of the area. From pendant lights above the cooking station to strategically placed recessed lighting, there are various options to brighten up your small outdoor kitchen. Consider the overall aesthetic and functional needs of your space, and work with a professional to find the optimal lighting solution that suits your style and budget.
Having an outdoor kitchen doesn't have to be an overwhelming undertaking. With a few creative ideas and careful planning, you can design the perfect small kitchen for your outdoor living space. An outdoor kitchen is sure to be one of the most popular areas to entertain guests, so don't forget to add plenty of seating and ambiance with the right lighting solutions. A small outdoor kitchen is a perfect addition to any backyard or patio, so get creative and start cooking up something delicious!
118 Barrington Commons Ct Ste 207, Barrington, IL 60010
(815) 900-5199