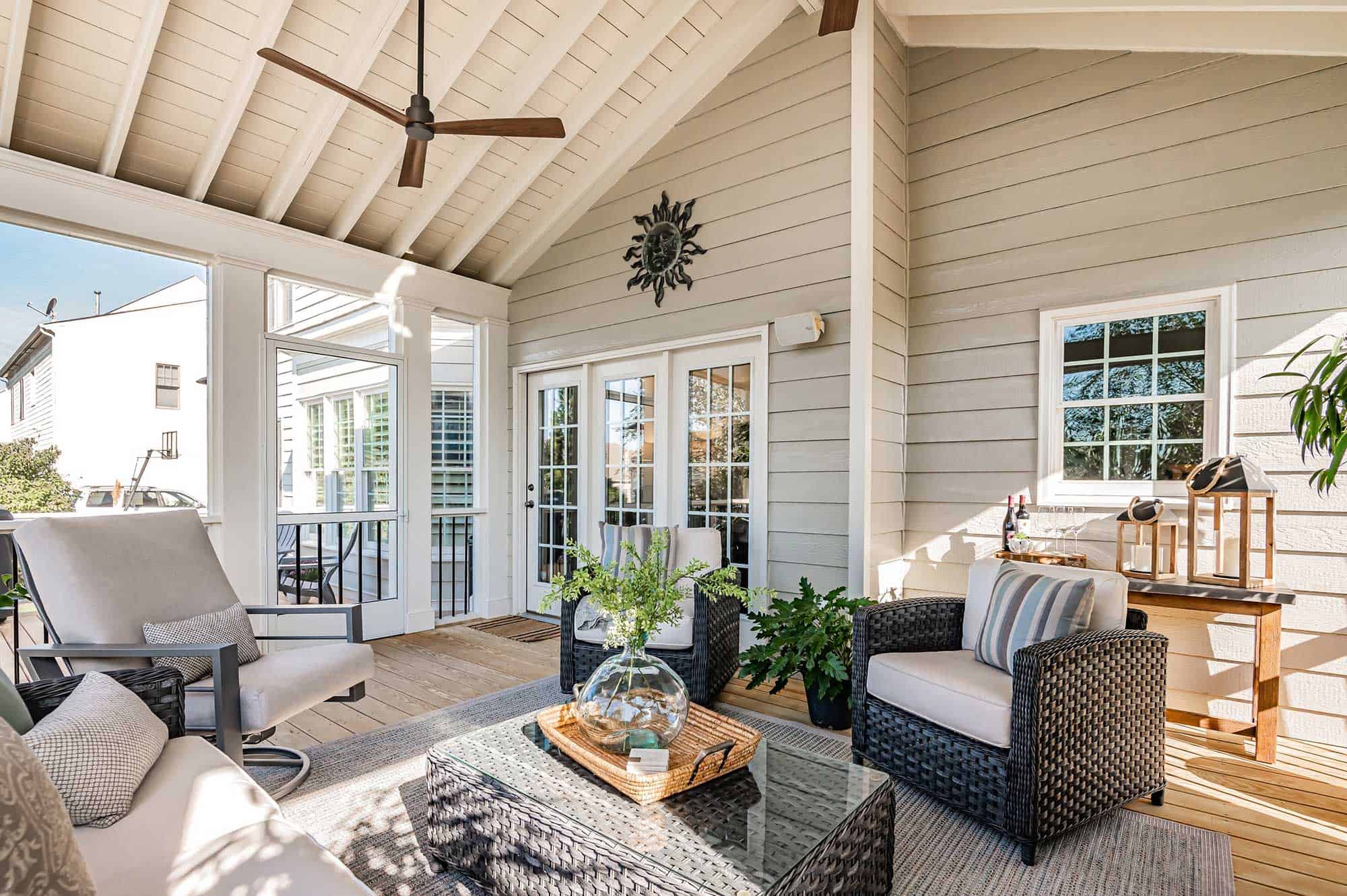 28 Sep

Porch Coverings
Transform Your Porch Into a Cozy Retreat With These Durable Porch Coverings
Imagine coming home at the end of a long day and settling into your own personal oasis. No mess, no stress – only peace. With durable porch coverings, that dream can become a reality. As commercial and residential property owners are increasingly looking for ways to transform their outdoor areas into attractive sanctuaries, integrating dependable covers has emerged as an efficient solution — one which not only enhances appeal but also improves safety measures. Read on for tips on selecting the perfect item for developing a cozy retreat in your own backyard!
Introducing Porch Coverings
As homeowners, we naturally want to make our living spaces as comfortable and enjoyable as possible, whether it's indoors or outdoor area. Porch coverings are a great way to add an element of sophistication to your outdoor space, while also providing protection from the elements. These coverings can be customized to fit the style and aesthetic of your home, ensuring that your porch is both functional and visually pleasing. The best part? Porch coverings are an affordable option that won't break the bank. With a variety of materials and designs to choose from, you can easily create the outdoor living space of your dreams without spending a fortune. So why not take advantage of this simple yet effective solution to elevate your porch to the next level?
Types of Coverings to Choose From
When it comes to choosing a covering for your porch space, there are a variety of options to consider. Awnings and canopies are popular choices due to their ability to provide shade and protection from the elements. Gazebos offer a more permanent option and can add elegance and charm to your backyard. Pergolas offer a similar aesthetic appeal as gazebos but with a more open design, allowing for more natural light. Each of these coverings comes with its own unique features and benefits, so it's important to weigh your options and choose the one that best fits your needs and personal style. Whether you're looking for protection from the sun or a cozy spot to gather with loved ones, the right coverage can enhance your outdoor living experience.
Benefits of Installing a Porch Covering
One of the best ways to enhance the outdoor living experience of a home is by installing a porch covering. A porch covering provides several benefits that make it a wise investment for homeowners. Firstly, it significantly increases the comfort of the outdoor space, as it shields the area from direct sunlight, rain, or snow. Also, it provides ample shade which makes it ideal for summertime cookouts and outdoor gatherings. Secondly, it protects outdoor furniture and decor from the damaging effects of weather elements, allowing them to last longer with minimal maintenance. Lastly, by adding a porch covering, homeowners can increase their property value, as it is a functional and highly desirable feature for potential buyers.
Easy Steps for Selecting and Installing Your Porch Covering
When it comes to selecting and installing a porch covering, there are a few essential steps that you should keep in mind. Begin by determining the size and shape of your porch, as this will dictate the type of porch covering that will work best for your space. From there, consider the materials that you want to use, as this will impact the overall appearance and durability of your covering. Make sure to take accurate measurements and consult with a professional if you have any questions about installation. With a little bit of planning and attention to detail, you can transform your porch into a comfortable and stylish outdoor space that you can enjoy year-round.
How Long Do Porch Coverings Last – Durable Materials That are Built to Last
When it comes to porch coverings, durability is key. No one wants to invest time and money into a covering that will only last a season or two. Fortunately, there are materials available that are built to last. Options such as metal, fiberglass, and vinyl are known for their durability and ability to withstand the elements. These materials are not only long-lasting but also require minimal maintenance, making them a wise investment for homeowners looking for a practical solution to protect their porch area.
Whether you're looking to add some curb appeal to your home or create an outdoor living space that better meets your needs, porch coverings are a great option. They provide shade and protection from the elements while also blending in with any outdoor architecture. With a wide variety of styles, colors, and materials to choose from, it's easy to find a porch covering that provides the perfect look for your home or business. So don't wait – install a porch covering today and enjoy all of the benefits it has to offer!
118 Barrington Commons Ct Ste 207, Barrington, IL 60010
(815) 900-5199