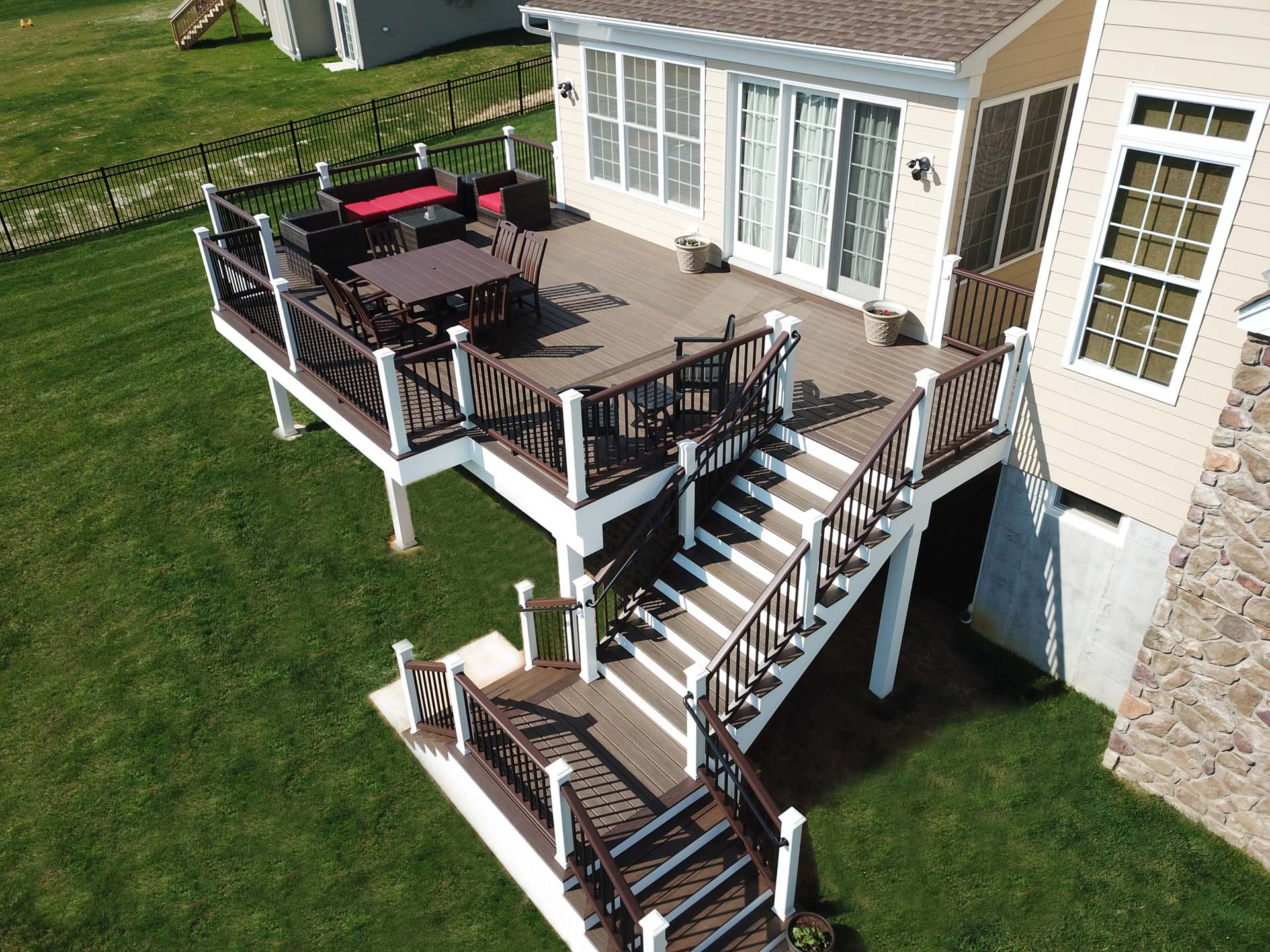 23 Feb

Deck Design: Things to Consider
Deck Design: Things to Consider
The time has come to start planning your deck design if you've been dreaming about spending the summer entertaining, relaxing, or grilling on your new deck. Knowing what you want to include and where you want it located will help us build the deck of your dreams, whether it is simple or extensive.
Designing a new deck is a process. Reading our blog to understand all of the deck design options will help you get off to the right start in your journey.
Uses & Function:
Decks are fantastic for a wide variety of activities and occasions, but it's a good idea to consider every possibility to get the most of your deck design. For instance, if you were planning to build a house, you would think about aspects like the number of bedrooms and bathrooms, the design of the kitchen, your preferences for the family and living room, etc. Your deck is the same way. Even while the deck won't be separated into rooms like a house would be, imagining how various parts of it will be used can still help determine its size, layout, and other aspects.
Will you be hosting huge parties on the deck, intimate dinner gatherings, or a combination of both when it comes to entertainment?
Things to Consider when planning your new deck build:
Traffic Flow

Accessibility

Grill or Kitchenette Area

Dining Area

Seating Area

Shaded Area

Built-ins
All About Levels
Decks vary in terms of their sizes, shapes, and levels as the homes they complement. Multi-level decks in particular have become more popular, but they work particularly well for two-story homes and/or properties with varying elevations. You have a few options based on the possibilities your house and lot offer:
Ground-level decks feature a single main level, although these decks are close to the ground, they can be made to suit a wide range of purposes and house designs. Decks close to the ground can also be made easily accessible and may not need railings to comply with building safety requirements.
Raised Decks- Homes with above-grade first floors, such as those with English or walkout basements, will have raised decks. These decks are supported by foundation posts and have a little amount of space below them that can either be enclosed, utilized for storage, or landscaped.
Multi-Level Decks- A combination of any or all of the above, multi-level decks are particularly helpful when elements like pools, hot tubs, and fire pits are planned as well as when accessibility is required.
Curved Decks- While many of your deck style and design selections will be based on functional requirements, your deck's "look" offers greater flexibility. Including curves in your design is one of the aesthetically appealing options.
Natural Views & Landscaping:
Make the most of the environment, such as trees, wooded areas, ponds, and even views. Each of them can be included into the design to make them assets instead of problems.
If your deck offers a stunning view of a lake, for instance, take that view into consideration when choosing your railing to allocate obstruction. Just as, it would be a waste to use the space for the grill or the kitchen when there is a view that is ideal for entertaining guests.
Layout & Size:
What size deck and layout are you looking for? They can really go hand in hand. Will it be utilized to entertain large crowds or just small gatherings? Keep in mind to accommodate the traffic flow, and room for furniture without it being overcrowded.  Do you like a large space or multiple levels? Do you want a modest area for cooking and relaxing, or do you want a built-in pool or hot tub? To achieve the desired aesthetic, add curves to a single or several locations.
Materials:
What kind of materials do you want to use to build your deck? Although wood is the traditional option, composite materials offer greater benefits and require less maintenance. Be sure to check out the pros and cons. Are you looking for more of a traditional look or more modern and contemporary? There is a large variety of selections from different grain patterns of composite decking to different color hues and different railing styles.
Pergolas, Covered Structures, Screened Porches and Other Living Structures:
Don't forget to think about how structures can be used into your deck design to provide shade and protection as well as to improve your deck and yard as a whole. A covered structure is something else to think about when designing your deck. An enclosure might be the ideal option if your family desires more living space. Considering your structure during the design and building process will save you time and money in the long run rather than trying to add it later. 
Deck Lighting:
Traditionally, deck lighting consisted of citronella candles set in strategic locations and sometimes a porch light or lantern, but times have changed! There are so many lighting alternatives that offer such distinctive and exciting methods to illuminate that you are sure to find the ideal combination. Several options include the following:
Deck post cap lights

Under Rail Lights

Stair Lights

String Lights
Built- ins:
Determine if you want to add built-ins like grills and fireplaces to make the most of your space, or adding hot tubs, and kitchenettes that may need electricity and plumbing, as well as other artistic features like planters and built-in seating that also serves as storage.
Furniture:
The perfect furniture may redefine an outdoor living space in the same way that it can help define an indoor room. Options for stylish yet practical deck furniture can be a terrific way to wow visitors or make an outside space more inviting. All you have to do is choose the best patio furniture designs for your area.
To learn more about composite decking materials and what your options are, read our blog "Different Types of Composite Decking" or "Pros & Cons of Composite Decking"
Ready to get started on your project?
Get in touch now to discuss your options with us.
118 Barrington Commons Ct Ste 207, Barrington, IL 60010
(815) 900-5199