27 Jan

How to Choose the Best Deck Material

If you're considering durability, you understand the value of high-quality materials and want a choice that will allow you to enjoy your deck rather than have to maintain it. By selecting the most durable deck material, you can be confident that you'll have a stunning outdoor living area that is built to last, allowing you and your family to get the most out of your investment.

 
Review your options for deck materials
Traditional Wood:
Requires regular painting or staining; Susceptible to rot, mold, mildew, and splinters; Lifespan 15-25 years with regular maintenance
Composite Decking:
Wood based or Mineral Based Composite: Uncapped & Capped Composite; Low maintenance; 20-50 year warranties; Recycled Content
Capped Polymer Decking/PVC:
100% Plastics- No Wood Particles ; Protected with a Cap; Low maintenance; 50 year/lifetime warranties; Recycled Content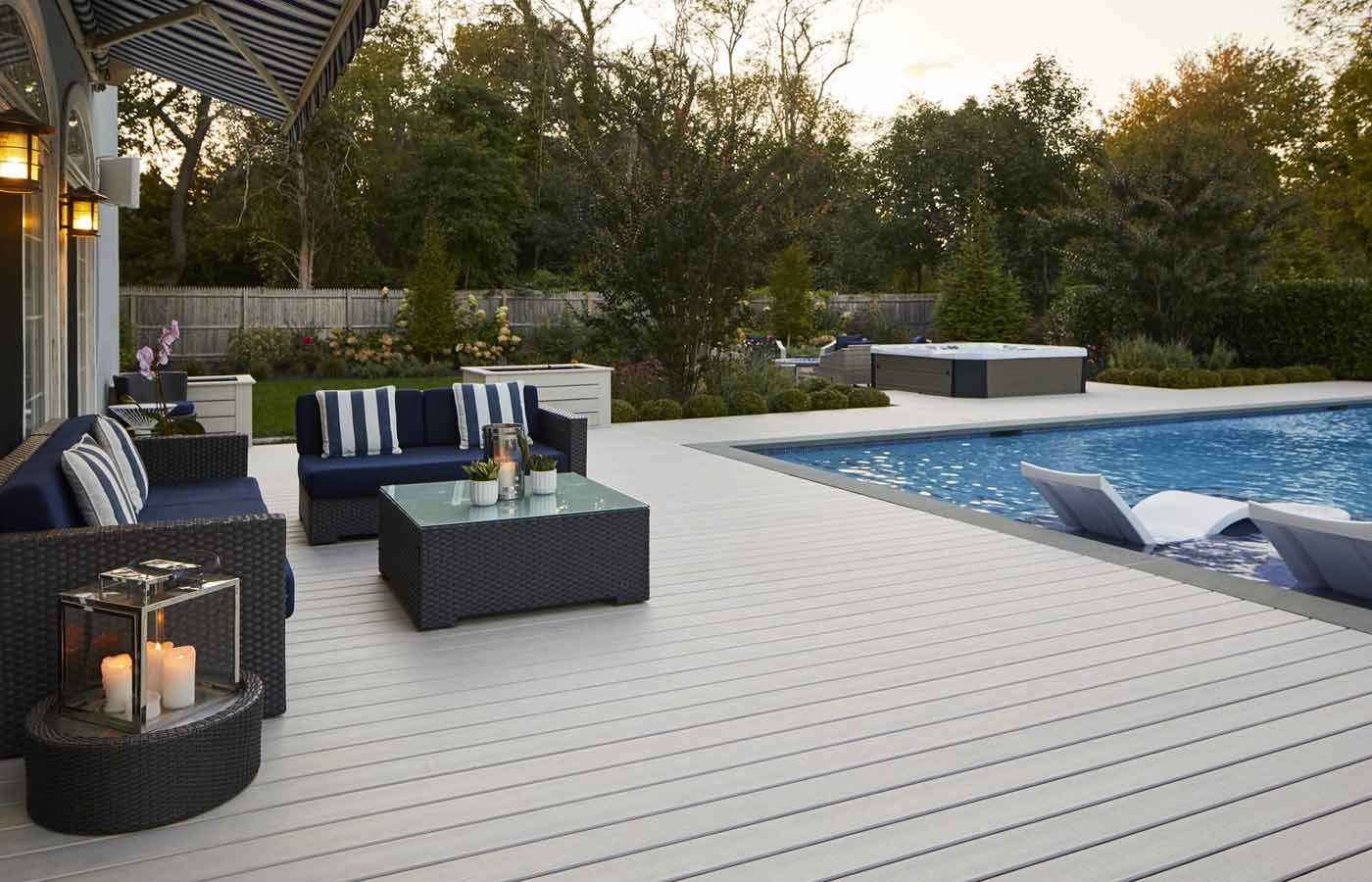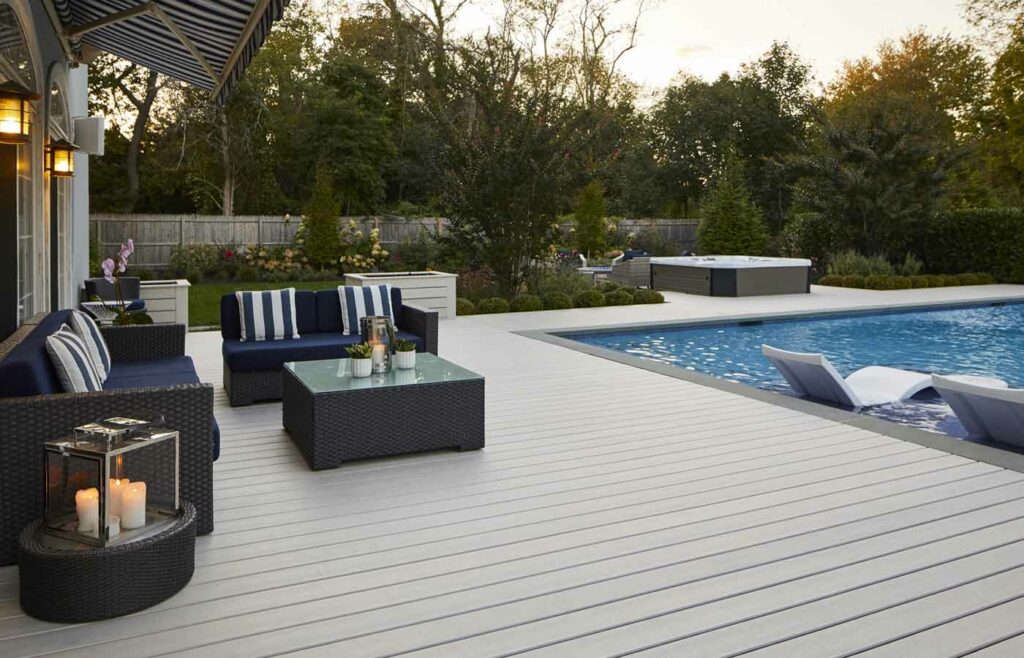 Is PVC Better Than Composite?
PVC and composite are both familiar terms, but which is better? Find out more about your choices so you can decide which is best for you.
Comparing Different Composites
Capped vs Uncapped        
Capped composite decking: what is it?
The cap on composite decking is a synthetic protective layer that surrounds the core of the composite decking to shield it from staing, fading, and moisture. The decking cap also enhances the traction and aesthetics of the decking.
In the initial few weeks of use, uncapped composite decking may show a mild discoloration problem; however, the color will eventually become stable. During cleaning, stains that stay on the decking for a long period without being washed will compromise the decking's ability to resist mildew. Due to the protective layer, the capped composite decking can offer outstanding stain resistance and mildew proof performance. The common stains may simply be washed away, and even after years of use, the capped decking will retain its outstanding color.
Although the maintenance requirements for capped composite decking are lower than for uncapped composite decking, they are still required. You should routinely sweep away the leaves and other debris, and give it a good wash with soap and water in order to keep the decking in its best condition.
Board Profile: Scalloped vs solid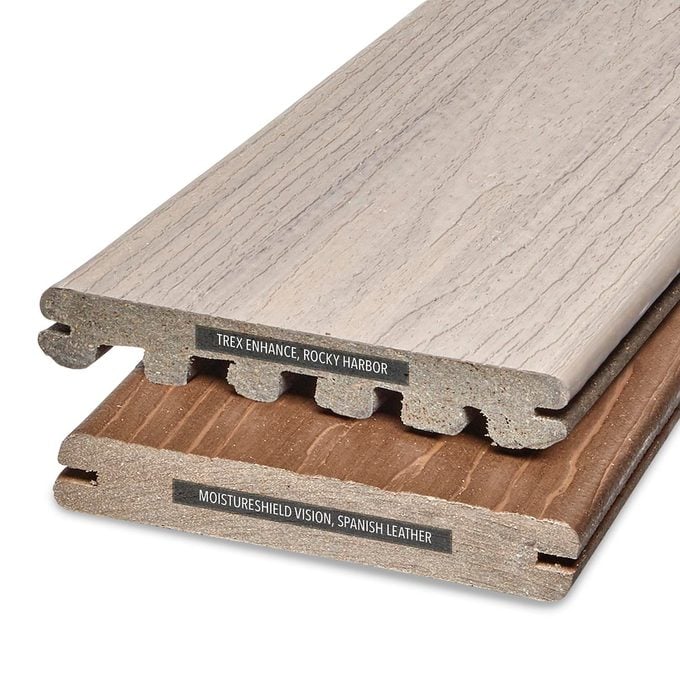 Scalloped decking is a composite decking that uses less material but still offers the benefits of low maintenance. With scalloped decking you typically see a lower price tag, but also a lower warranty. Some additional draw backs of using a scalloped board is any screws will be exposed instead of Cortex plugs, this is because the board thickness is not enough to insert these plugs to cover the screws.
Wood Based Composite vs Mineral Based Composite
Wood-based composite: (traditional composite) decking is made from a mix of wood fibers and other recycled materials.
Mineral Based Composite:
As the name implies, this type of composite decking is made of a blend of advanced plastic polymers and durable minerals, combined, and then stretched (pull extruded). 
Capping
Uncapped composites are mostly seen in older generation composite, but there are still companies such as Moisture shield and Ultra deck that sell uncapped composite.
Warranties
Warranties vary by manufacturer as well as grade or level of composite through each manufacturer. The average composite decking warranty is 25-30 years. Some manufacturers like Timbertech & Deckorators also include labor/replacement warranties to keep in mind.
Heat absorption
All decking gets hot, even wood. Choosing a lighter color can help with the heat absorption. Mineral Based Composite however when tested by a 3rd party company showed it absorbs less heat than traditional wood-based composite.
Traction
Wood based composite is known for being slippery when wet, in comparison mineral based composite, Deckorators, is known for 34% greater traction.
 

Dry

Wet

0.73-0.740

.66-0.69

 

0.40

0.31

0.43-0.52

0.32-0.39
Capped Polymer Decking
Capping
As its name suggests, this decking is capped; entirely made of PVC (Polyvinyl Chloride) and contains no wood fibers at all. Very durable synthetic material. Although it requires a little more skill to install than Capped Composite, it has a longer lifespan and is less prone to fading and staining. Since Capped Polymer decking is entirely made of plastic, it expands and contracts during changes in temperature slightly more than Composite decking.
Brands & Warranties
Timbertech Azek offers 3 different collections with 13 different colors to choose from backed by lifetime- 50 year warranties.
Fiberon offers 2 different PVC Lines with 10 different colors to choose from, backed by lietime- 50 year warranties.
Heat absorption
Capped Polymer Decking is great for around pools or walking barefoot. PVC decking such as Timbertech claims to stay 40% cooler compared to composite decking. Note: That does not mean that it doesn't get hot, but more tolerable and not burning.
Traction
When tested 3rd party, Capped Polymer such as Azek or Fiberone Paramount, showed greater traction by almost double compared to traditional wood based composites of even there own products.
Vintage Collection traction is 0.74 dry and 0.61 wet.
Traditional Wood Maintenance:
Pressure Washing

Sanding,

staining

and sealing for 

protection.

Repairs/Replacements of damaged boards and railing
 Composite & Capped Polymer Decking Maintenance:
Sweeping off dirt and debris

Cleaning Semi-Annual with soap and water
Best in Terms of Value
Premium decking like Composite or PVC, often requires a larger initial investment than wood-decking. Yet, higher long-term value also comes with superior durability. Additionally, Composite & PVC decking can really help you save money over time.
Want to learn more about the different types of composites, Read more "the different types of composites"
Want to learn more about comparing and choosing the best composite, read more "the best composite brands"