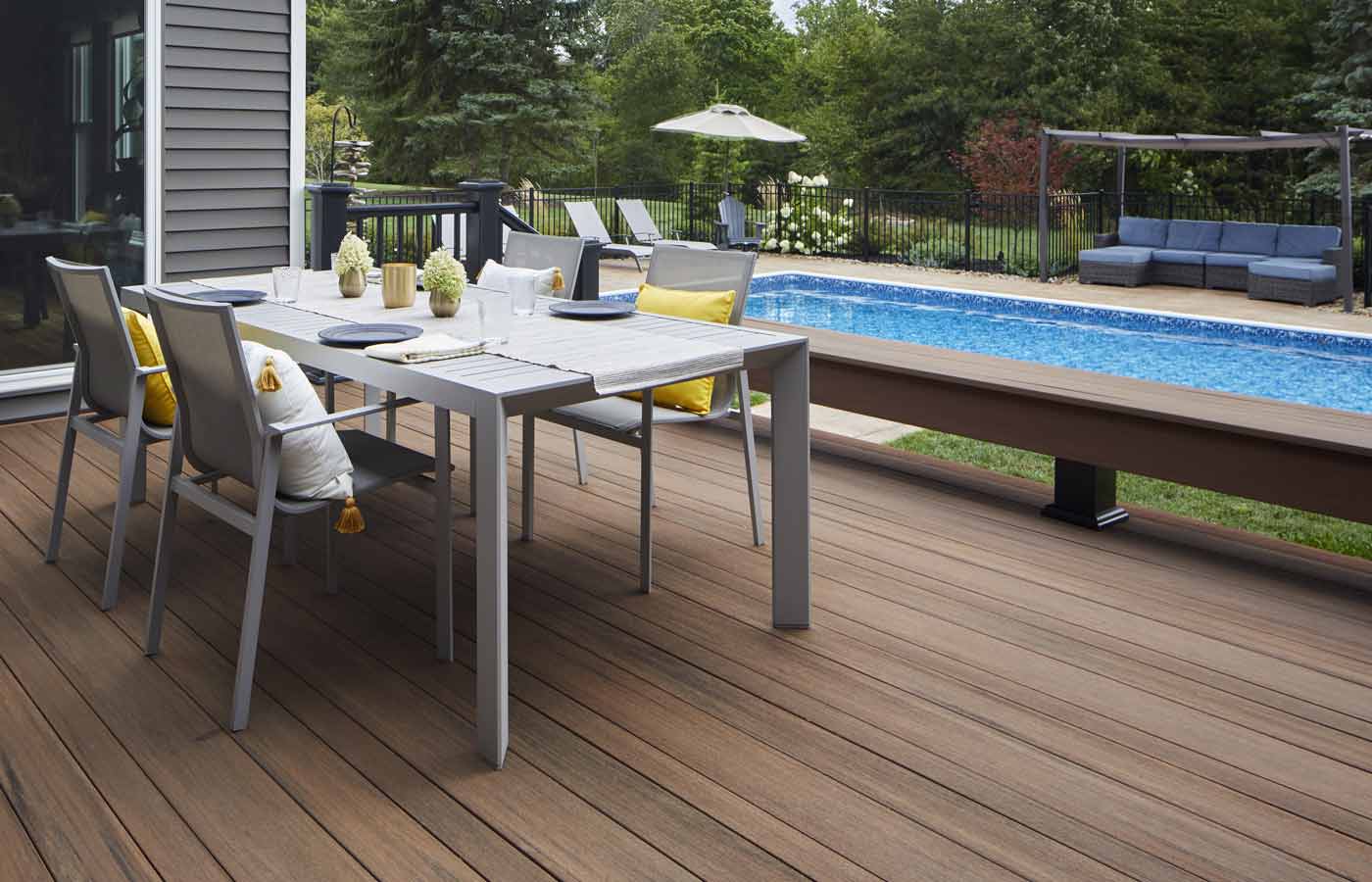 14 Apr

Things to Consider Before Building a Deck
Things to Consider Before Building a Deck
A deck can be a terrific way to increase not only the value of your home, but also the size of its living space. Adding an outside living area can create a new use for previously unused space, breathing new life into your home. However, if you're planning on building a deck, there are a few things you should give thought to first. Here are our top 10 factors to consider before building a deck:
1) The size of your deck
When building a new deck, its size is the first thing you must decide. Primarily, the amount of space in your yard will determine the area your deck will cover. However, you will also want to consider what you intend to use the deck for, how many people will likely be on it at any given time, and what furniture or other built-in features you would like to include.
We often hear of homeowners wanting to replace their deck or extend their deck due to the lack of space needed or function, so it is a good idea to think of what you will be using your deck for this year, 5 years and even 10 years down the road.
Another consideration must be the height of your deck. If you're attaching a deck to your home where there is already a door, you'll most likely want to match the deck with the level of the floor.
2) Your deck's shape and layout
As most decks are attached to a home, they're usually rectangular, square or L-shaped. However, a yard can benefit from a variety of designs, depending on the size and shape of the space available. If you want to create a unique deck that stands out or, conversely, blends seamlessly into its surroundings, you can also get creative!
3) The material of your decking
The three primary types of decking materials are PVC, composites and wood – and it's important to know the differences if you want to get the most out of your deck long-term.
When assessing which material is best for you, you must weigh up the advantages and disadvantages of each, including looking at lifespan and durability, the amount of maintenance necessary, and the color options available in each.
Composite and PVC decking becoming more popular with homeowners, is more of an initial investment but adds the benefits of longevity and low maintenance.
4) Your deck railing
There are three basic material options for your deck railings. Generally speaking, wood is the least expensive, but also requires the most regular maintenance. By contrast, aluminum is more cost-effective and sturdier with a large variety of styles. Composite railings, meanwhile, are the most affordable and easily customizable. Whatever style you decide on, you must ensure all the railings follow building code requirements.
5) Built-in deck features
Your new deck should be a haven where you can relax, host guests, and take in the scenery. To make the most of your space, you could include some built-in features to make your deck more functional and comfortable. A seating area will give you and your guests somewhere cozy to enjoy your deck. Likewise, a built-in kitchen might be a good option if you like to BBQ frequently.
Drinks and snacks will be easy to offer, and you'll be able to enjoy more time with your company rather than inside. Additionally, fire pits and water features can provide a calming and pleasant ambience, while planters can give a splash of color and a hint of vegetation. Whichever features you decide to use, make sure to include them in the planning of your deck design. 
6) Deck lighting
Adding lighting adds not only atmosphere, but also safety to your deck. If you want your deck to be properly lit, there are several options available to you. For example, recessed illumination on the deck floor can make a nice alternative to floodlights.
You could also install solar lights or hang string lights around the deck's perimeter. Solar lights can be added at any time, in comparison low voltage lighting should be planned for before building as they are built in within the deck during initial installation.
7) Underdecking
If you're building a high deck, you can double up your space with an under-deck draining system that keeps the area below dry. Using a network of troughs and gutters, water is diverted away from a raised deck, creating space for dry storage or living underneath.
However, as our most recommended system (Trex RainEscape) is installed above the framing, we suggest you give serious thought to this option in the planning stage. A later installation would be a much more complicated and costly procedure.
8) Covered structures
Your deck and home's appearance could be greatly enhanced by a roof structure. It can also have practical benefits, like protecting you and your belongings from the elements.
However, if you would like to add a roof, this should be included in the planning process because any deck must be built to withstand the additional weight.
Building a deck which must support a covered structure requires stronger footings, a shorter distance between them and reinforced frames.
This is why it's not advised to add a roof to an existing deck. The corresponding alterations are often not cost-effective.
9) Hot tubs
Hot tubs and swims spas are increasingly popular additions to decks. However, like adding covered structures, a hot tub needs to be part of the original plan.
Adding a hot tub to your deck means ensuring there is enough structural support not only for the tub itself, but also the water it will hold and the weight of all of the occupants.
You also need to consider the location for the hot tub. You will most likely want to place it away from the gaze of neighbors and also at a height that's easy to get in and out of.
10) The cost of a deck
The size and complexity of the design, the materials you choose, and the labor necessary to build the deck will all affect how much your deck will cost.
A basic deck will typically cost you between hundred dollars per square foot, with more intricate designs and more durable materials costing more.
Design the deck of your dreams with Decked Out Builders
A deck is a terrific way to increase the size of your house and make it feel more inviting. That said, you should be aware that a deck requires a lot of planning. At Decked Out Builders, we help local homeowners make their decking dreams a reality.
If you want to learn more about all your options, don't hesitate to get in touch. We can help you design and choose the most suitable materials for your new deck!
118 Barrington Commons Ct Ste 207, Barrington, IL 60010
(815) 900-5199